This turned up close to RG HQ last Monday:
It's a 1914 vintage Rolls Royce Silver Ghost Touring by Barker. The body is a replica, the original long gone, and its painted in a modern copy of the original metallic grey which was created using fish scales to achieve the desired effect. Today we just use aluminium.
The car was around for final checks prior to the 1800km Alpine Tour with a good number of similar beasts, but detailing wasn't the priority so there was only an hour or two allocated to it.
But I couldn't bear it to go unprotected nor looking quite so dull, so my offer of a few hours (3 in the end as we seriously ran out of time) pro bono was gleefully accepted. Oh, and I fancied another play on one, having worked on a couple of similar cars a few years ago. So its not a proper detail, really just a clean up the best I could do without water in a few hours.
As the huge skinny tyres had been brushed down the first of a couple of coats of RG Colour Enhance was wiped over to give an original matt look which will easily withstand the tour.
Not enough time, nor really the need, to do anything proper with the paintwork, which was really smooth anyway, if showing some signs of cracking at various points, so a quick once over with Clearmist Detailer really brought up the gloss and the flake. Quite remarkable paint actually.
There's minimal wood on the car, but again as it would be exposed I gave it all a quick coat of RG Wood Wax for some UV and rain protection. The battery box really did need sanding and varnishing but no time, so I did my best on that. It certainly looked better anyway.
The job I'd put off, which was utterly stand out in terms of needing doing and in sheer volume, was the nickel radiator and long aluminium engine cover. Oh, and the huge headlamps, side lights, horn, oil cooler and windscreen surround – I could go on, half the car is unpainted metalwork !
As it was too hot it was moved inside. Everything but the bonnet top received a very quick going over with the superbly versatile AluTech Metal Polish – I was perfectly happy with using this on the radiator as I'd done it before with RREC Concours prep cars and at workshops I'd presented to the Club, and a quick flash over with JetLaq will protect it from water spots etc – AluTech does leave a fine glaze behind anyway but this would supplement it.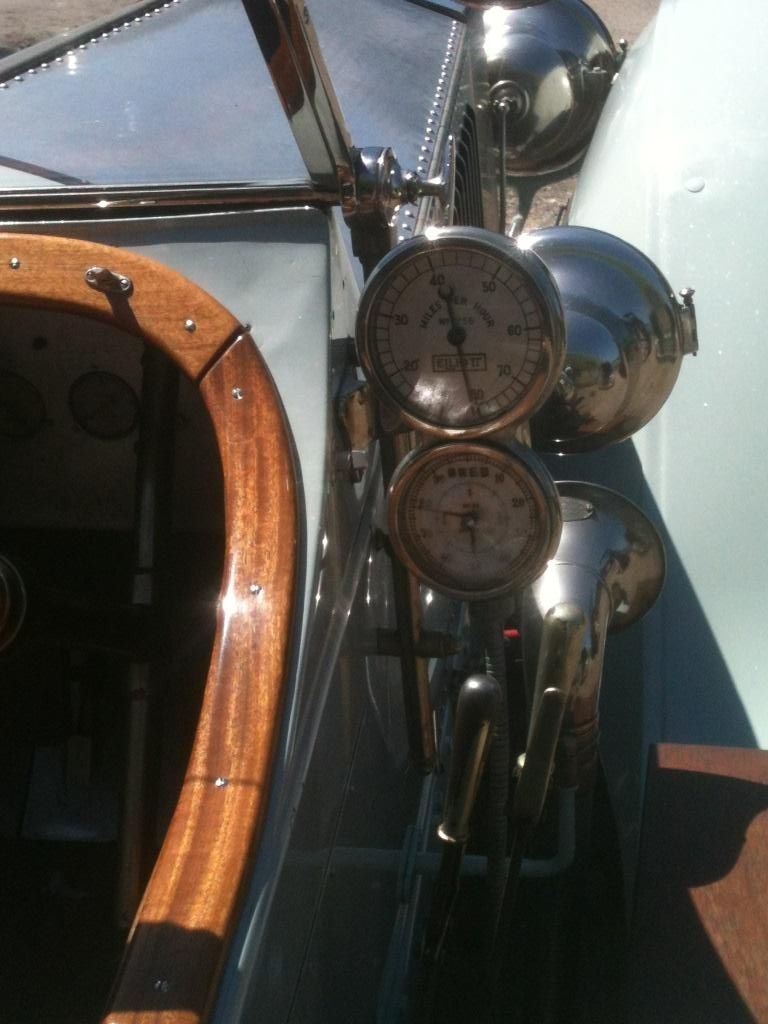 The bonnet top showed plenty of deep scratches but I decided that RG Glass & Chrome Polish was all I had time to use – the sides were in worse condition so needed to stronger cut of AluTech but a lighter touch would have to do.
Nevertheless, my hands and cloths were swiftly black and the dull tarnished finish buffed away for a satisfying though by no means Concours result.
This is the end result from the most imposing end – this car is massive, built of large and heavy duty steel, built to last. In the winter I'll get a better chance to give it the treatment it deserves.
Meanwhile, it was an honour to work on something that's 99 years old, will hit 75mph and run its 7.75 Litre engine all day, provided you don't run out of gas…