Introduction
I start this review off with a thank you to Matt over at Britemax-direct for sending me out the product being tested in this review. Britemax don't need any introduction within the detailing community having built up an excellent reputation already. The brand is British owned, a surprising fact actually with the products all made in the USA, resulting in nothing but quality products throughout the range. For a look at Britemax's range of detailing products, please visit
http://www.britemax-direct.co.uk/
for further details. The website is very well put together and highly professional, offering in depth information on all products.
The Product
So what do we have today? Britemax Claymax, the companies first clay bar offering, something different for me!
This is actually my first proper go of using a clay bar, having previously always opted for the Clay Mitt for quickness. The 100g block of medium clay comes in a rather nice black Britemax branded metal tin. This reminds me of the old tins of mints you used to get years ago, very retro looking I thought and something I quite liked. Inside, the clay was wrapped in plastic to keep it fresh. Obviously there won't be any scent here as I opened it up. In the hand the clay felt rather soft and was very easy to manipulate and shape, always a good trait for clay I imagine.
So that was my own thoughts on the product, but here is what Britemax say officially about the product:
• Professional grade surface preparation
• Chemically resistant - use with Iron Max
• Pulls potentially harmful bonded contaminants
• Makes decontaminating paintwork safer & easier
• Can use tap water as a lubricant
• Prepares paintwork for polishing
• Supplied in protective metal tin case
'Claymax is a professional grade (medium strength) chemical resistant clay bar. Designed to remove and eliminate all kinds of contaminants which can bond to the surface of your vehicles paint, windows and alloys.
Tree sap, road tar, bug residue, paint overspray and acid rain deposits are just a few of the contaminants that can bond to your vehicles paint.
Being chemical resistant you can use our Iron Max as a lubricant to remove not only organic and inorganic contaminants but also iron particles saving you valuable time in the process.
Bonded contaminants just don't stand a chance with CLAYMAX, after use you'll be left with a silky smooth feeling finish.'
Very interesting to read that a fall out remover can be used as a lubricant, along with APC or QD. Now despite never using a clay bar before, reading this information I knew this certainly wasn't normal for a clay bar to be chemical resistant. I have always read that water, shampoo mixture or a dedicated clay lube was to be used and that was it. It is something different to be able to use fall out remover as your lube with also having the positive of reducing two steps into 1 in the decontamination stage. It also explained why the 8oz bottle of Iron max, Britemax's fall out remover was included along with the clay bar.
The Method
"How To Use: Wash your vehicle first and work in the shade. Form bar into smaller palm sized pieces and use a lube to glide the bar across the surface of the paint until smooth. CLAYMAX can be worked with just tap water but for best results we recommend the use of either Spray & Shine or Iron Max (wear gloves). Can also be used with Grime Out. Continuously kneed clay to reveal a fresh clean surface. Discard bar if dropped on the ground. Wash and rinse vehicle after use and if required lightly polish with either Black Max or Perfect Prep to remove any marring. Place any unused clay in cellophane wrapper and store in the supplied tin."
So with claying being somewhat of a new experience for me I thought it best to follow the Britemax instructions to a tee. The usual stages in decontaminating the paintwork were performed, in this case my sisters CX-5 bonnet being the test panel. The car was snowfoamed, rinsed, 2BM washed first then had some Tar & Glue remover applied to the whole bonnet, allowed to dwell for a minute before being shampoo washed again ensuring as much tar spots and other stubborn grime was removed prior to claying.
As I intended to use the Iron max (fallout remover) as a lube, this allowed me to skip the fall out removal stage & go straight to the claying process. The 100g Clay bar was cut into 3 equal parts.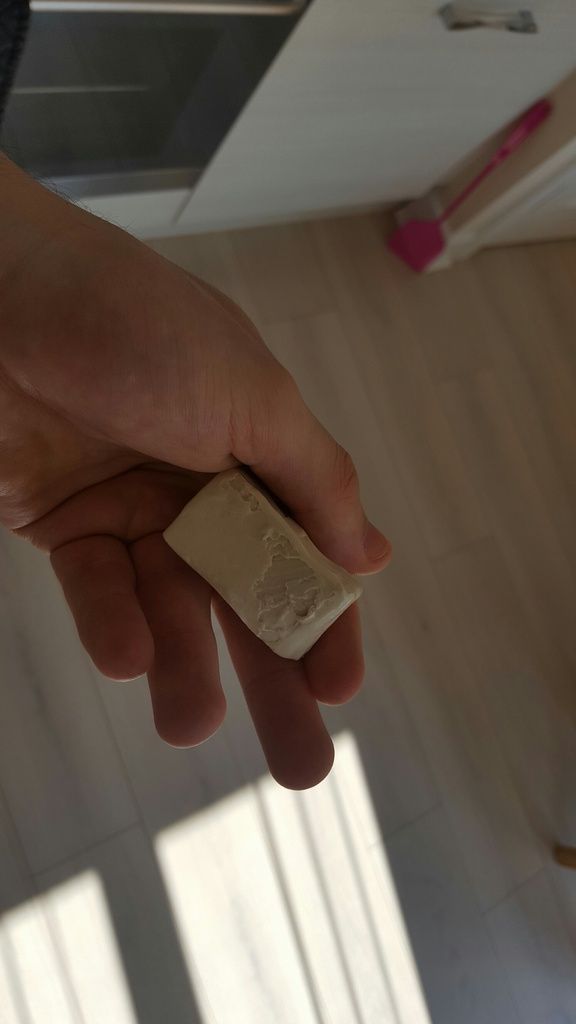 1 of these sections was then worked into a nice 2.5" by 2.5" square section. The clay was relatively soft which made it very easy to manipulate into the required shape.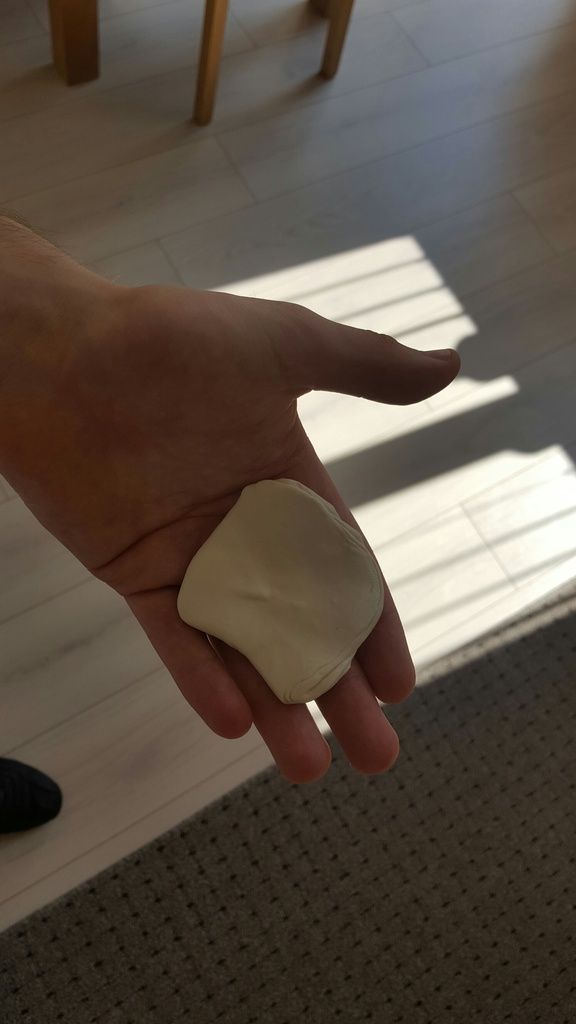 I didn't dry the panel as I assumed this would only aid lubrication. I applied the iron out to a small section of the bonnet first & found the spray head to produce a stream spray annoyingly (this was the 8oz small bottle, a full size Iron Max bottle will mist perfectly).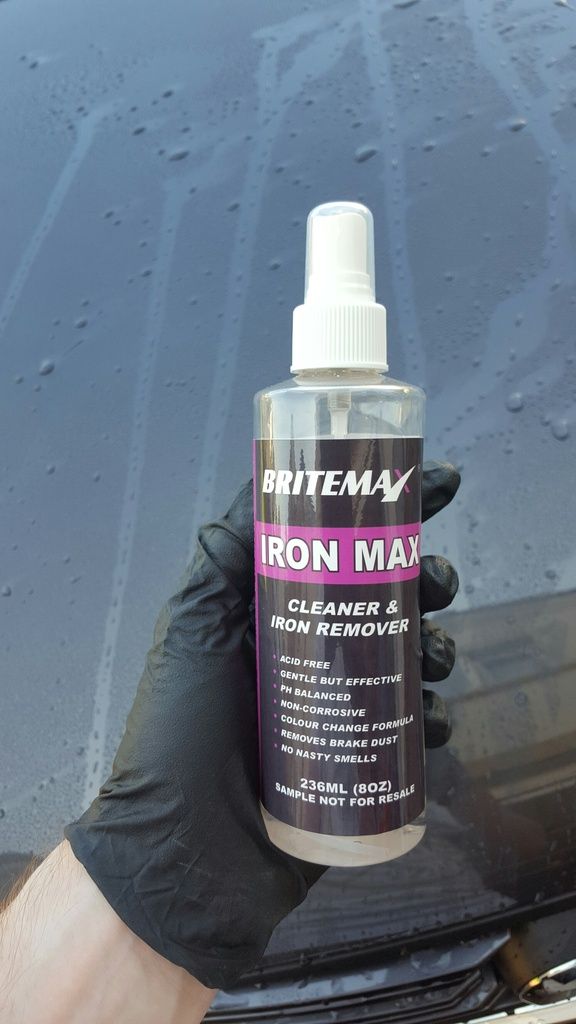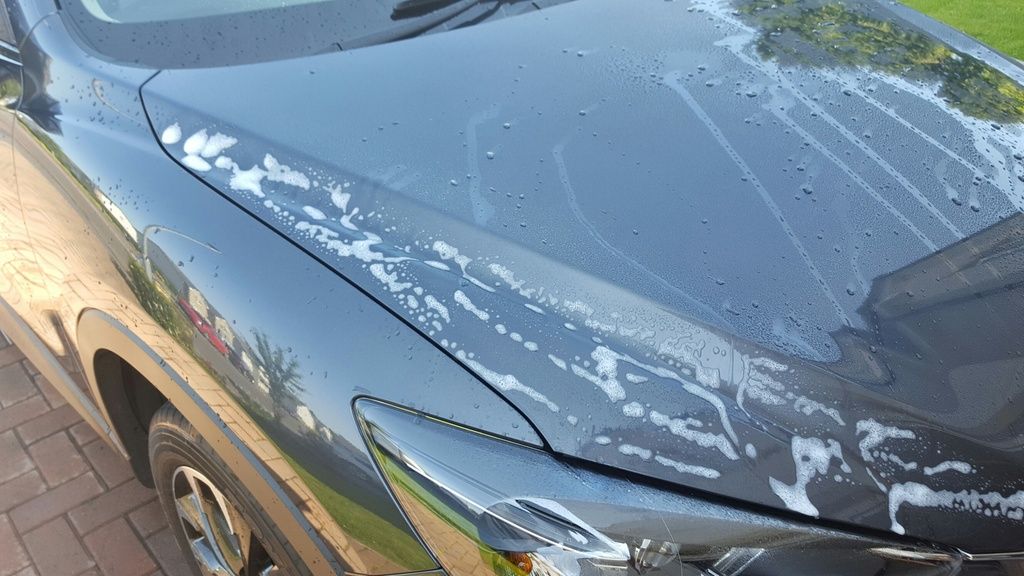 I did my best to evenly apply the fallout remover across the small section but admitted defeat, instead using the clay to initially spread it over the panel (wearing gloves!). This was allowed it to work & make any chemical reactions for 1-2 minutes before starting the claying process.
First impressions were really good. The clay with slight pressure glided across the small section of bonnet effortlessly and I was especially impressed at the level of lubrication the Iron max offered.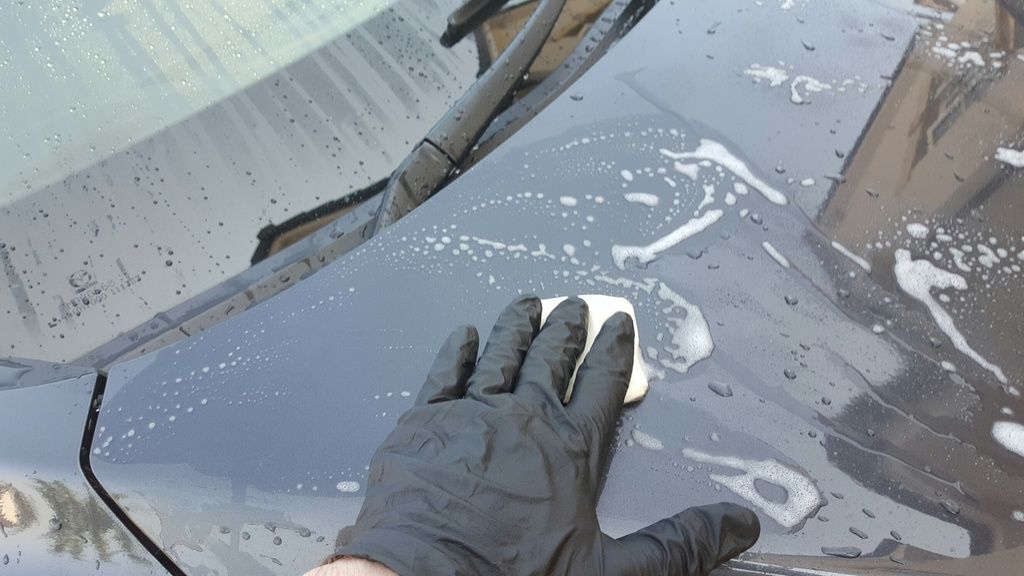 As this was also my first time using a bar, I wasn't quite sure how many passes were required so was very thorough, going horizontally & vertically quite a few times over the section of bonnet. At no point did the clay ever feel tacky/sticky and as far as I could see there was little, if any marring on the paintwork. Pleased with the effectiveness of this method, I carried on in the same fashion, completing the full bonnet quickly.
This surprised me as I always thought it was a very slow process via bar but my experience here says otherwise. I would estimate for much more effective decontamination when compared to a clay mitt, this only took me an extra 5 or so minutes. It is also very pleasing to see the clay afterwards and actually see what has been picked up, something you can't enjoy with a mitt.
Price
Price for the 100g bar is only £8.99 (
http://www.britemax-direct.co.uk/bri...0g-c2x20436466
). With this same 1/3 cut of clay used on the bonnet, I have so far continued to use it on the lower front bumper, 2 front wings and both front doors. Having folded it after each panel as advised, the clay is still clear and I expect the full car can be completed with this same block.
That means 3 cars can be fully decontaminated at the cost of £2.99 each which represents excellent value for money I think.
Ps. At the time of writing this review, this clay bar it also comes with a free 8 Oz bottle of Iron Max on purchase!
Would I use it again?
My first time using a Clay bar and it will certainly not be my last. Although slightly longer to perform compared to a mitt, I feel it is much more effective in removal of contaminants and when using a fall out remover as lube, actually saves time overall as you can compress two individual detailing steps into 1.
Conclusion
A very well priced 100g Clay bar of fantastic quality. It has the added bonus of being chemical resistant, allowing fallout remover to be used as your clay lube, reducing the amount of steps required in the decontamination process saving time. I expect this will replace my clay mitt in future decontaminations.
Thanks for reading! 
DW has followed the Manufacturer's Instructions and accepts no responsibility to any circumstances arising from any member using these products or following this test.