Detailingworld™ Review - Power Maxed All Purpose Cleaner
1st up I would like to say thank you to Wayne at Power Maxed for sending me a new product in their line to review, I have got to say I was a bit suprised to recieve 5ltrs of the stuff through the post, so I am not going to run out of APC for a while.
For more information on the Power Maxed brand have a look here:
http://www.powermaxed.com/
APC's.... I am guessing that most of you have some and use them on a regular basis, they are really handy for all sorts of jobs and the concentrated versions can be diluted and used for pretty much everything so lets see what Power Maxed APC can do.
The Product:
The Product arrived in a 5ltr Jerrican style container with a Power Maxed branded label on which provides the required information on how to use.
The actual APC is bright yellow in colour and has the lovely bakewell tart scent which seems to be prevalent across the Power Maxed range.
Power Maxed say:
Power Maxed All Purpose Cleaner (APC)
Power Maxed All Purpose Cleaner is a non-caustic and safe to use, multi purpose cleaner and must have product whose usefulness extends well beyond what we originally intended (interior use)

Power Maxed All Purpose Cleaner performs brilliantly as a versatile all-round cleaning product, cleaning bug splats and general grime from the exterior of any vehicle, door trims, seals, engine bays the works.

This is a heavy duty hard surface cleaner degreaser product with in built oil and grease dispersal properties. It is also ideal for cleaning walls, concrete walls, concrete floors, forecourts, vinyl and ceramic tiles. Being low foam it is highly recommended for using as an additive for industrial floor scrubber machines.
So this sounds like a proper all purpose product which can be used in a myriad of ways
The Method:

Now this one was a bit difficult to judge on how far to take the testing, you could end up with a million different combinations of dilutions made up for every different job so for the purposes of this review I am going to concentrate on just 3 different dilutions.
I decided on 10-1, 5-1 and 1-1 which should cover most cleaning tasks around the car, obviously for tougher jobs you might want to go as low as 100% for an engine bay clean and for more gentle jobs like cleaning a headlining for instance you might want to go as high as 80-1. The options with this kind of product are endless so this could have been a very long and drawn out review without setting some parameters.
Lets talk a little about dilution rates 1st, a dilution rate is easiliy worked out with a bit of simple maths....
So for 500ml of solution for instance at a dilution rate of 10-1 you would use the following sum: (10+1=11, which gives you the amount of units) 500/11=45.45 so the 1 part is 45ml so in order to acheive 500ml of solution you would need 500-45.45=454.55ml of water to 45.45ml of APC in this case.
The sum obviously changes with the required dilution rate unit so for 5-1 the 500ml would be divided by 6.
Hope that helps a little
So the 3 solutions were made up using the above method, (1-1, 5-1 and 10-1) by using a funnel and a measuring jug.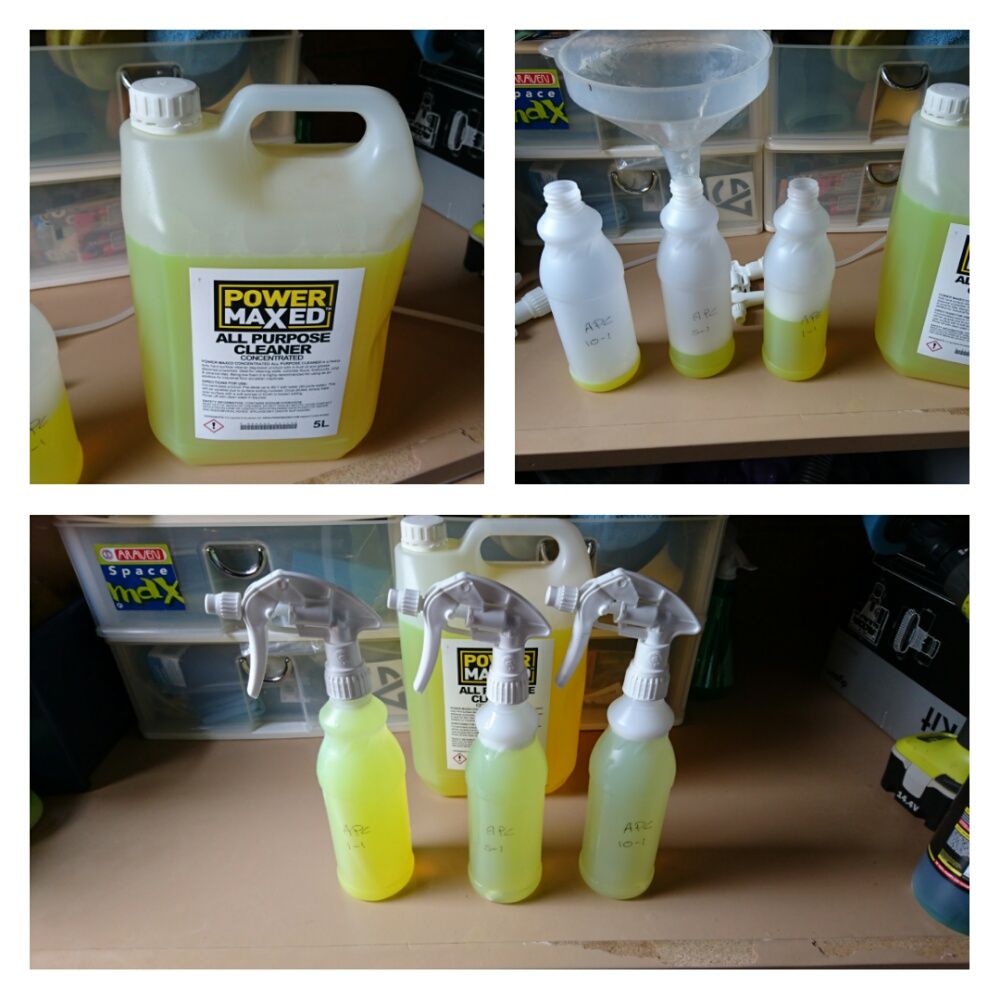 Todays work was my favorite filty Mini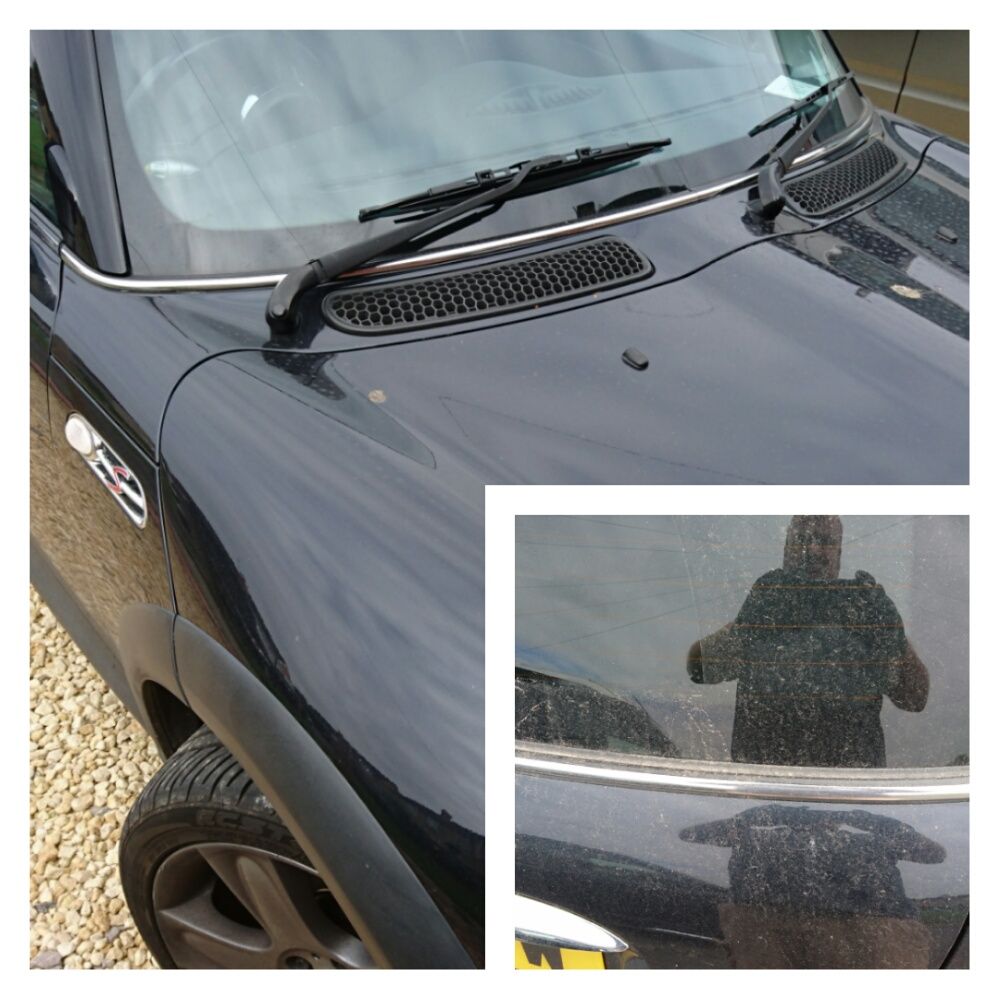 The 1st dilution to test was the 10-1 dilution, I decided to clean the mats and the interior with this one and boy did it have its hands full...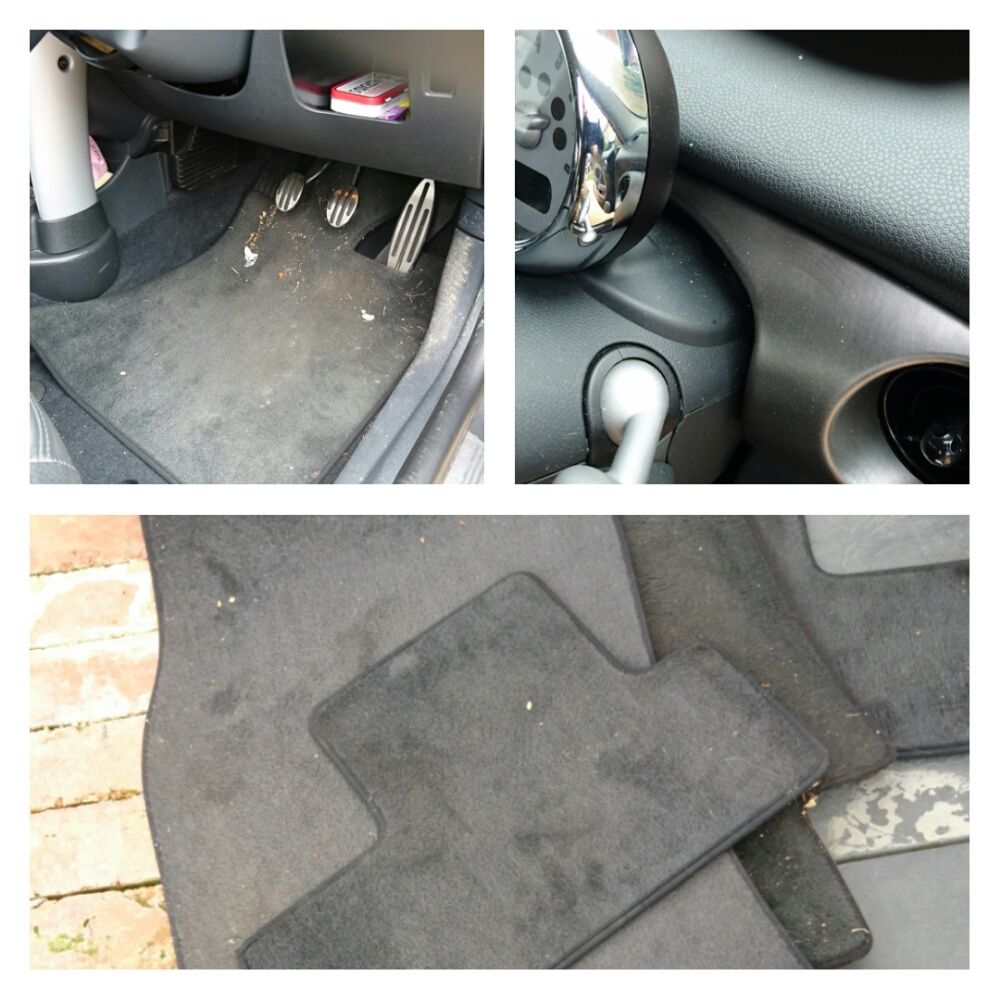 The Mats were the 1st things removed to be cleaned, hoovered 1st then a healthy spray of APC was applied to the mats so they were feeling pretty damp, this was then left for 5 mins to do its thing (when using this kind of product I have found its often better to apply and leave it to work before agitating or brushing etc).
the mats were then brushed using an upholstery brush and dried using a clean MF cloth.
And were left looking a lot better and cleaner and also smelled nicer so a win there.
The interior was the next thing to get wiped down to get rid of the dust and dirt, normally I would go for a much higher dilution rate but this APC semmed to be pretty gentle so I stuck with the 10-1.
This was sprayed directly onto a clean MF cloth which was then used to wipe down all the surfaces and interior trim.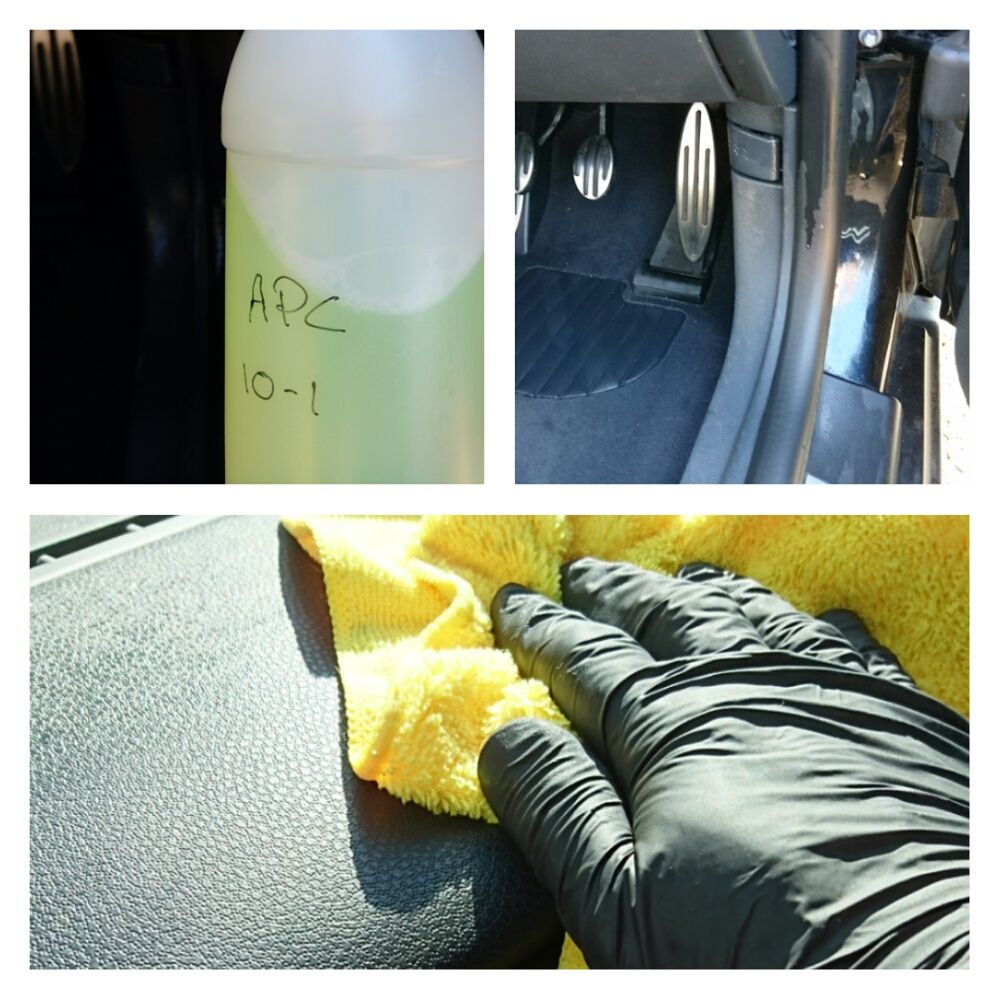 There was no marking, bleaching or anything nasty just a nice clean fresh interior which contains all manner of different surfaces so even at the stronger dilution it was gentle enough to use on interior plastics without leaving any marks.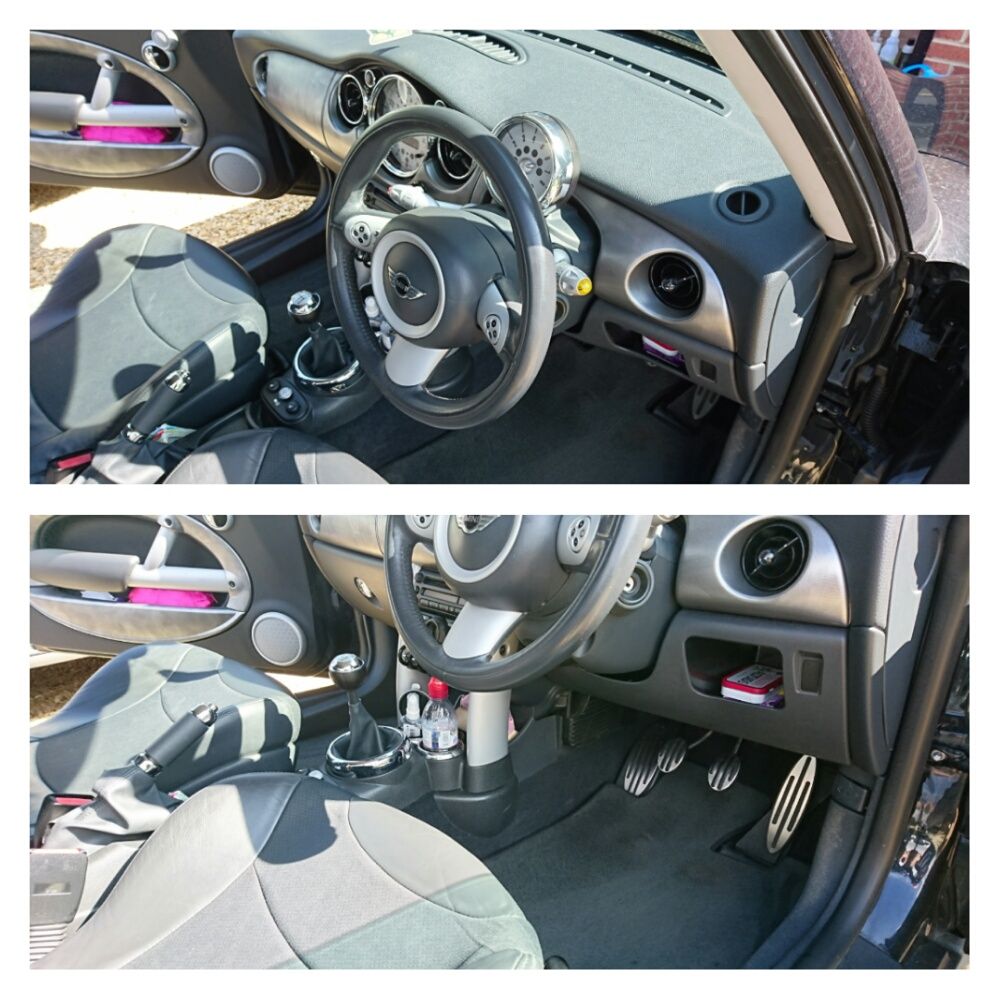 The next job was to start the exterior of the car and obviously 1st was the wheels and tyres, the wheels were dealt with by a dedicated wheel cleaner but the tyres still needed some APC treatment.
The 1-1 dilution of APC was sprayed directly onto the tyre walls, left for a couple of minutes before being agitated with my new favorite tyre brush.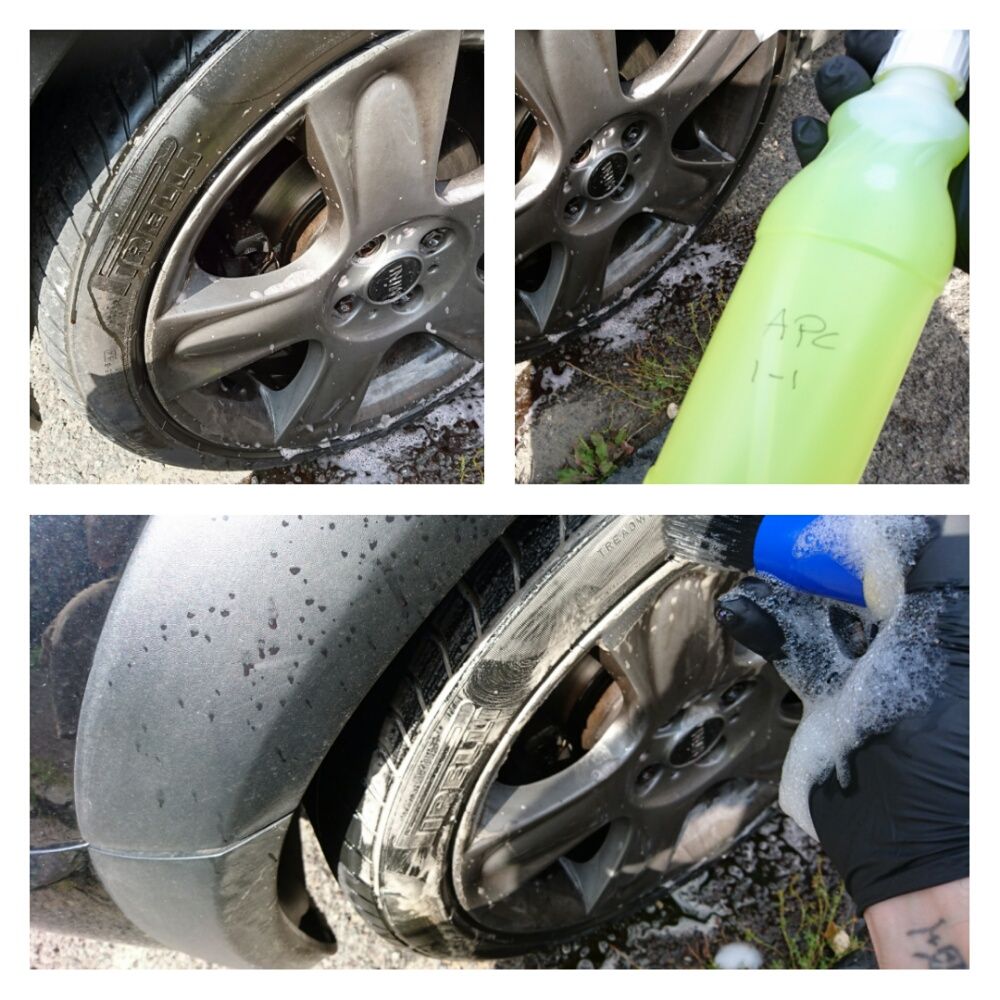 You could really see the grime being lifted off the tyre and at this dilution the APC foamed up nicely where it didn't do at the 10-1 dilution.
The tyres were then rinsed off using a PW and were left really clean as the MF cloth shows.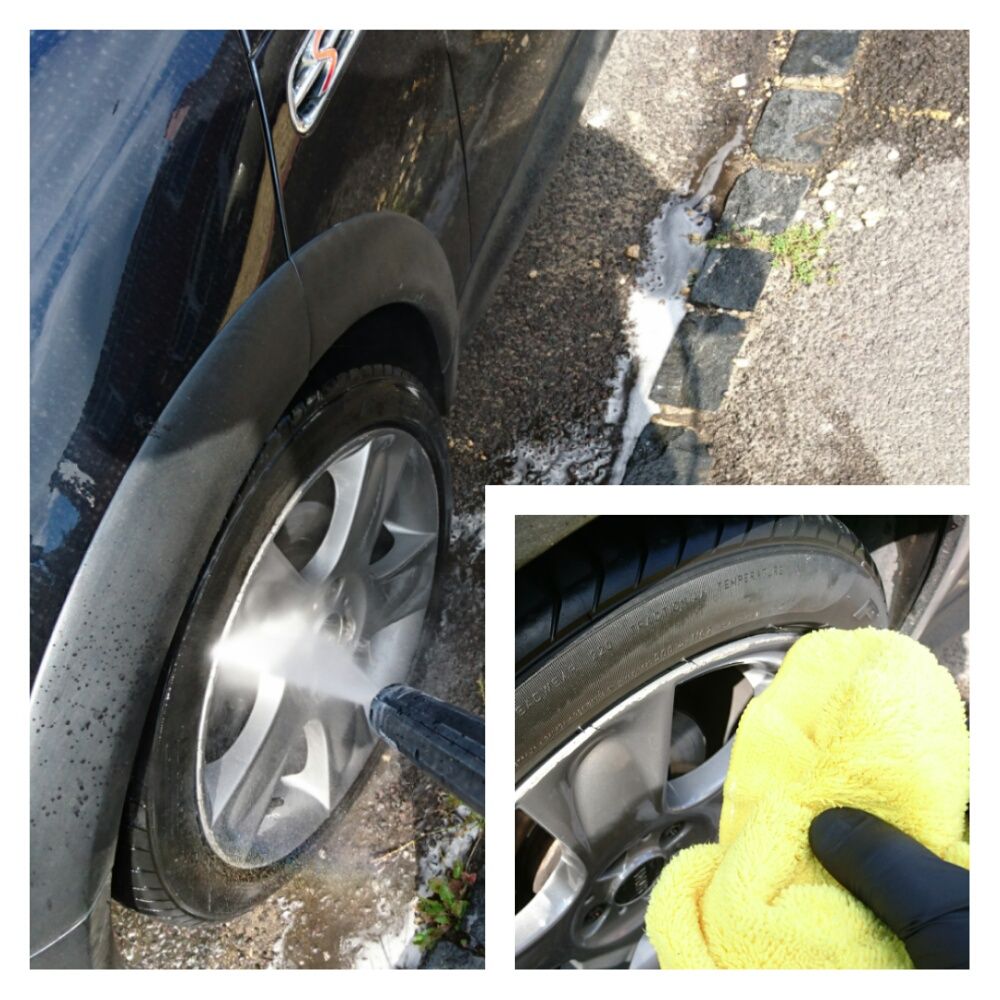 So another point on the board....
The next dilution to test was the 5-1 mix, this dilution is ideal for exterior jobs which don't require anything too heavy so for instance bodywork, badges and trims.
The 1st area of attention was a dried on bird bomb, not wishing to leave this to the whims of a prewash I gave it a blast of the 5-1 dilution, left it for a couple of minutes then gave it a gentle agitation with a soft detailing brush.
The results were that the dried on bird bomb lifted right off.
Before anyone asks I do not know if its LSP safe but was doing some polishing/waxing anyway so was not worried.
Next to get the treatment were the complicated badges and vents which were given a good blast of APC, left to dwell for a couple of minutes then agitated with a soft brush before being rinsed off and yet again no problems here.
The car was then washed using the rather good Power Maxed Snow Foam and Shampoo and was left looking a whole lot better.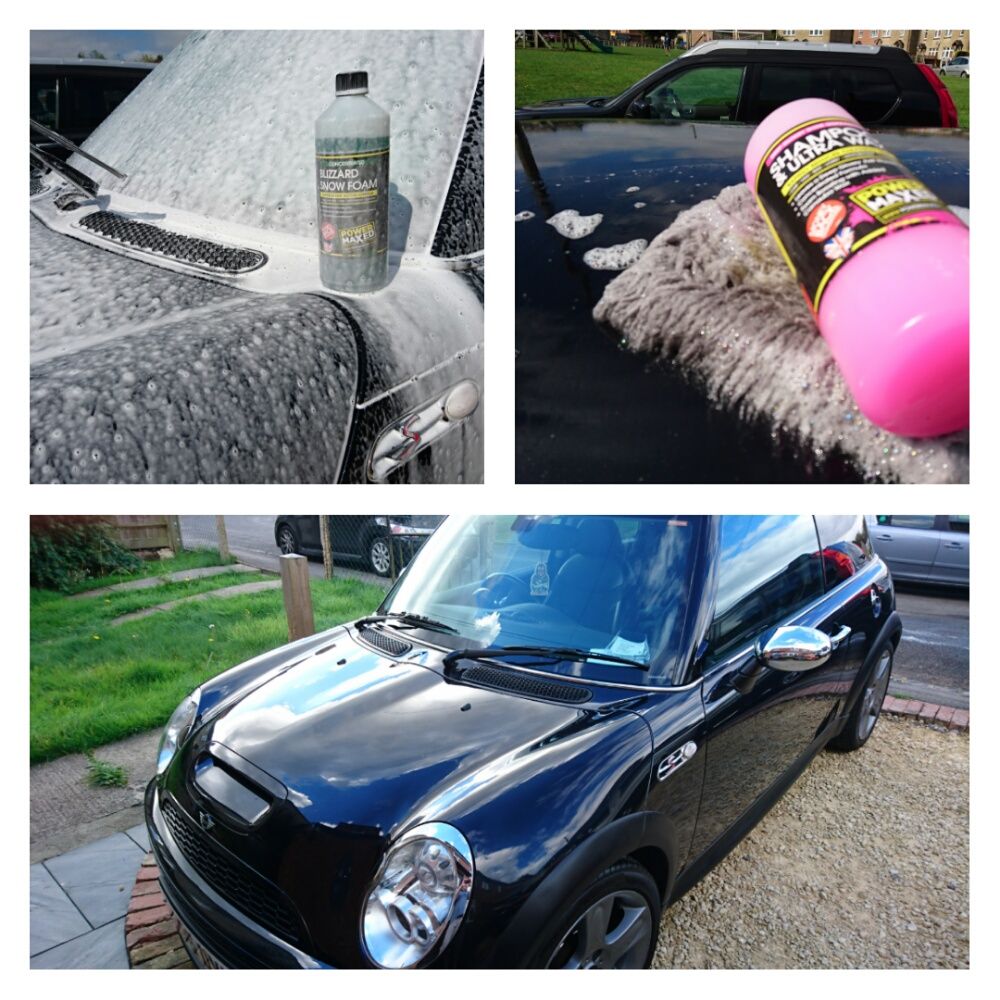 So all in all a pretty good performance with results to be happy with.
Price:
£19.99 for 5ltrs and is availble from here:
http://www.powermaxed.com/clean-your...se-cleaner-apc
Value wise this is up there with most decent APC's of this size and is about on target but as you know there are always sales on so you might be able to pick up a bargain.
The fact of the matter is that 5ltrs of APC used at correct dilutions is going to last you a long time indeed.
Would I use it again?:
I see no reason not to use it again, it smells good, cleans well and is a capable all round performer, and I have got 5ltrs of the stuff which is being used around the house to great effect.
Conclusion:
This is a suprisingly difficult review to write, an APC is kind of like a sheet of paper, most are very similar, most do the same jobs and as long as it does what it should you cannot complain but if you need something to write on then a peice of paper is pretty handy very much like a APC.
Whilst it might not be the most glamorous product in our collections a good APC is a really important one but there are a lot of good ones out there that do pretty much the same thing.
So if you are looking for a new 5ltr container of APC and don't want to spend silly money on a product that to be honest really isnt going to bring anything else to the table then Power Maxed APC should certainly be considered.
Thanks for reading
"DW has followed the Manufacturers Instructions and accepts no responsibility to any circumstances arising from any member using these products or following this test "