Detailingworld™ Review - Orchard Autocare Wheel Cleanse
1st up I would like to thank Rollo at Orachard for sending me a bottle of Wheel Cleanse to have a look at.
Wheel cleaners are an important part of the armoury when dealing with filthy spokes, no matter how good your coating is the wheels still get dirty and are in fact probably the most filthy part of the car so for me a good wheel cleaner is invaluable.
Some people would suggest that a simple shampoo dilution suffices on sealed wheels, personally I disagree and use a diluted wheel cleaner as a kind of prewash as you would use a snow foam for instance.
So lets see what the Orchard offering brings to the table
The Product:
Wheel Cleanse arrived in a good quality 500ml PET bottle wearing the usual Orchard brandingand also has a rather excellent spray head. The actual liquid has a consistency which is slightly thicker than water and is pink in colour.
The scent is very pleasant indeed although I couldn't tell you what it smells like, its just nice and a bit fruity.
Orchard say:
Wheel Cleanse is a super safe, non - acid/non - caustic wheel cleaner. It is a ready for use product but may be diluted to up to 10:1 if desired. Wheel Cleanse has been tested on all types of alloy wheels and wheel spacers, including polished aluminium, with 'no clouding' reaction. Wheel Cleanse has been specifically formulated to allow the safe cleaning of alloy wheels with the minimal amount of water. It has a foaming action which allows time to clean without the product drying out. It also has a clinging characteristic reducing the amount of 'run off' resulting in lower product usage.
Features
Safe but effective wheel cleaner

Safe for use with popular wheel sealants

100% Acid Free,100% Caustic Free

Clinging formulation and foaming action

Pleasant fragrance

So its safe to use, contains no nasties and clings well
The Method:
What with the weather being how it is and life getting in the way Mrs P's Mini has been a bit neglected of late and was in need of a good clean.
So as usual wheels 1st and as you can see they were pretty minging, its hard to show the cleaning power on these wheels due to the colour. The wheels were also coated about 12 months ago with a popular coating which is still going strong.
This test is going to be a 2 part test so 1st up Wheel Cleanse was sprayed onto the dirty wheel which really had all manner of filth on it.
When the wheel was covered in the cleaner it was left to dwell for 5 minutes but not agitated, a quick gentle swipe of my gloved finger revealed that it was working away removing the dirt.
The wheel was then pressure washed off.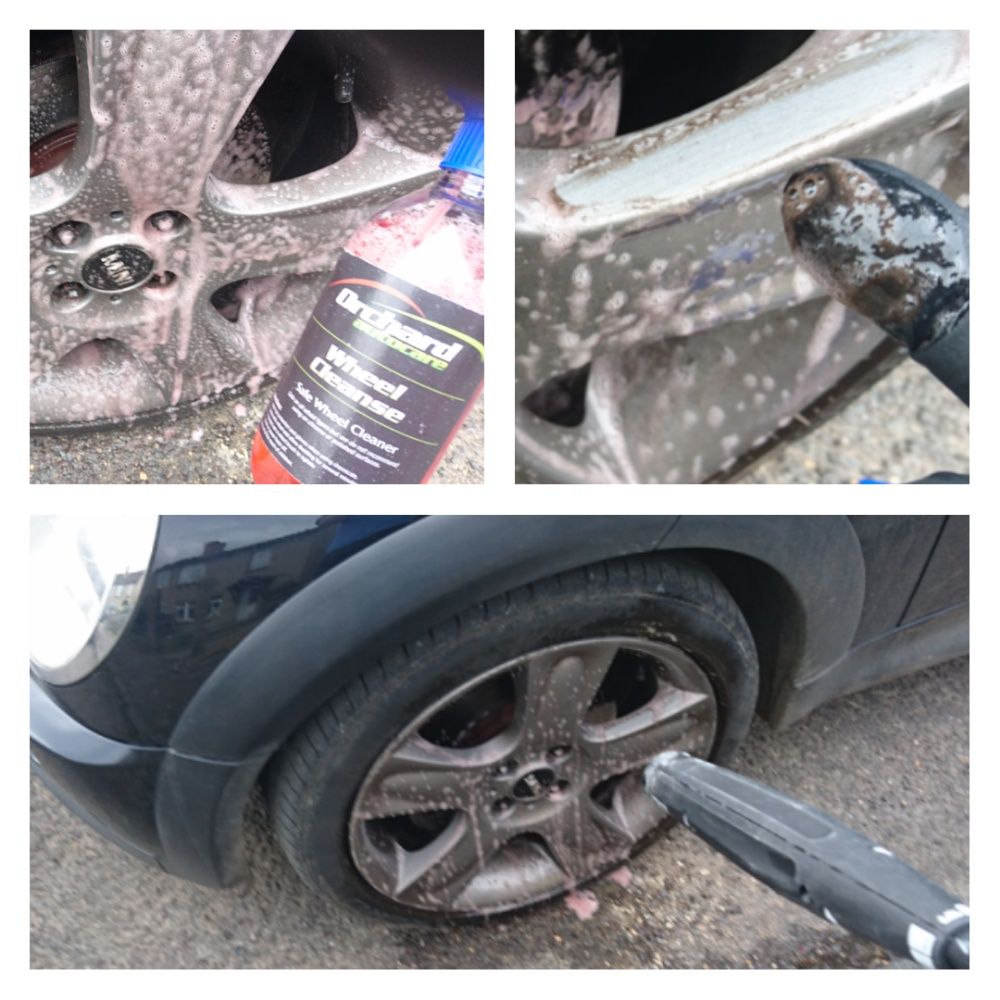 The finish that was left was not too bad at all, you can still see some of the more stubborn marks towards the edges of the spokes but I will say if you are looking for a touchless one application cleaner then look elsewhere.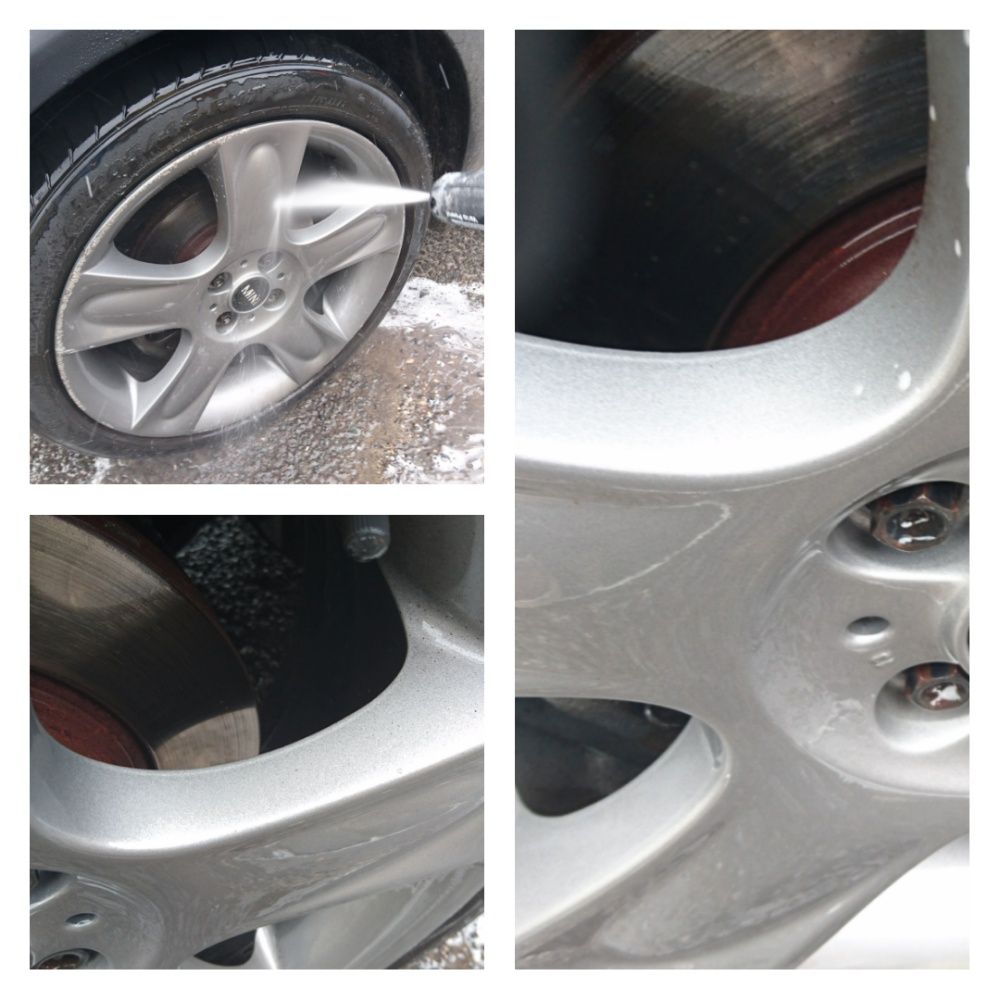 Onto the next wheel, this time the wheel was coated in Wheel Cleanse then agitated with a detailing brush.
This time it really came into its own, the Wheel Cleanse foamed up nicely and felt really well lubricated under the detailing brush like a good shampoo under a wash mitt.
You are able to work the Wheel Cleanse into all the nooks and crannies and make sure that every surface is covered. The Wheel was then left to dwell again for another 5 minutes before being rinsed off using the PW.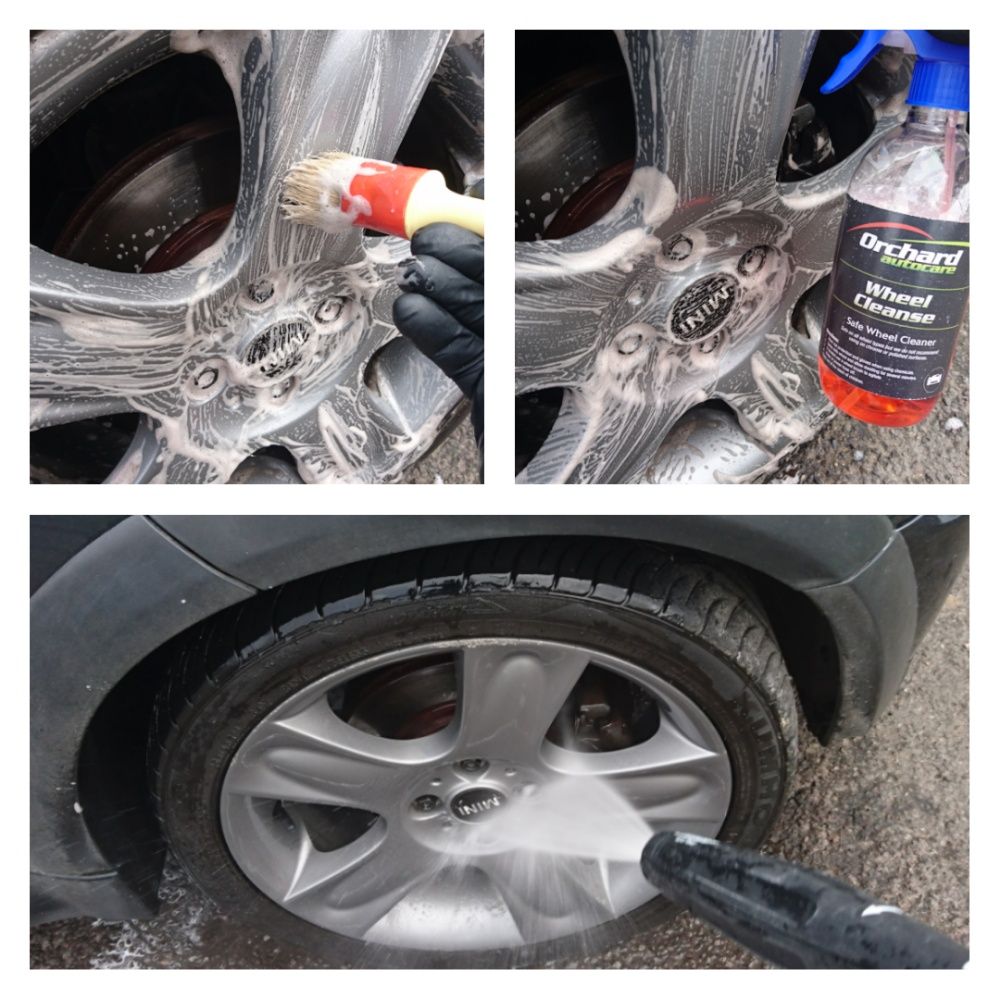 This was a far better solution and using this method the wheels came up really clean with no latent marks or dirt hainging around.
The barrels where then cleaned using the obligatory Woolies and the same method was followed around all 4 corners not forgetting the tyres.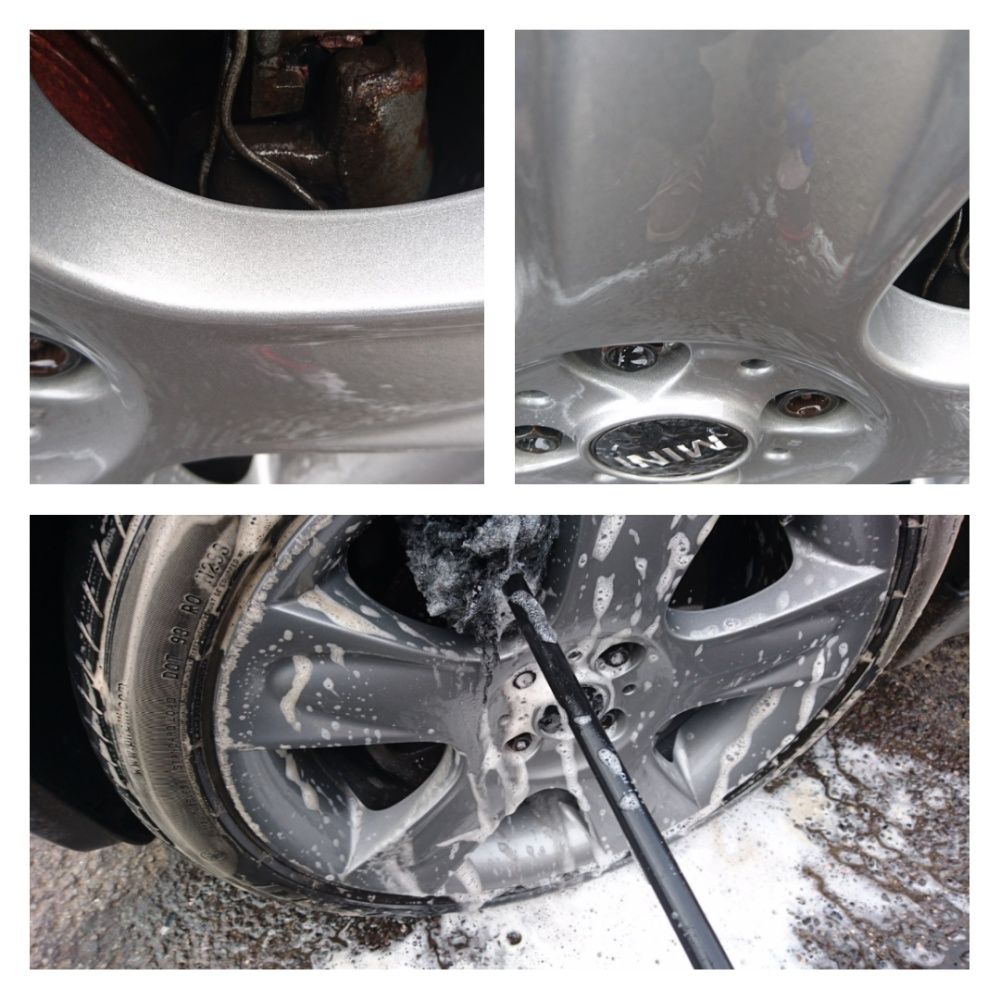 So all in all a very impressive result using a very impressive product.
Price:
Ł8.95 for the 500ml bottle used here, obviously the VFM rating increases with larger sizes.
Speaking of Value for money I used about 100 ml for this application and I do tend to over apply (ignore the pic of the bottle I have had a couple of uses out of it) so you could possibly get up to 5 uses out of a 500ml RTU bottle which although is not the cheapest around is certainly on of the nicest wheel cleaning products to use but when you bear in mind it can be diluted for maintenance washes up to 10-1 the VFM rating increases.
Would I use it again?:
I really ejoyed using this product, it makes the job of cleaning wheels almost a pleasure and is akin to using a great quality shampoo and wash mitt combo
Concluson:
The Guys at Orchard have come up with a winning product here, its safe to use on all wheel types and materials. Its gentle enough to not damage any coatings you might have applied yet effective enough to remove all but the toughest of marks/dirt.
Wheel Cleanse makes wheel cleaning less of a chore so if you are looking for a gentle yet effective wheel cleaner that can be used in every eventuality Wheel Cleanse might be the one for you...... It was for me as you can see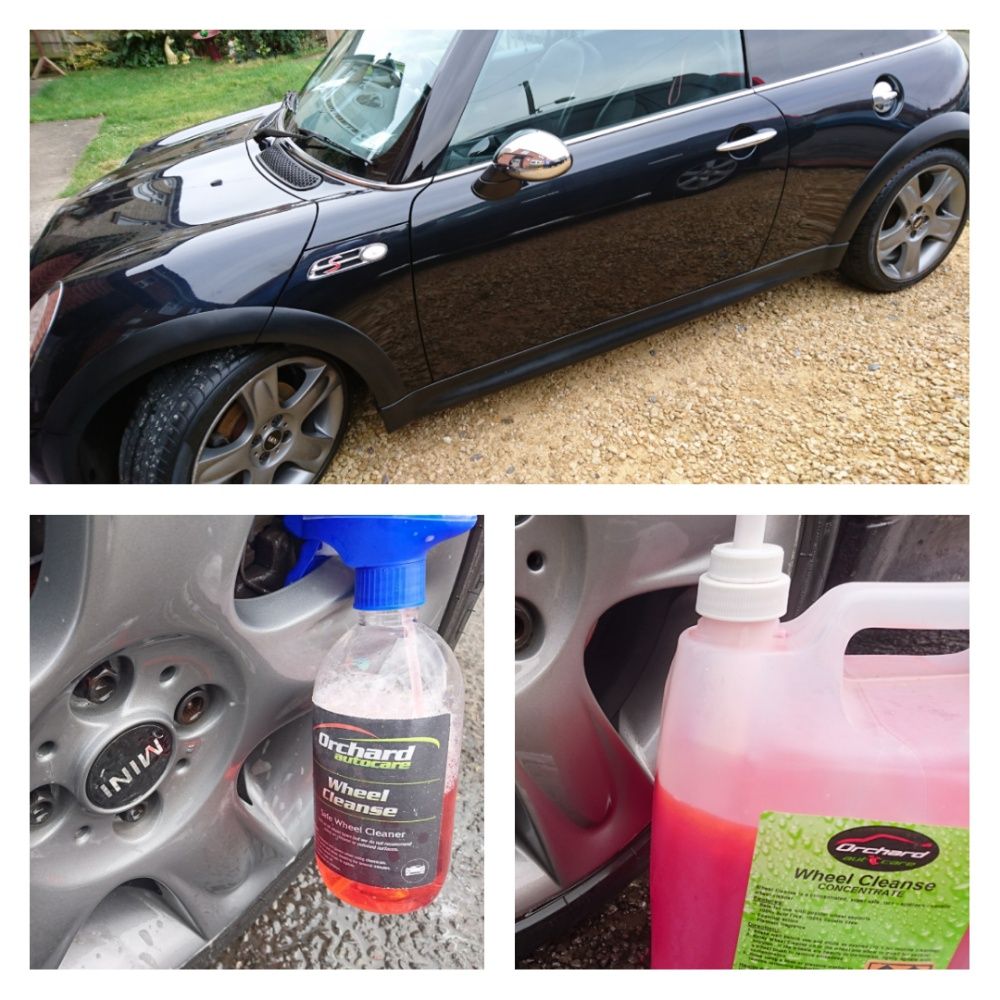 Thanks for reading
"DW has followed the Manufacturers Instructions and accepts no responsibility to any circumstances arising from any member using these products or following this test "