Detailingworld™ Review - Autoglym UHD Shampoo
1st of all thank you to the guys at Autoglym for sending me a few of the new products to try.
Now you must all be aware of the Autoglym brand and have no doubt all got 1 or more of the range in your shelves so it will come as no suprise that they are one of the success stories in this business, for more information on the Autoglym brand please have a look here:
https://www.autoglym.com/
We all like a good shampoo and I have to admit it has been a while since I have tried a real stinker so there are alot of great products on the market at the moment.
A decent shampoo can make the difference in the process and really is the key to a squeaky clean finish so its going to be good to see what the Autoglym boffins have come up with this time.
The Product:
The product arrived unusually in a box..... don't panic because there is a really smart PET bottle containing the shampoo inside, this all adds to the quality feel of the product.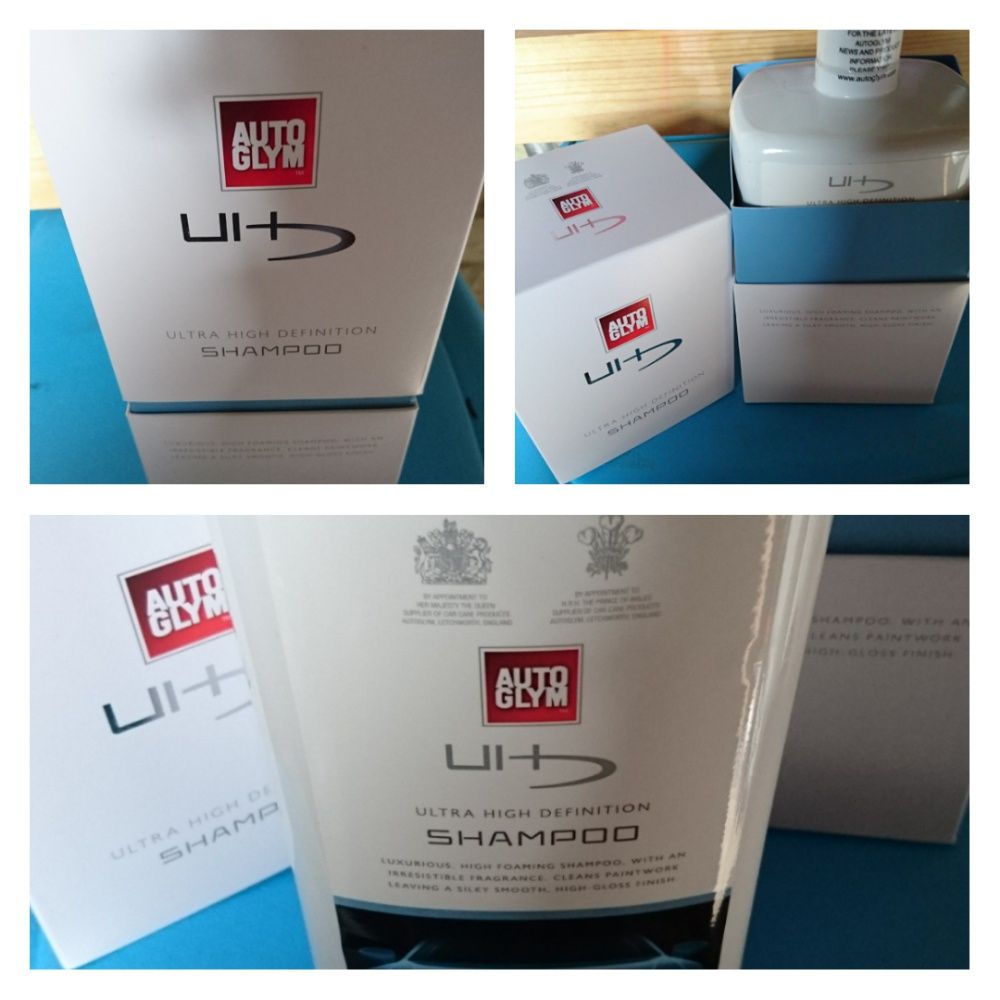 The actual shampoo is clear in colour with a thick consistency but not too thick so as it doesn't want to be dispensed.
The scent is a really appealing Melon flavour which smells great, it makes you wonder if you should be using it in the shower or on your car.
Autoglym say:
Introducing Autoglym Ultra High Definition. Breathtaking finishes, luxuriously smooth with invigorating, sensual fragrances. Ultra High Definition products turn car care into pure pleasure.

Ultra High Definition Shampoo is a luxurious, high foaming shampoo that glides across paintwork for an effortless experience. The all new, pH neutral formula gently removes contaminants and road traffic film to produce a high-gloss finish that's incredibly smooth to the touch. That's the Autoglym way, always has been.
So we can surmise from that that UHD shampooo is PH neutral, well lubricated and ermmm.... sensual
The Method:
I was giving Mrs P's Cooper a wash today and like normal.....
Well actually not as bad as normal
1st up was a nice snow foam prewash, whilst the foam was dwelling it was time to prep the wash buckets.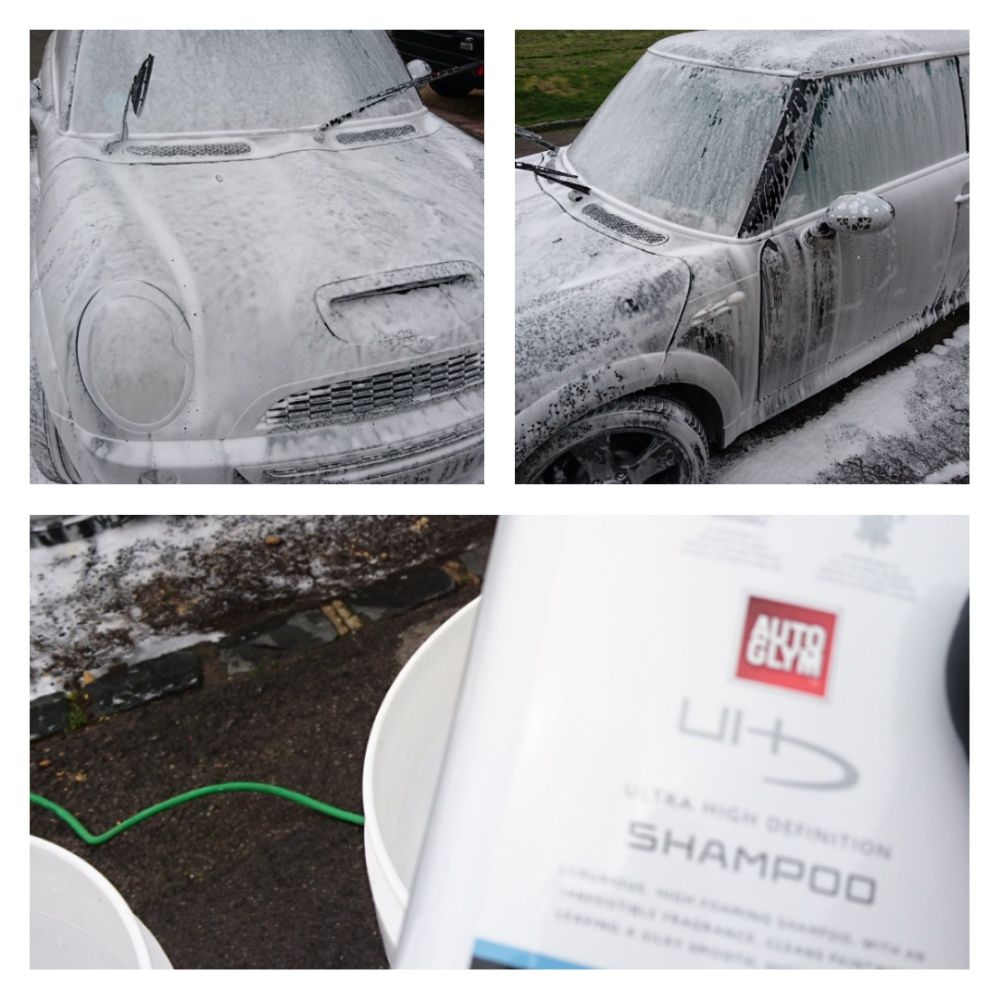 The instructions say 4 capfuls into 10ltrs of water.... I am not so keen on these cap full measurements for 2 reasons, 1) as with alot of shampoos this one comes with a flip top dispenser so you don't have to remove the cap and 2) cap sizes can vary so its hard to guage how much you are using.
So for the puposes of this review I decided on a standard dose of 30ml to 15ltrs of warm water. Please bear in mind that the water in these parts is really hard so I generally have to use more product than someone who lives in a soft water area.
30ml of shampoo was measured out into my little measuring pot then added to the wash bucket which as I said contained about 15ltrs of warm water.
This was then agitated a little bit by hand before foaming up with the pressure washer. I am glad to report that there was a perfect amount of suds which quickly overflowed the bucket with suds.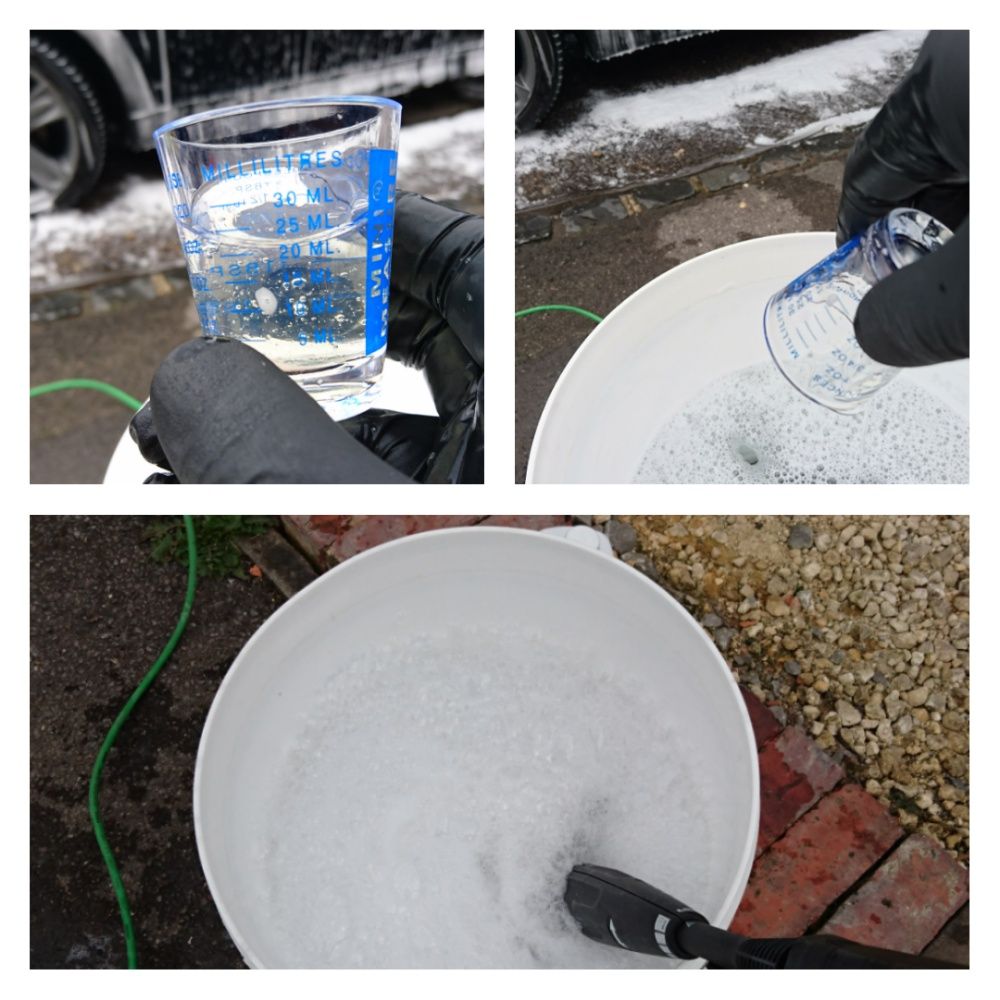 The car was then rinsed to remove the snow foam so shampoo action could begin.
Using my favorite wash pad the suddsy shampoo solution was applied to the roof panel 1st and obviously gently rubbed
There was a decent amount of suds transferred onto the panel and I can only describe the movement of the wash pad as super smooth and the melon smell filled the air.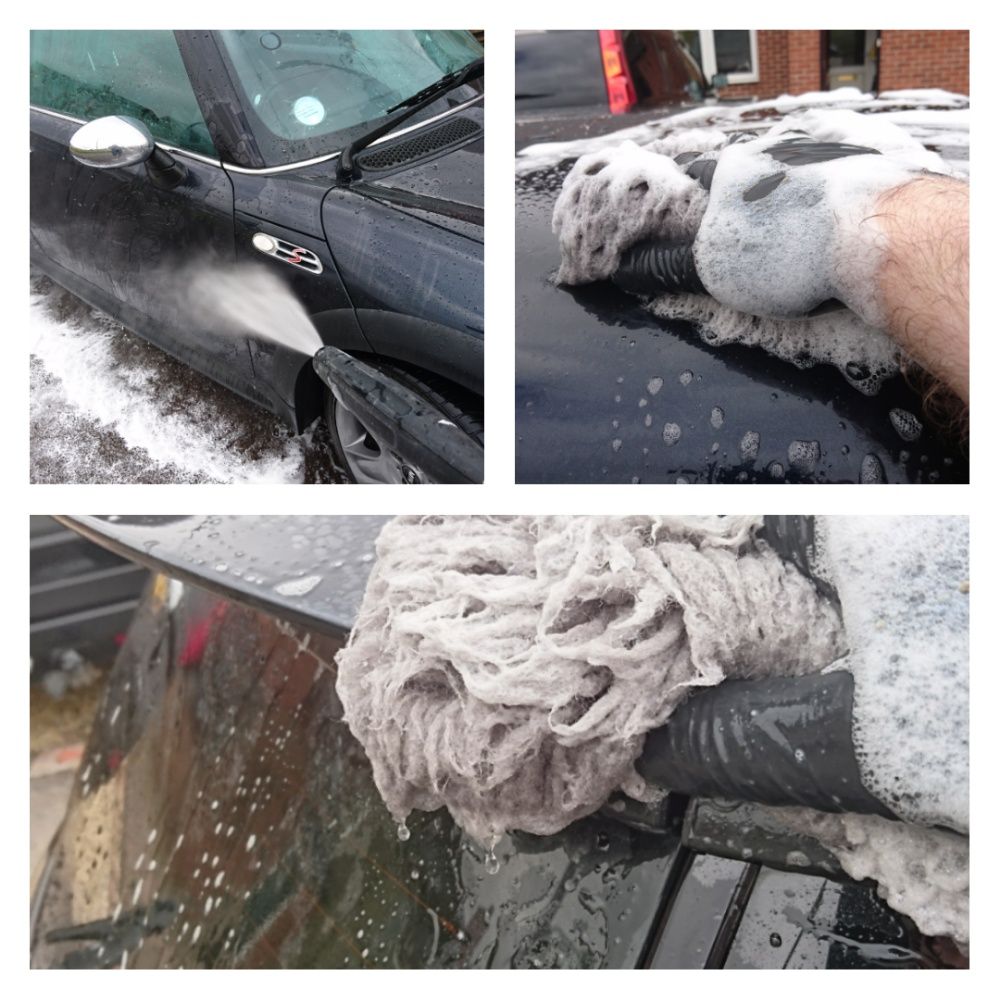 you can see by the little video how smoothly the wash pad moved across the panels.
The rest of the car was finished working from top to bottom and as you can see there was not an excessive amount of suds left on the panel but enough to see where you had been which for me was a good thing.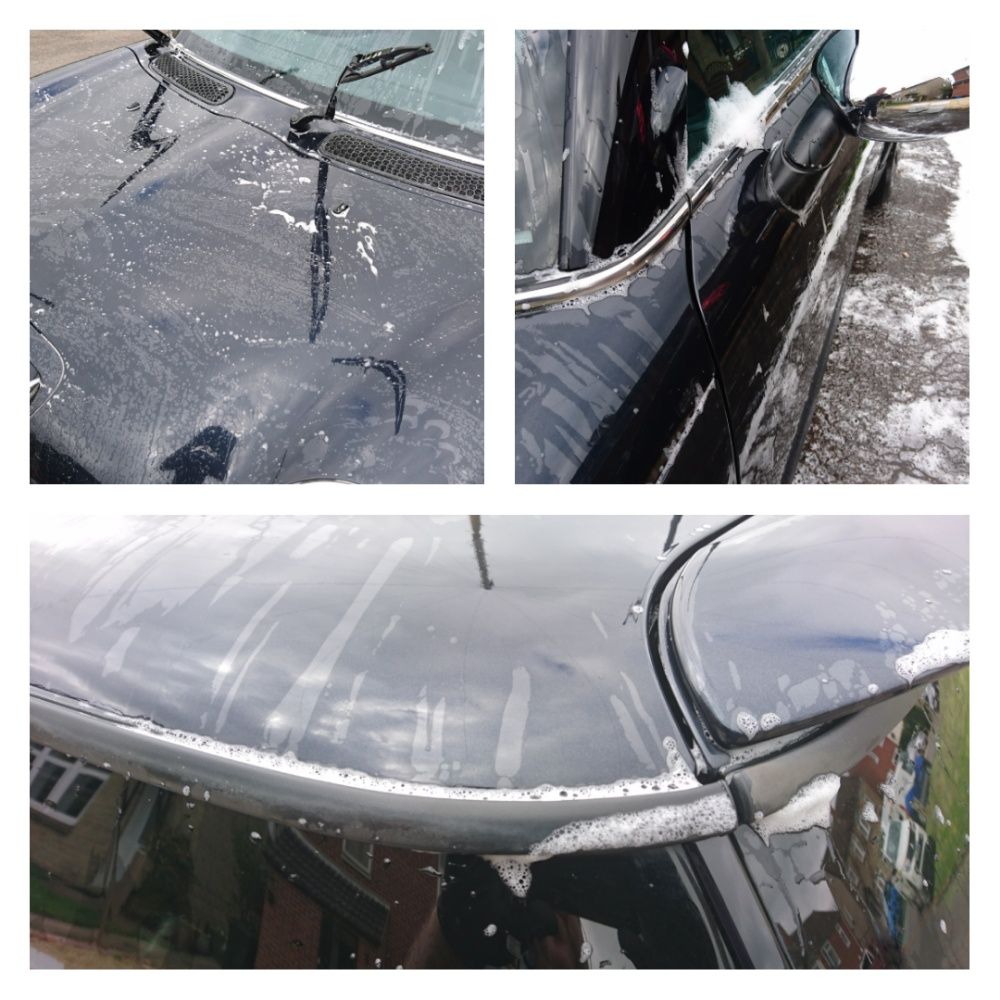 The car was then rinsed and dried and was looking spick and span again.
You can see that alot of suds remained in the buckets even after the car was dried and the rinse bucket water was looking pretty grubby which meant that UHD was doing what it should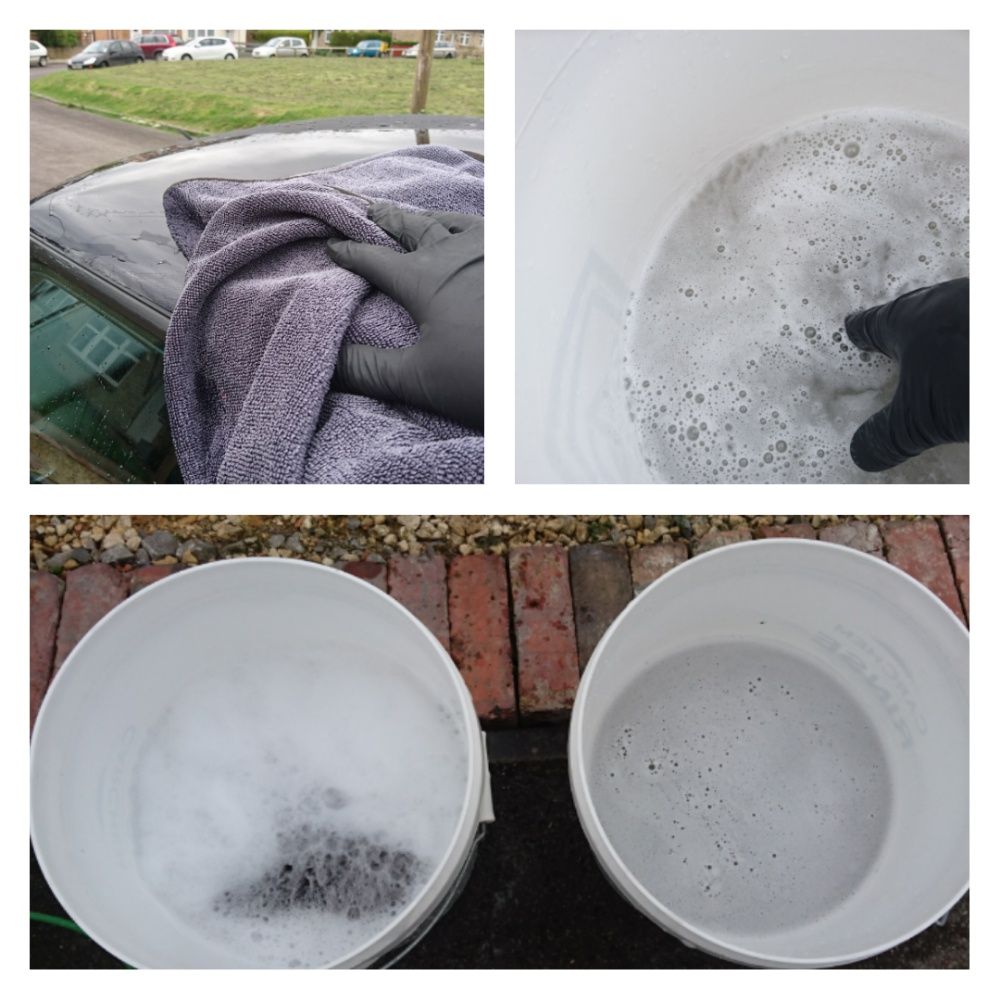 So all in all a really good performance from a shampoo which does everything you would want.
Price:
Ł17.50 for a 1000ml bottle and is available from here:
https://www.autoglym.com/ultra-high-definition-shampoo
Value wise I nearly had a heart attack when I saw the price until i remembered the fact that this is a 1000ml bottle as opposed to the normal 500ml. At 30ml per wash the bottle would yield 33 washes at a wash price of 52p per wash which is really good value for a quality shampoo.
Would I use it again?:

Most definitely, UHD will be sitting on my shampoo rosta.
Conclusion:
Autoglym UHD is a very capable shampoo indeed, it cleans well, smells great, suds up well and is certainly well lubricated so it ticks alot of boxes, add to that the fact that UHD can be brought locally in popular motor factors this really makes it an appealing prospect for your next shampoo choice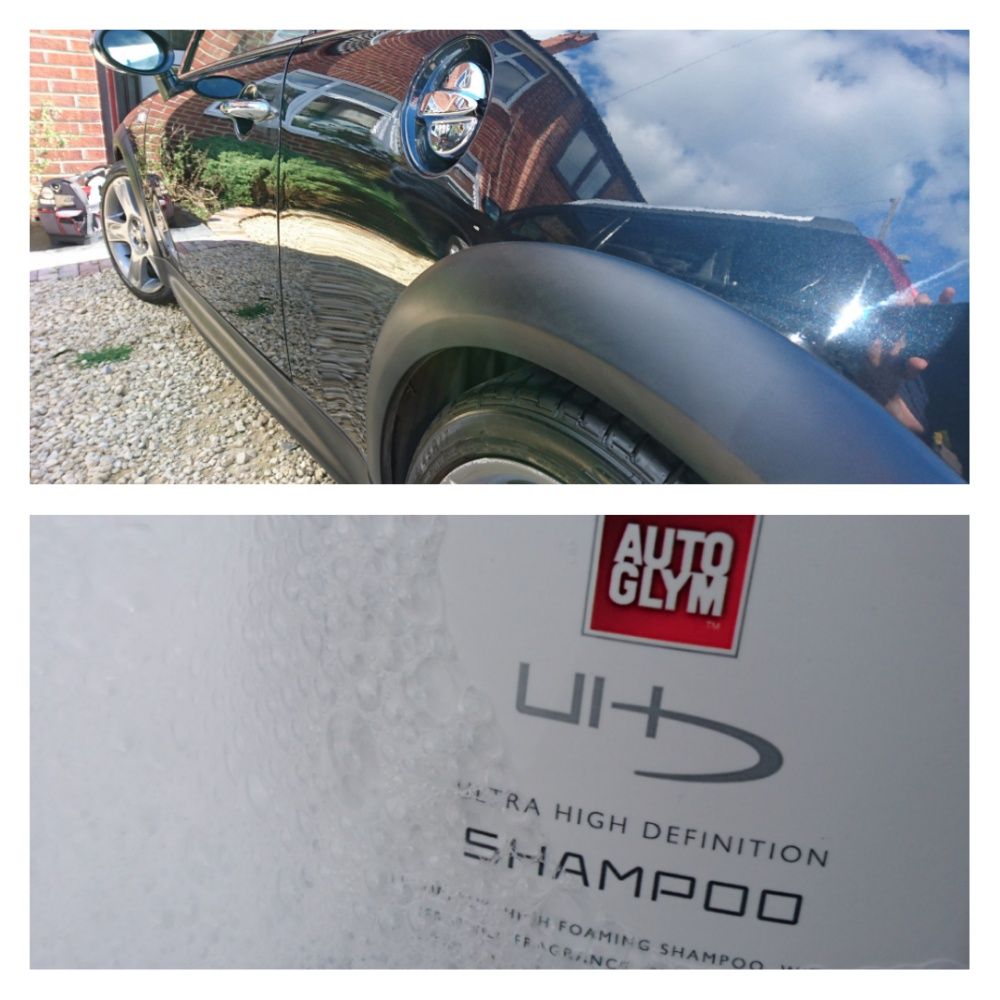 If you are in the market for a new modern shampoo at a great price and want one that will not let you down and comes from one of the most trusted names in the business Autoglym UHD should be very near the top of your list
"DW has followed the Manufacturers Instructions and accepts no responsibility to any circumstances arising from any member using these products or following this test "
Thanks for reading