Introduction
SONAX Clear View 1:100 Concentrate Green Lemon – Screenwash Additive- 250ml gives upto 25litres
Product
Here's the manufacturers description
Highly concentrated cleaner additive for the windscreen washer during the summer. Bottle contents of 250 ml will yield 25 litres of cleaning solution. Removes insects, oil, grime, silicone, and dangerous dazzling and greasy films. Compatible with plastics – does not cause tension cracks/dull spots on headlamp diffusers. Also well suitable for XENON headlamps and plastic diffusers in clear glass design. Suitable for fan jet nozzles. Can be mixed with tap water (all hardness degrees) thanks to anti-lime effect. With a fresh Green Lemon scent.
Priced from £8.99 250ml
The Method
Simple really – added the correct Dosage to the Windscreen Water Bottle and mixed with Water – The Bottle is squeezable and has a ml readout in the top part which allows for correct dosage to be added –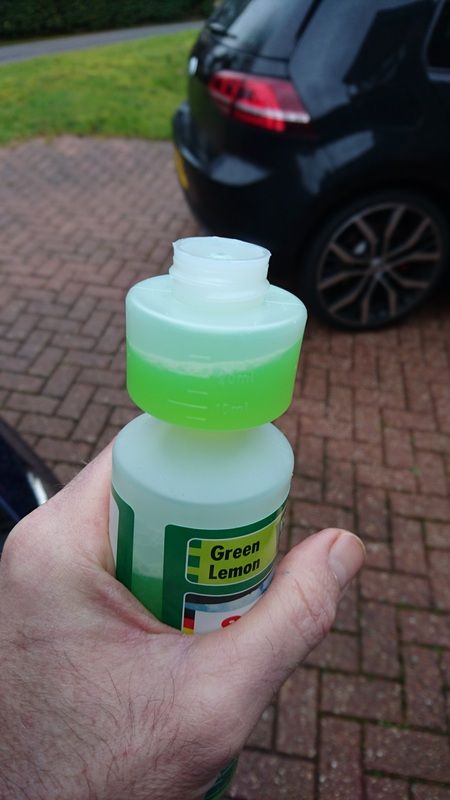 Use as normal Windscreen Washer To remove road grime-
(library Picture)
The results
Difficult to get a good Picture but cuts through Road grime really well and leaves a clear screen and a fresh scent in the cabin in this instance - Lemon
Verdict
Works Well and Has been my go to Screenwash Additive for a few years now in various guises –
Comes in different smells Green Lemon, Red Summer , NanoPro ,LemonFresh , Tropical Sun.
Thanks to Sonax and Saxonbrands
http://www.sonax.com/Products/Interi...te-Green-Lemon
http://saxon-brands.com/product
Detailingworld™ reviewer has followed the Manufacturers Instructions and accepts no responsibility to any circumstances arising from any member using these products or following this test "