Detailingworld™ Review - Wax Planet White Noise
As usual I would like to thank Tony at Wax Planet for sending me a couple of waxes to try, as you know the weather has not been kind recently so its nice to see a change in conditions so that waxing operations can commence.
I am guessing that by now you have all heard of the Wax Planet brand, Tony has been beavering away somewhere up north to produce a range of waxes and detailing products. For more information on the brand have a look here:
http://www.waxplanet.co.uk/
As you know I really like to wax, I find it relaxing and always love the finish of a decent wax, some people may prefer going down the sealant route but in my opinion there will always be a place for waxes on our cars. Now the weather is getting better crack the wax out
The Product:
White Noise arrives in a really nice quality black glass jar, the label on the lid has a rather natty looking raised domed label which has the usual Wax Planet branding on, the label and the pot really point to a quality product and feel dead classy.
The wax itself is pure white in colour and smells a bit like cherrys and almonds although I am not the best at smells.
The wax feels nice and hard in the pot and when you swipe your finger in it it feels really oily pointing to a smooth to apply wax.
Wax Planet Say:
White Noise is a super glossy 100% montan content car wax, blended with the finest grade montan wax and gloss enhancing polymers available. This wax will give a superb gloss to any colour paint. Apply a thin layer to the panel and allow to cure and buff with a plush microfibre towel.

So White Noise is a 100% Montan wax, whilst I am not sure what that means as opposed to being Carnauba we will find out.
The Method:
So this week I was giving the X Trail a clean, it had not been done for a couple of weeks so needed a bit of a lift.
The temperature was 11deg and overcast so very nearly spot on.
Needless to say a black car and winter conditions don't mix.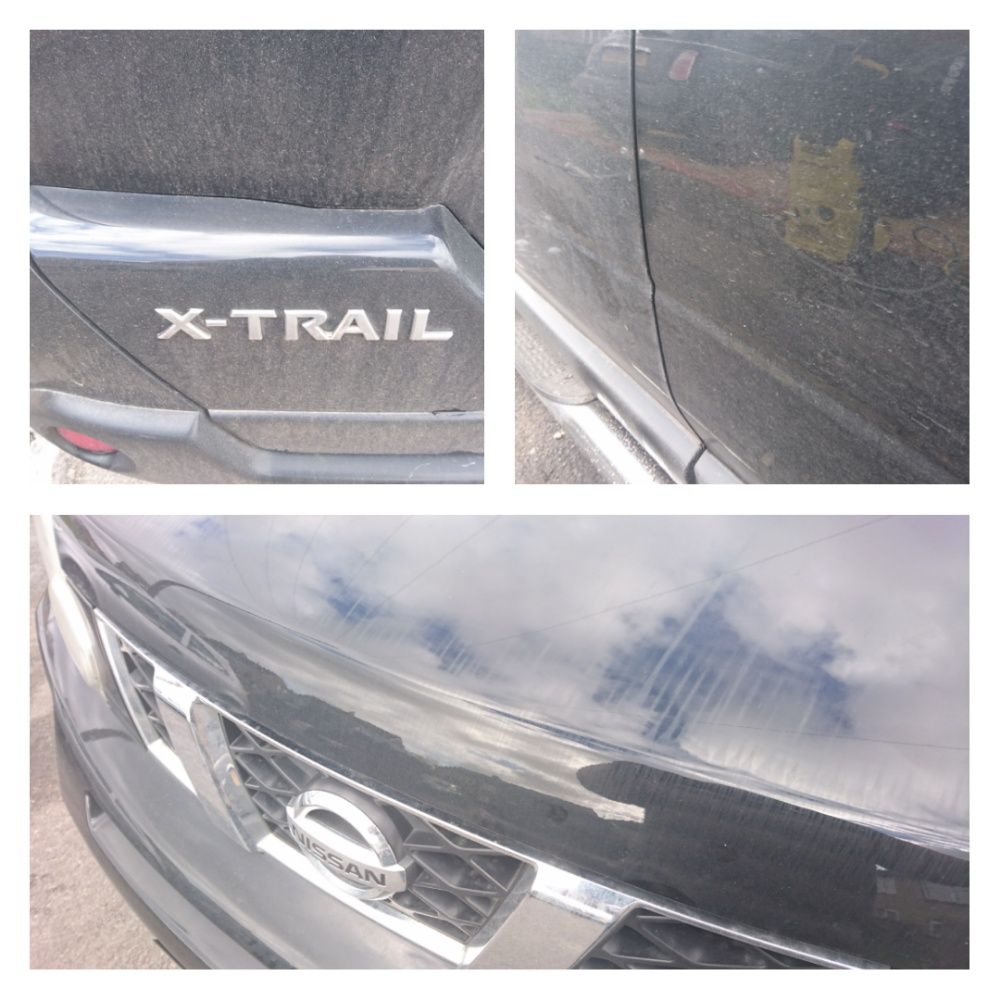 So the car was given the obligatory snow foam prewash, 2 bucket wash and was dried leaving it looking alot better.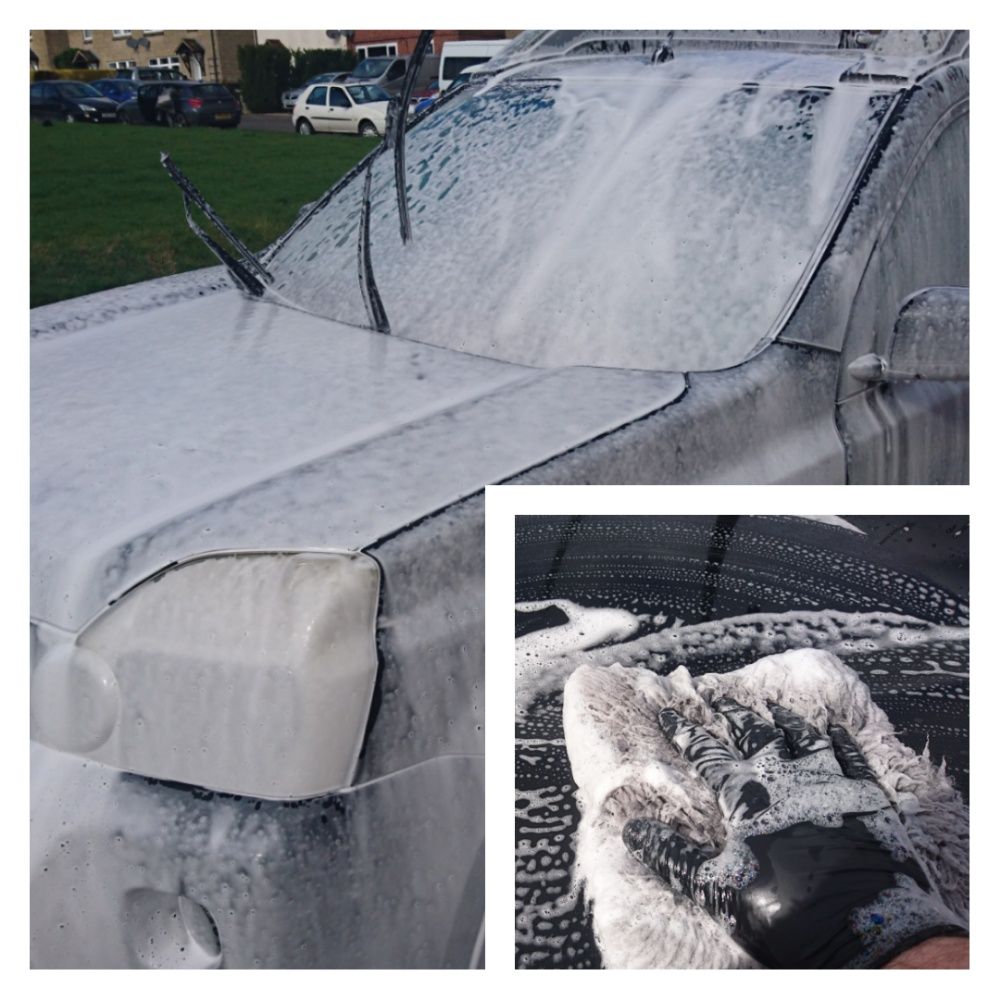 Today I decided to try the AP wax applicator and it was a prefect fit in the top of the pot.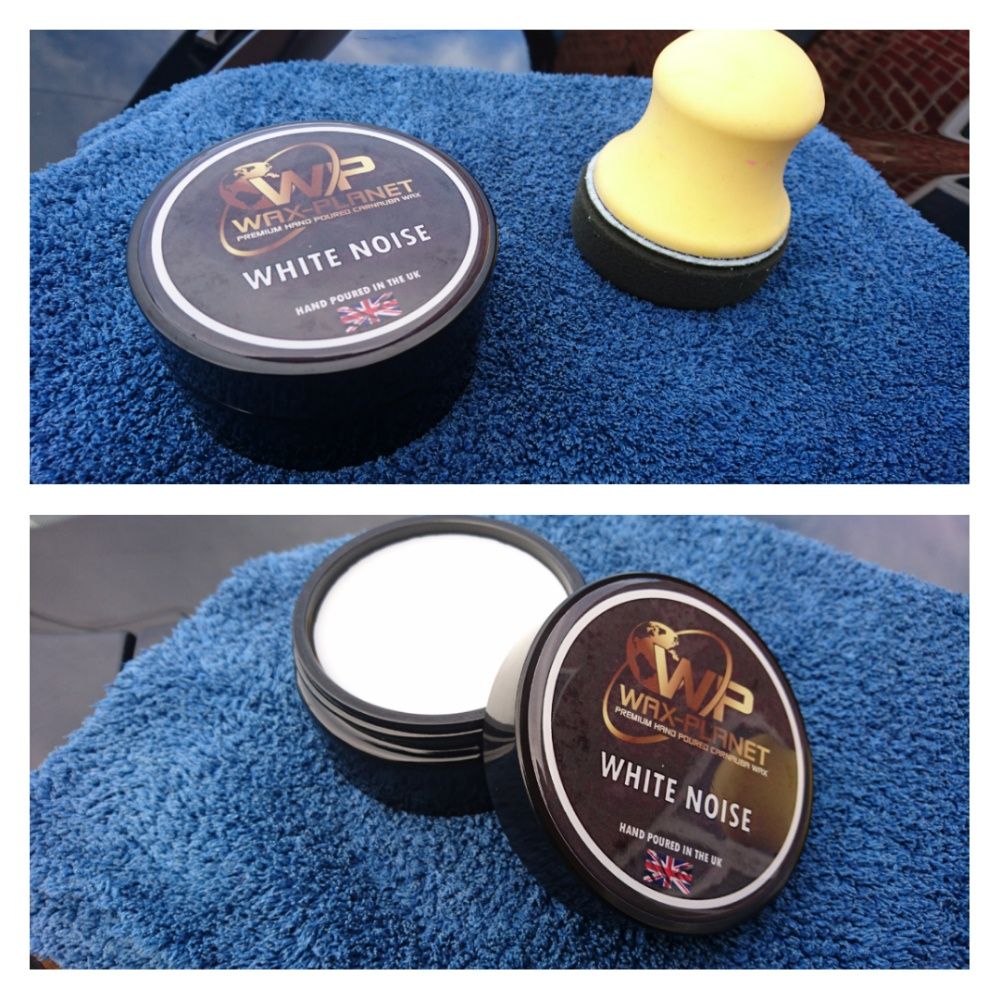 The applicator was primed with a thin layer of White Noise, this proved to be a bit tricky as the wax had come away from the side of the pot and was spinning in the jar but not a major issue.
Normal drill here the wax was applied to the panel with a mixture of small overlapping circles and straight lines depending on the panel shape.
The wax was super smooth to apply, now when I say super smooth it really was akin to spreading warm butter on warm toast and just seemed to melt into the paint. Now I am not sure if this is due to the Montan Content but this has to be one of the easiest waxes around to apply.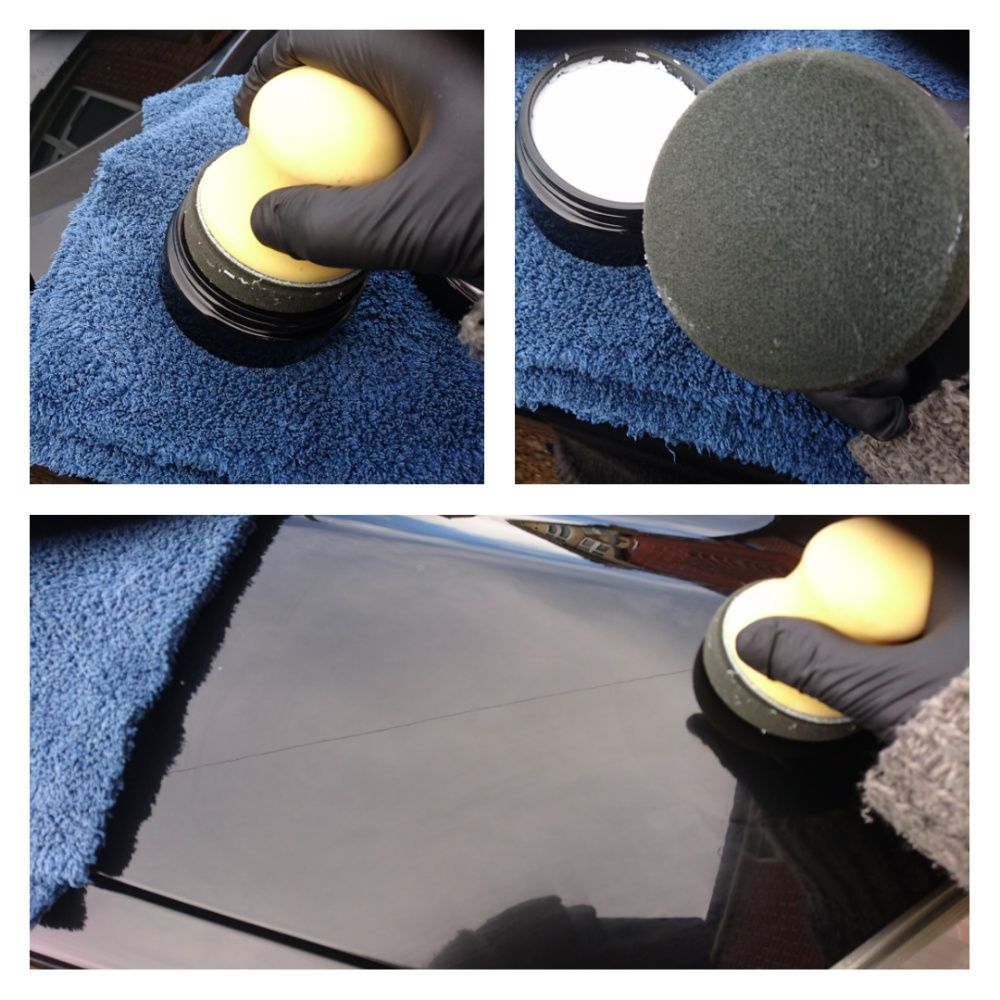 Cure times can be hard to judge but I have found that the oilier the wax the longer the cure time (obviously this depends on weather conditions i.e. heat and moisture in the air) but as a general rule of thumb this works for me.
In this case I decided on a 20 minute cure time, you can normally tell when its ready to remove by finger swiping and seeing clean paint underneath but with a oily wax its sometimes harder to see.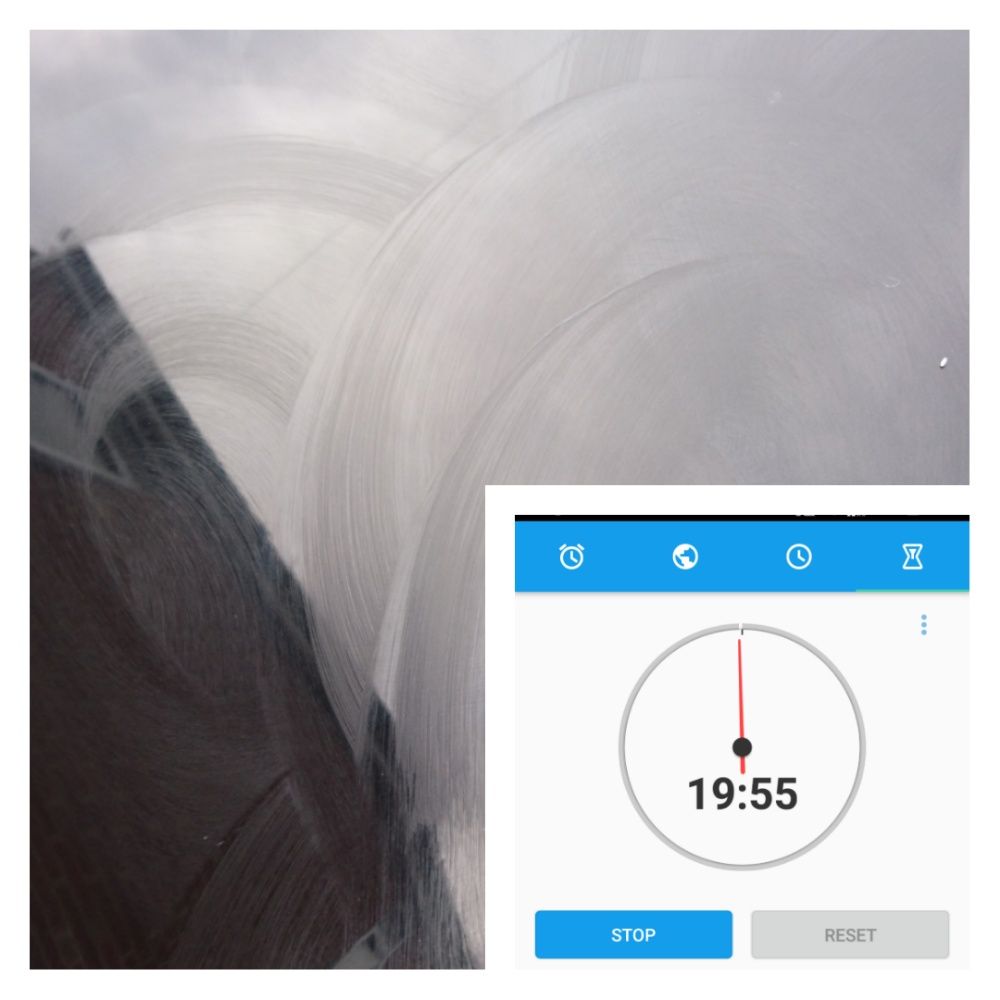 Removal proved to be super easy aswell and the residue almost fell off the paint with only the lightest of pressures. No white residue or dust here and didnt seem to clog the cloth up at all which was great to see.
The finish that was left was really clean almost glass like, not much of darkening with this one just a nice clean glossy finish.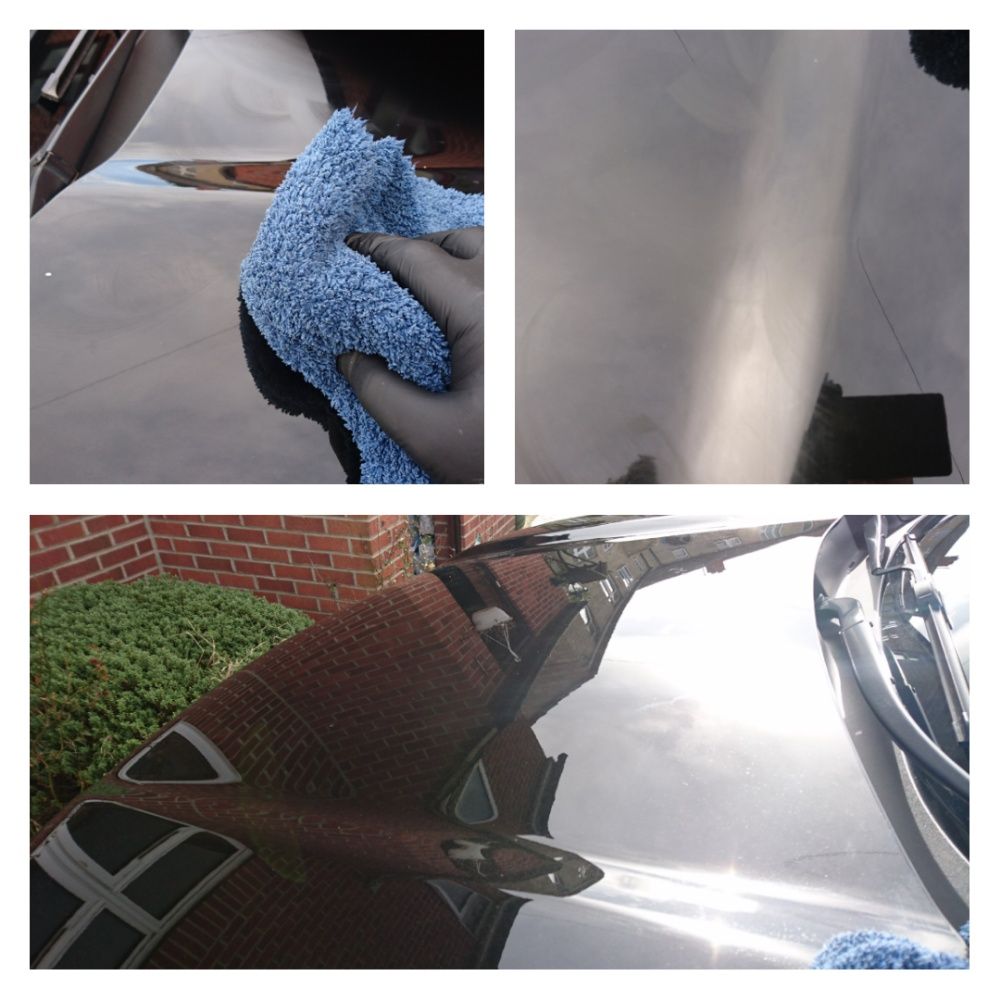 So now time for a 2nd coat, same drill as before and was going to go for a similar cure time but 5 minutes after the the coat was applied sure enough it started raining
So I quickly grabbed the cloth and removed the wax, same as before with no smearing and it came off just as easily.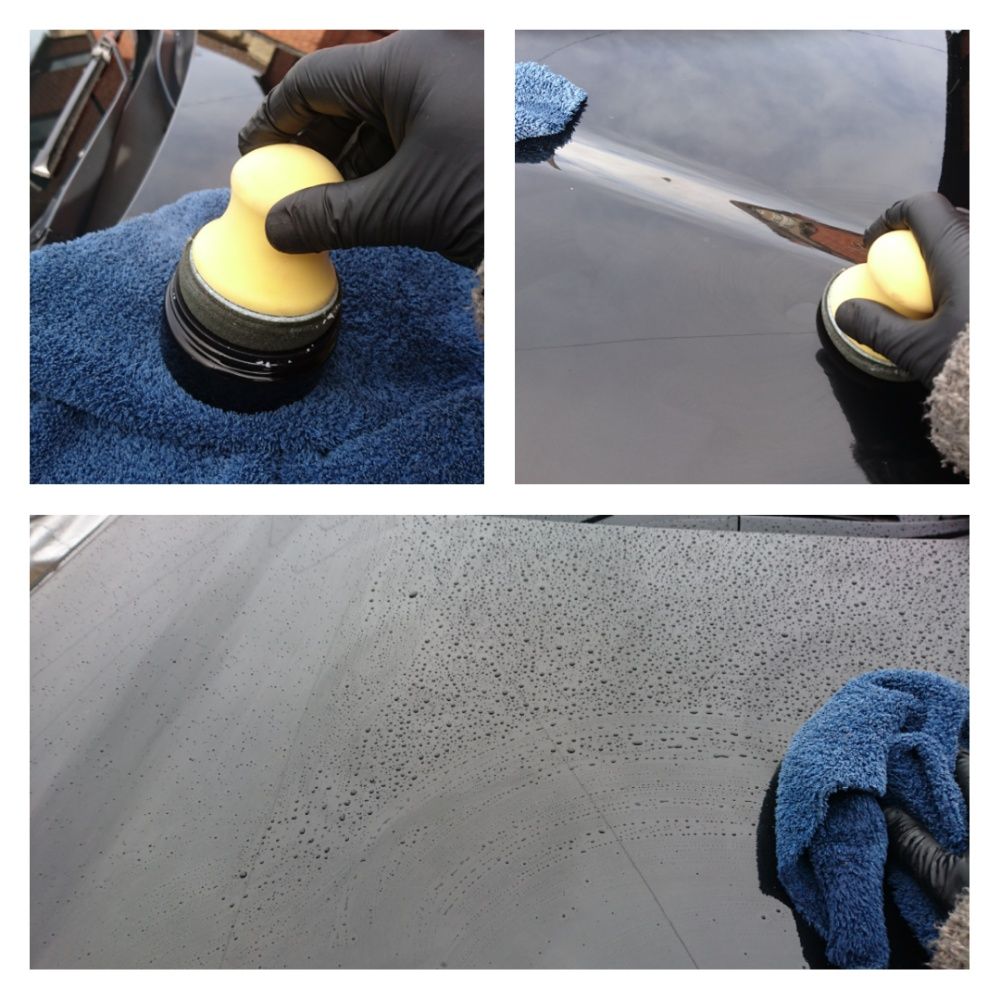 This did give me a opportunity to see how White Noise reacts in the rain so I took this little clip....
As you can see White Noise does not like the water very much
Price:
Ł40 for a 200ml pot and is available from here:
http://www.waxplanet.co.uk/waxes/white-noise-wax
Value wise this represents great value for money and a 200ml pot is going to last a awful long time because you really do not need alot so is a bit of a bargain for a super easy to use wax.
Would I use it again?:
One word.... YES.
Conclusion:
Now what can I say about this wax..... Its a really easy to use wax which could be just as easily applied by an experienced wax user or a new wax user its just that easy to use.
The finish that is left is really clean and looks great, i imagine it would look very nice on a silver or white car.
If you are looking for a new wax to try at a decent price point that is unfussy on application and removal I would certainly consider trying White Noise, you will not be disappointed.
And of course it beads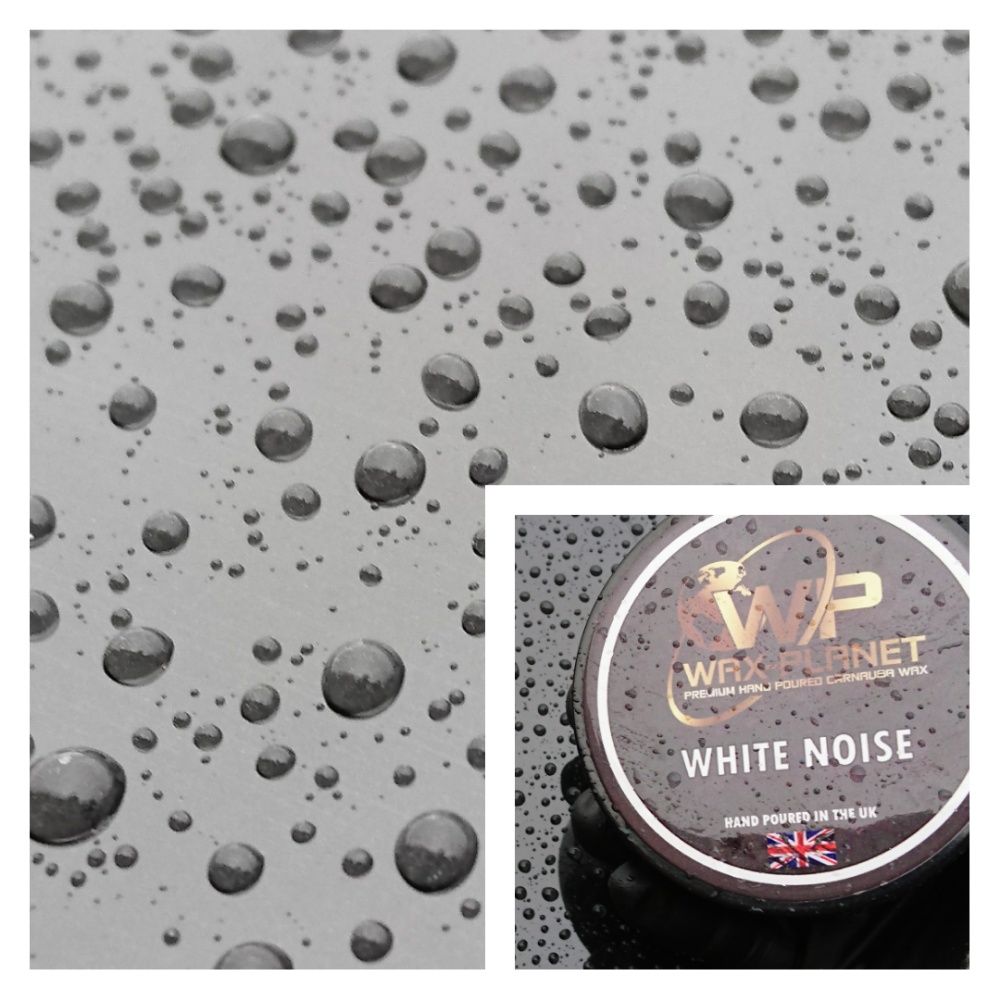 Thanks for reading
"DW has followed the Manufacturers Instructions and accepts no responsibility to any circumstances arising from any member using these products or following this test "