Introduction
Firstly a thank you goes to Car-Chem for the products provided. As spring was arriving I mentioned that I would be carrying out full decontamination's of several cars and with this in mind, Car-Chem sent out both their Tar/Glue remover and Revolt (fallout remover) for testing and review. Most people will be well aware of Car-Chem, based in Nottingham, England. They are a huge chemical manufacturing company and have been sponsors on this forum for as long as I can remember. They are one of very few brands in the UK that make all their products in house with a fully qualified chemist producing and quality checking each and every product.
If you require any more information on the brand or want to have a look at their full range, pop on their website found here:
http://www.car-chem.com/store/
The Product
So first up for testing will be Car-Chem's Tar & Glue remover. Like the full range of Car-Chem products, this comes in a very simple looking clear bottle which has a clear label with black contrasting writing. The 500ml bottle contains a clear liquid with viscosity similar to water and comes with an adjustable sprayer for easy application. A sniff of the contents confirmed this was a heavy solvent based tar & glue remover, smelling strongly of white spirit/turpentine.
The description on Car-Chems website for Tar & Glue remover is as follows:
"An extremely strong remover which will instantly dissolve tar on paintwork and plastics enabling it to be wiped off with a routine shampoo. It also removes oil, grease, silicones, wax, gum, fuel stains and adhesive residue.

Directions for use

Spray the product onto the heavy dirt areas and leave to soak in for up to 60 seconds. Use a microfibre cloth or soft brush to loosen tar and glue. Finally rinse off.

Not to be used on refurbished wheels / smart repairs paint work / Aftermarket paintwork
The Method
Nothing out of the ordinary instructions wise. Wash the car wheels/bodywork and dry prior to application of Tar & Glue Remover. Spray directly onto the tar spots, allow it to dwell and break the tar spot down for 60 seconds then gently wipe the tar away with a wet MF cloth.
With summer now approaching the weather is finally playing ball after a very cold and wet winter up here in Glasgow. I had my sisters CX-5 for the day and this was in serious need of some TLC as I hadn't touched it myself since well before Christmas. As I was fully decontaminating the wheels, it made sense to use this product for any tar spots on the alloys.
A 1:5 mixture of Car-Chem Bilberry wheel cleaner was applied to the face, spokes and wheel barrel followed with agitation using a selection of wheel brushes.
The layer of dirt and brake dust sitting on top of the wheel was removed effortlessly. Any remaining contaminants could now only be tar or fallout. As tar can sit on top of fallout, it is good practice to firstly de-tar the surface so as not to miss any fallout during decontamination. Tar spots are usually identified as singular dark brown spots. Several of these were present on the alloys.
The wheel was given a quick wipe down with a drying towel to soak up any larger remnants of water. This step is essential as it allows the tar & glue remover to perform more effectively as it isn't being diluted by any surface water. The full wheel was misted with a small amount of product including the barrels and allowed to dwell for the advised 60 seconds. The spray pattern was spot on and not a huge amount had to be used due to the fine mist. After allowing to dwell the suggested time you could visibly see the tar melting away.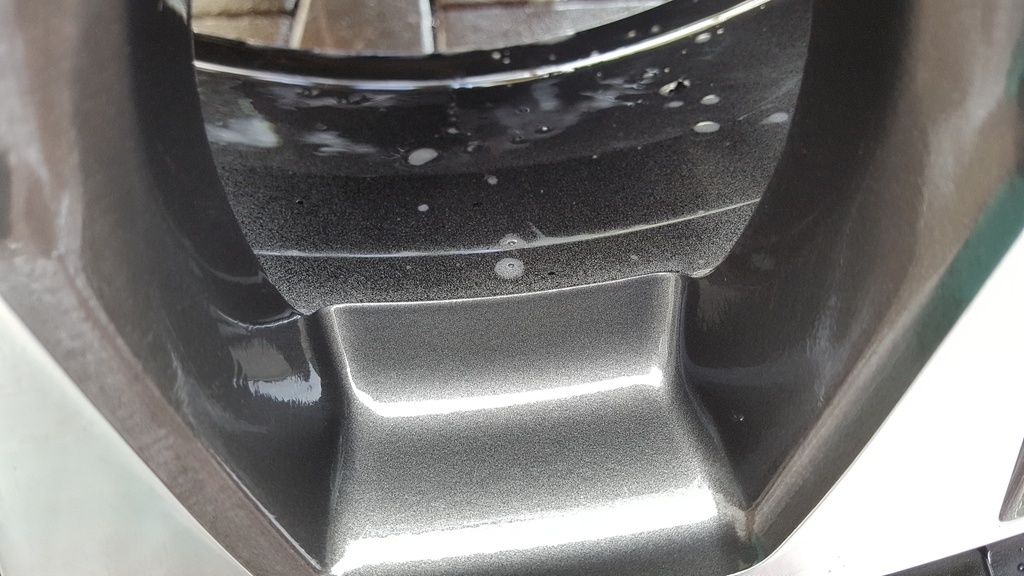 The few tar spots found on the alloy were then wiped away effortlessly with no real pressure or excessive rubbing required.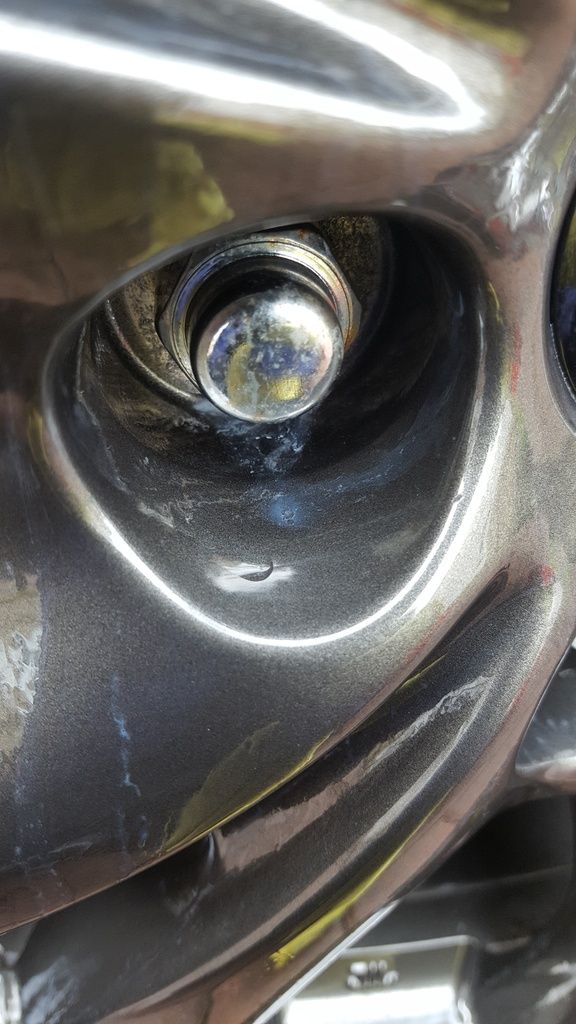 The only negative I found came from the sprayer. As it wasn't chemical resistant, spraying something heavily solvent based resulted in it failing prematurely after applying to only one wheel. Fortunately I had just taken delivery of some chemical resistant spray heads so the broken head was swapped out for one of these. On a personal note, I think these type of products should come with a chemical resistant sprayer as standard so they function as intended for an acceptable length of time. Offering a chemical resistant head over the standard one for an extra £1 would be worth offering to customers I think.
Price
500ml of Car-Chem Tar & Glue remover used here will cost you £4.99 while a 5L bottle comes in at £20.99, both excluding P&P. It looks to be very well priced compared to the rest of the market I think. If you wish to purchase this follow the link below:
500ml -
http://car-chem.com/store/glue-and-t...ilter_name=tar
1L -
http://car-chem.com/store/tar-glue-remover-1ltr
5L -
http://car-chem.com/store/tar-glue-remover-5ltr
Would I use it again?
Happily yes. It's a simple and effective tar/glue remover offered at a very reasonable price, not much more to say on it really.
Conclusion
Car-Chem's Tar & Glue remover is almost faultless in my own opinion. My only real gripe other than the poor spray head is purely specific to my own requirements. My own car has delicate decals along each side of it and I tend to steer clear of strong, solvent heavy tar & glue removers to avoid degradation of those decals. For most cars this won't be an issue though and I wouldn't hesitate to use this on any of the other family cars. I reckon a 5L purchase in the future for me as at the price offered it is hard to beat.
Another bonus I think is it is easily accessible online for purchase and delivery unlike other impressive tar & glue removers and that gives Car-Chems offering a big advantage in my book.
Thanks for reading!
DW has followed the Manufacturer's Instructions and accepts no responsibility to any circumstances arising from any member using these products or following this test.