Recently a customer visited Gloss-It Detail Studio with her sleek black 2015 Porsche Panamera. She wanted to protect her vehicle from damage that may occur while driving in the extreme wind and dust storms here in Las Vegas. Imperfections will be triggered from stones and other road debris with wind gusts up to 60 miles per hour in the valley. The customer decided to go with the ultimate all surface
Evo Quartz Pro 9H
.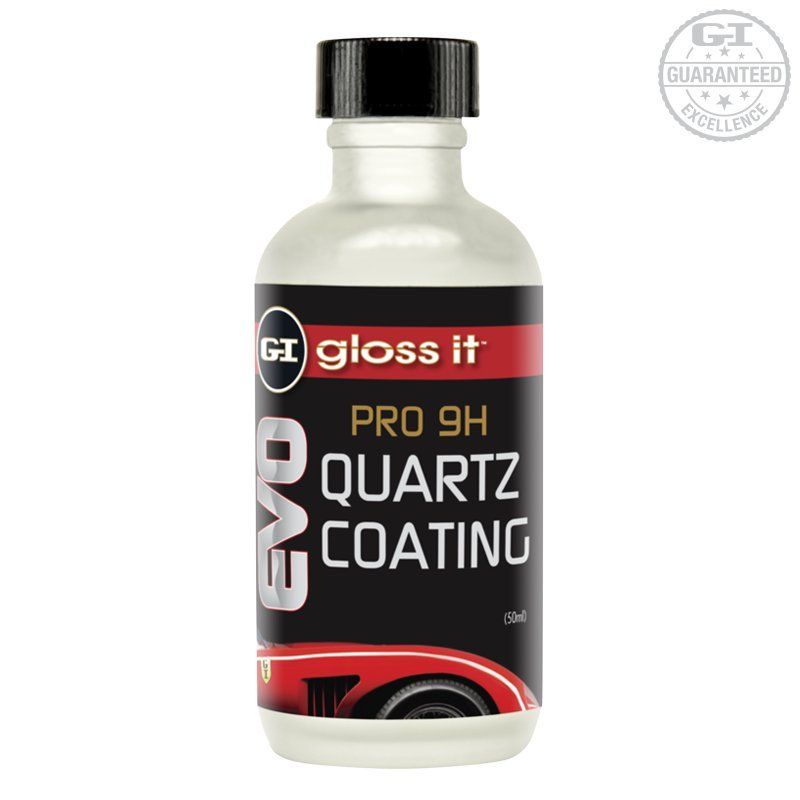 First, we washed the car, which consisted of
Basic Wash
and
Clay Bar
to remove all the sediment, bugs, and grime. Gloss-It
A.P.C.
and
Wheel Gel Cleaner
combo removed all of the residue while using a
wheel spoke brush
. Once the wheels are cleaned we tackle the tires with our
Hexi Grip Black Foam Applicator
along with
Gloss-It Tire Gloss
to protect the rubber from the UV light and help it not dry out.
This vehicle only required minor paint correction with the
Evo21 Dual Action Polisher
to remove scratching/marring to the hood and bumper. Parts of the vehicle required two step paint correction. We used our
Blue Foam Pad
. for polishing which proved to be a great combination for removing heavy scratched and providing a shiny finish. We used
EVO 1500 Moderate Cut Polish
and
Evo 2000 Light Cut Polish
.
Next, we installed the
Paint Protection Film
to partial hood, fenders, mirrors, headlights and full bumper, which works as an invisible layer of armor on top of the car's finish.
Lastly, we wiped the car down with a alcohol to get rid of any extra polish to prep the surface before applying two coats of Evo Quartz Coating Pro 9H to the entire vehicle.
Using our
Gloss Enhancer Detail Spray
and
Plush Microfiber Towels
will guarantee the vehicles shine and have it looking better than ever.
The customer was so surprised at the gloss and shine and couldn't believe the difference after the detail service, paint correction, polish, and PPF installation. She is extremely pleased to know that her car will now be protected for the future. Here are the final pictures to enjoy of this 2015 Porsche Panamera.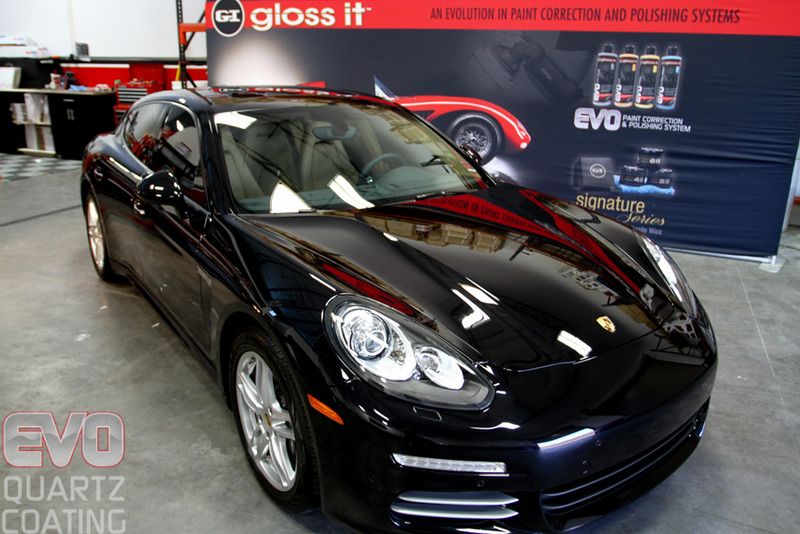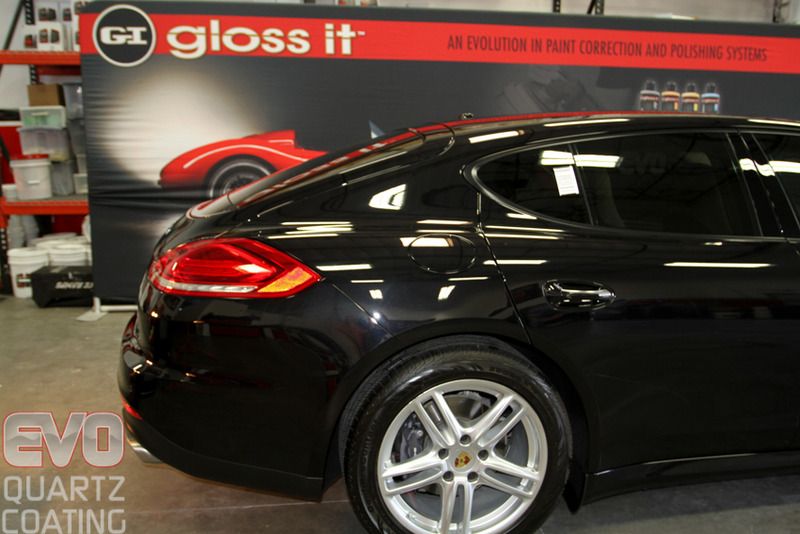 Evo Quartz Coating
is available at select Authorized locations or here at the
Gloss-It World Headquarters
in Las Vegas, NV. Our Evo Quartz Pro 9H gives up to 4 years of durability and the glossy look people strive to achieve. We offer consumer friendly versions of Evo Quartz coatings 5H (durability of 2 years or 30k) or 7H (3 years or 40k) to protect your vehicle yourself to obtain the same color enhancement and gloss as the pro version.