Detailingworld™ Review - Autoglym Bumper and Trim Gel
As usual thanks to the Autoglym guys for sending out the new products to have a look at.
Autoglym have been since 1965 according to the website which is longer than I have been around (and that is a long time)
. They have been producing a range of car cleaning products right here in the UK since then so thats something we and they should be really proud of. For more information on the Autoglym brand have a look here:
https://www.autoglym.com/
So onto the product.... Bumper and trim dressings have been around for a while and whilst they are not one of the vital components when we clean our car they can make the difference between an average finish or a really good finish. You must have seen cars with washed out trim that is bleached by the sun and must agree that it really detracts from the look so a trim dressing is a really important part of our armoury.
So lets see what Autoglym have to say on the matter....
The Product:
The product arrives in a rather nice white PET bottle with the usual Autoglym branding on it which really cannot be mistaken for anything else.
The label contains all the pertinent information whilst the gel itself is clear and smells a bit like a Summer Pudding, as you know I am not very good a scents but it smells nice, fresh and berry like
Autoglym say:
When your paintwork looks great, don't let your car down with faded exterior plastic and rubber. Bumper & Trim Gel is a rich gel that instantly transforms and protects all exterior unpainted plastic and rubber surfaces, returning them to their original deep colour.
So it transforms and protects plastics and rubber which sounds good to me so lets see how it performs.
The Method:
For the purposes of this review I am using the best and possibly most difficult candidate for a trim dressing, Mrs P's Cooper.
As you know if you have worked on a Mini before the wheel arch and side skirt trims are a right pain to get looking good and more importantly staying looking good.
Normal drill here a snow foam prewash followed by a 2 bucket wash, before the prewash I also scrubbed the trims with a detailing brush and a 10-1 dilution of APC to get them as clean as possible removing any previous dressings or grease (sorry forgot the pictures of this process but i think you can use your imagination).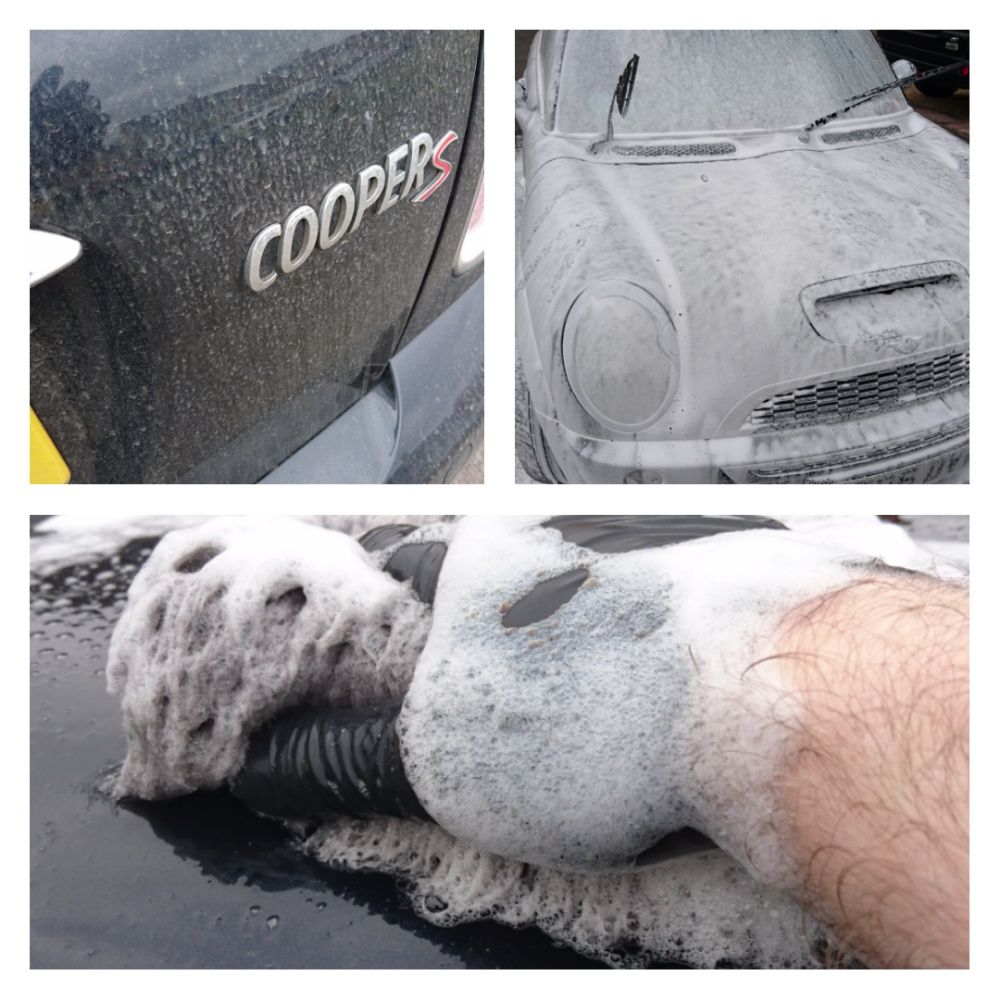 With the car dried and a couple of other jobs taken care of it was time to dress the trims.
A 10p ish blob of the gel was applied to a clean sponge applicator, this ones a bit looser in consistency so it was hard to dispense just the right amount but you get the idea. This was then applied to the wheel arch plastics 1st.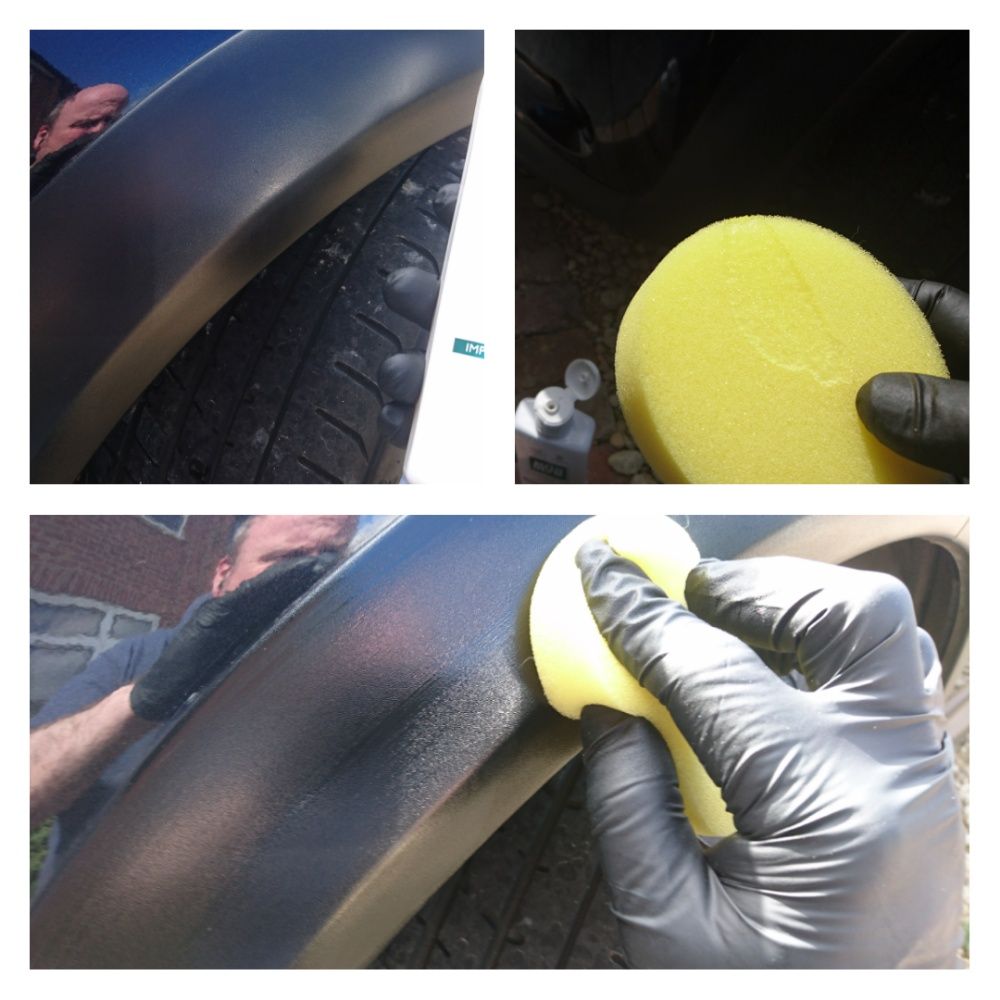 1st impressions were how nice it felt to apply, very smooth indeed and also how little was needed to finish the section, it wasn't long at all before the whole arch was finished without recharging the applicator.
You can see by the little 50/50 shot below how much of a drastic effect on the trims the dressing had and you will also notice alot of high points where it had been over applied in places, definitely a difficult one to get perfect.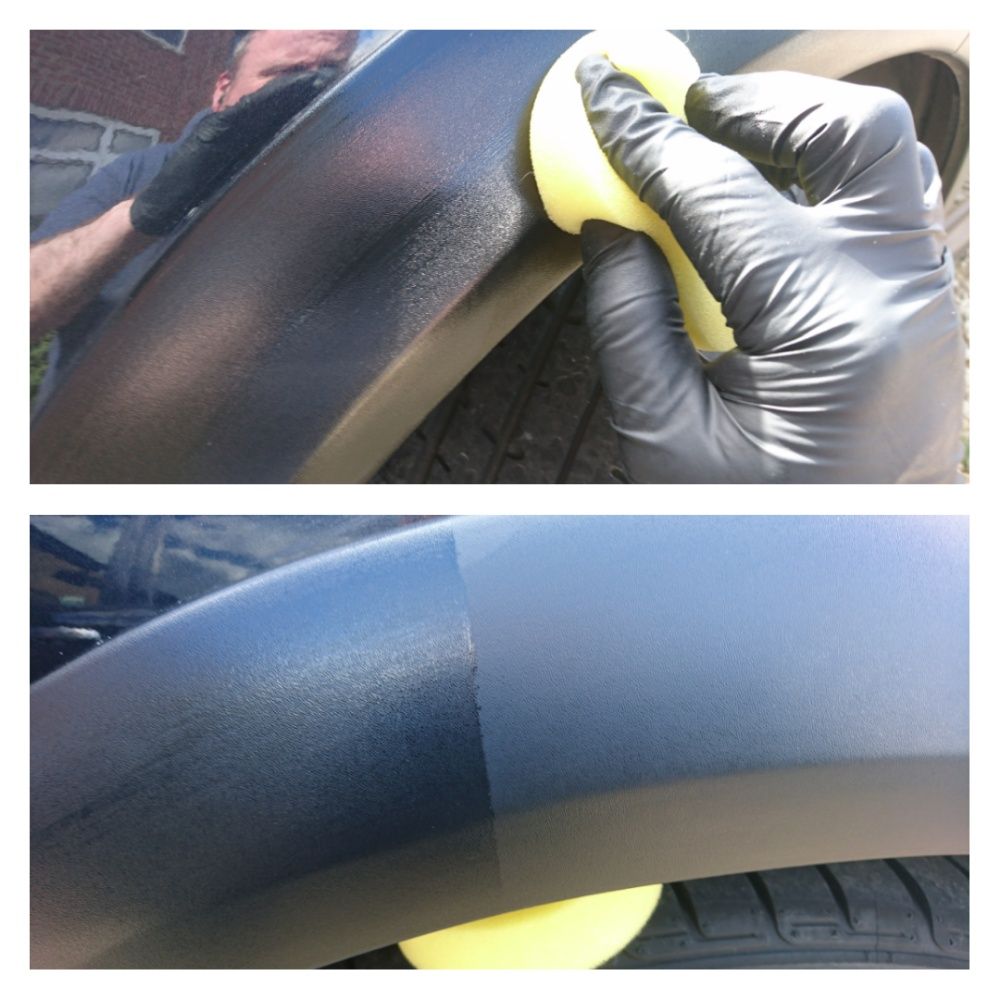 After going round the whole car the trims were then given a quick buff with a clean MF cloth to A) remove any high spots where the dressing had been over applied and B) I will say it felt a touch greasy to touch.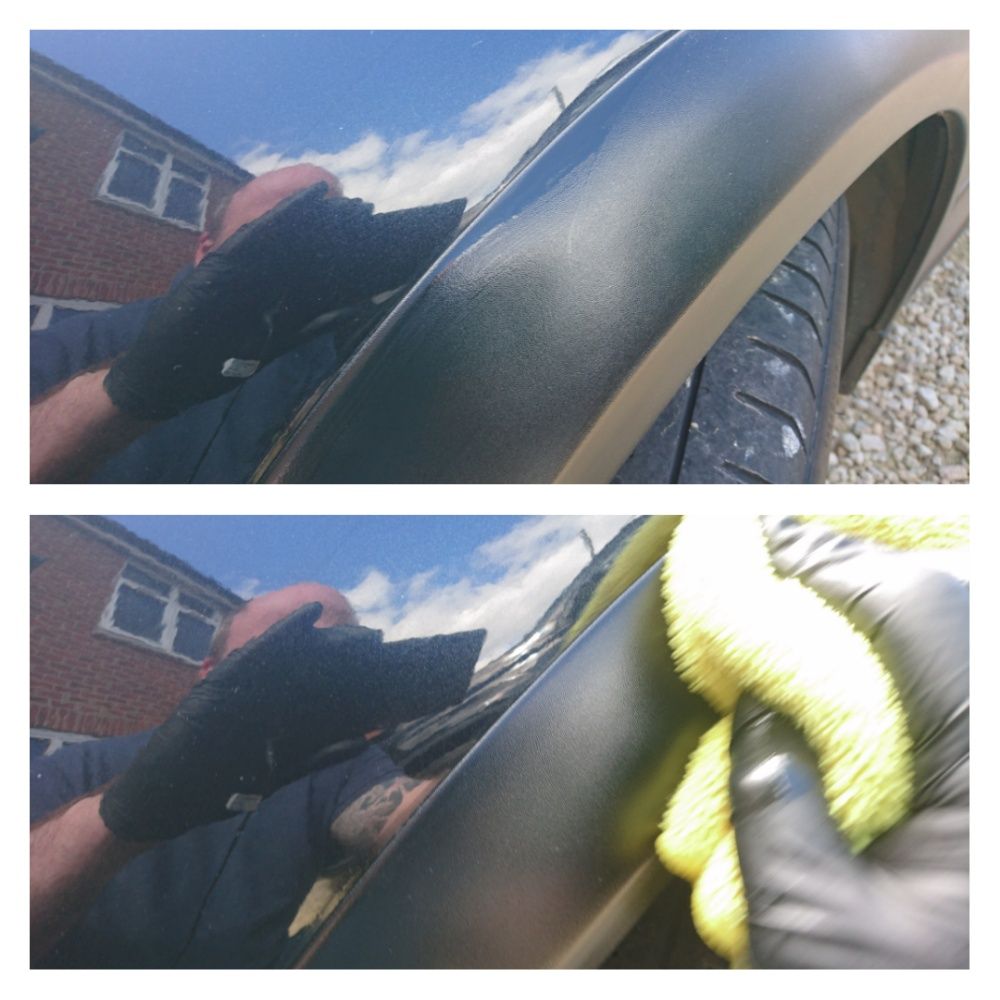 I am pleased to report that after the quick buff the trims felt dry to touch and not greasy at all.
Coat 2 was applied in the same manner after waiting for no longer than 15 minutes, no 50/50 shots taken here as the difference was not as stark, in fact I struggled to see it and asked my self if another coat was really worth it if I am honest.
A quick buff to remove high spots and jobs a goodun.
I spent a while walking round the car taking pictures etc and I have got to admit to being pretty impressed with the finish, if I was being ultra critical I would say that I would have liked to see it slightly darker but it really looked good without that horrible 'wet' look you see sometimes. Add to that that the trims felt smooth, non greasy and dry I was a happy bunny.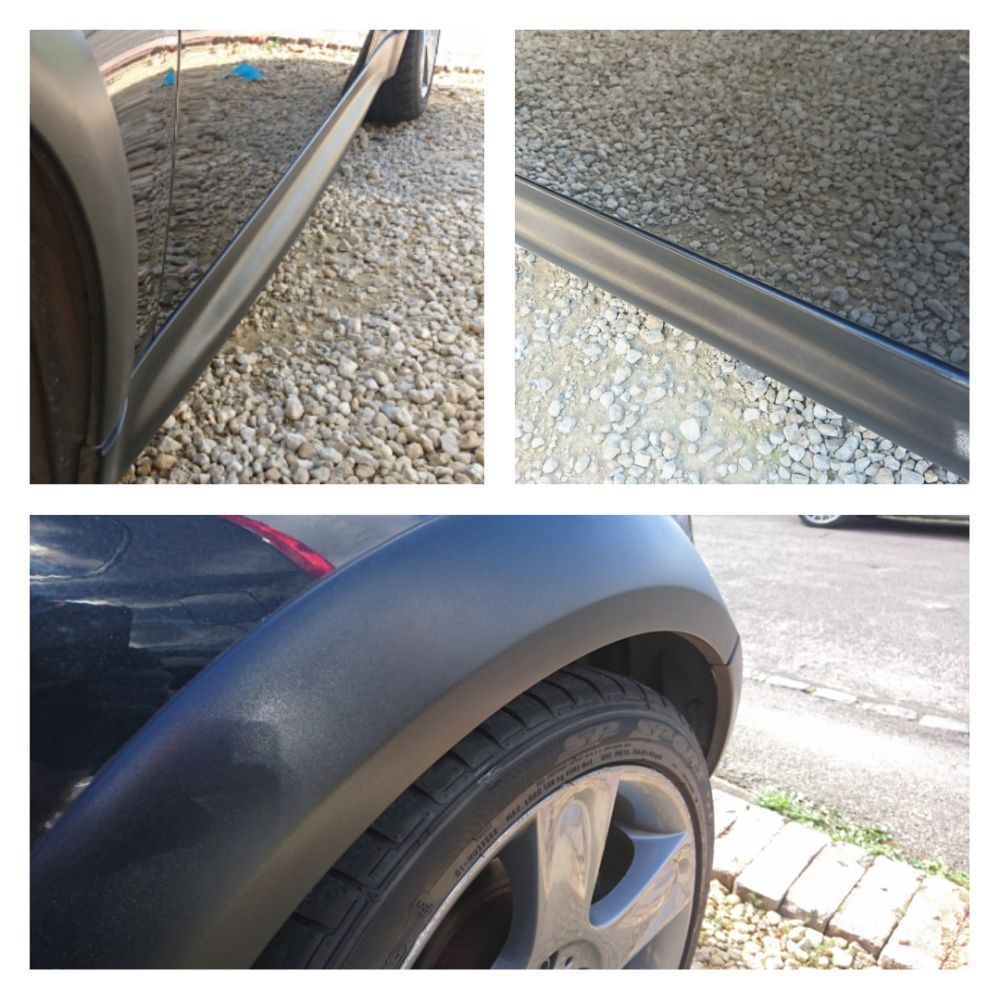 Price:
Ł8.99 for a 325ml bottle and is available from here:
https://www.autoglym.com/bumper-and-trim-gel
as well as other good Autoglym stockists. Value is a little bit hard to judge for 2 reasons, 1) I didn't measure anything out and 2) i did over apply but in the right hands it should be fine and in fact it didn't feel like I had made much of a dent in the bottle.
Would I use it again?:
Yes and no on this one if I can expand a bit..... Yes because I would like to see how it performs on a couple of different types of trim i.e. a smoother less textured trim and no because these days I personally favour a liquid type trim dressing which I find more exact application wise.
Conclusion:
From what I know the trims on a Mini are one of the hardest trims I have seen to get right and Autoglym Bumper and Trim gel did a bang up job of getting them looking sharp again so I really can't have too many complaints in that respect. The gel smells nice, is easy to use, easy to remove from paintwork and has lasted well over a week now and is still looking freshly applied.
If you favour a gel type dressing and want one which gives you a non greasy OEM finish to your textured plastic trims then Autoglym Bumper and Trim gel might well be worth a look.
"DW has followed the Manufacturers Instructions and accepts no responsibility to any circumstances arising from any member using these products or following this test "
Thanks for reading