Detailingworld™ Review - Tac Systems Moonlight
1st up I would like to say thank you to Imran at In2detailing for asking us to review some products from the TAC range.
For those of you who don't know TAC are a Korean based company who specialise in Quartz coatings and other car care products, for more information on the brand have a look here:
http://www.tacsystemcar.com/eng/Channel.asp?ChannelID=9
and to buy here in the UK have a look here:
http://www.in2detailing.co.uk/catalo...?q=TAC+Systems
Before we start I am going to give a quick lesson into what Si02 is (and when I say quick I am going to pull some information from Wiki and just paste it here
)
Silicon dioxide, also known as silica (from the Latin silex), is a chemical compound that is an oxide of silicon with the chemical formula SiO2. It has been known since ancient times. Silica is most commonly found in nature as quartz, as well as in various living organisms.[5][6] In many parts of the world, silica is the major constituent of sand. Silica is one of the most complex and most abundant families of materials, existing both as several minerals and being produced synthetically. Notable examples include fused quartz, crystal, fumed silica, silica gel, and aerogels. Applications range from structural materials to microelectronics to components used in the food industry.
So I hope you all found that rather interesting but how does this apply to us in the car care industry? Well it seems to me that there are alot of new products which contain Si02 on the market now with more and more coming through. The Si02 acts as a coating to the paintwork protecting by adding a layer to the paint which provides a hyrophobic barrier if you like.
One thing I do know is you will be seeing much more of this type of product in the future
So lets see what Moonlight has to offer?
The Product:
Moonlight arrived in a 250ml PET bottle with a see through label on, now 1st problem.... usually I would comment on the contents of the label but in this case there really wasn't much to be honest so no application instructions or MSDS here which could be a bit daunting
The actual liquid is slightly off clear and no pleasant smells here, just chemicals which ultimately does not matter but some of us like a banana and passion fruit smell.
Tac Systems say:
TAC Systems Moonlight Silica Based Sealant.
Moonlight is an oil-based maintenance coating containing 20 to 25% of SiO2. Moonlight adds a crystalised hydrophobic and glossy layer on top of the vehicle surface. It offers excellence water repellency qualities, high durability and enhances the gloss of the surface. Moonlight does not only refresh vehicle that has been treated with body coatings, Moonlight can also be applied as a standalone product which too would increase the gloss and hydrphobic properties of the vehicle' surface.

Very easy to Apply. Moonlight can lasts up to 9 months.
Please note. This product is oil based and should be left to cure for 4-6 hours prior to getting wet. If there is a chance of the product getting wet then we recommend applying TAC System Quartz Max after approximately 1 hour to prevent water spots.

Supplied in 250ml Spray Head Bottle. Please note, after use you must empty the spray head (either rinse out or turn the bottle upside down and spray a few times). If you do not clear out the spray head the product will set in the nozzle rendering the spray head useless.
So yet again no real help in the application instructions dept but a bit of internet research helped here.
The Method:
Today it was the old X Trails turn for a quick maintenance wash and it was looking a bit neglected of late due to real life getting in the way....
And when I say quick I mean quick as it was about 6deg but I still wanted to add some protection so its going to be a good test of how easy Moonlight is to use.
You have really got to love the winter and a black car, what a perfect combination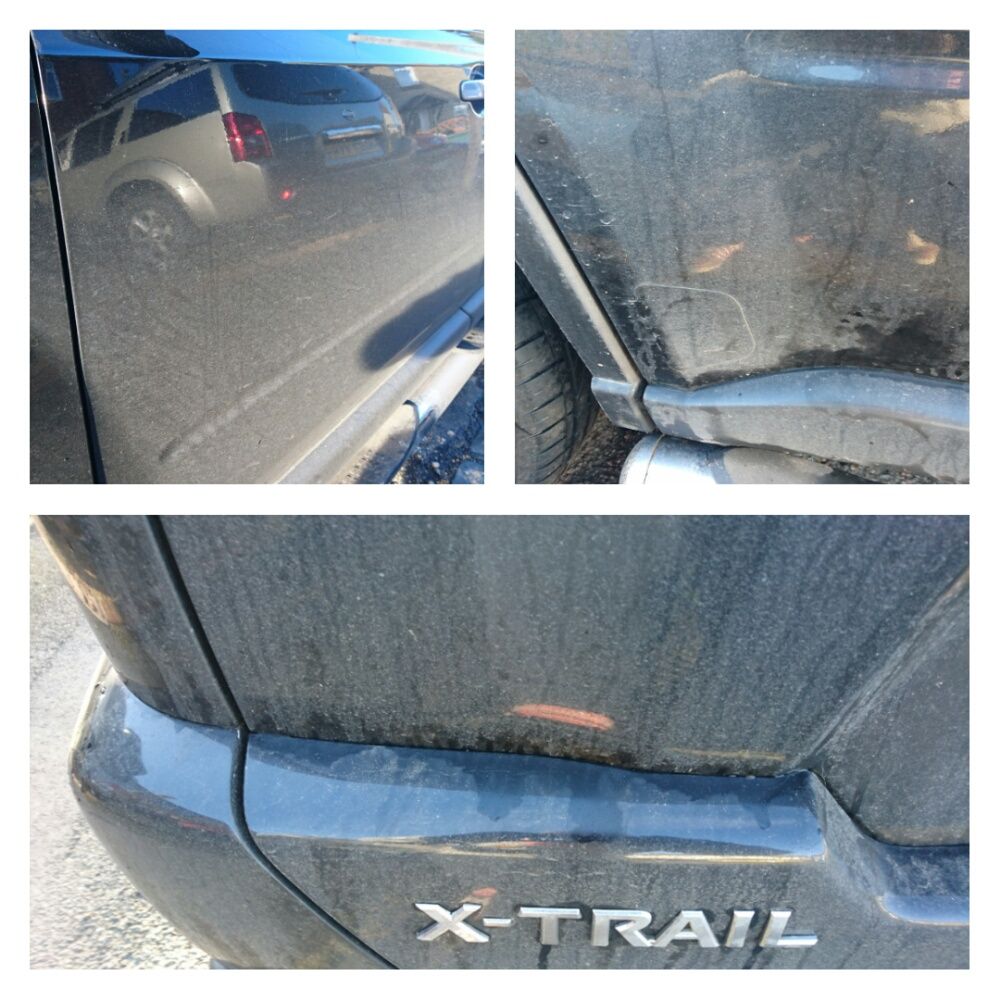 Normal drill here with a Snow Foam prewash and a 2 bucket wash left it looking alot better.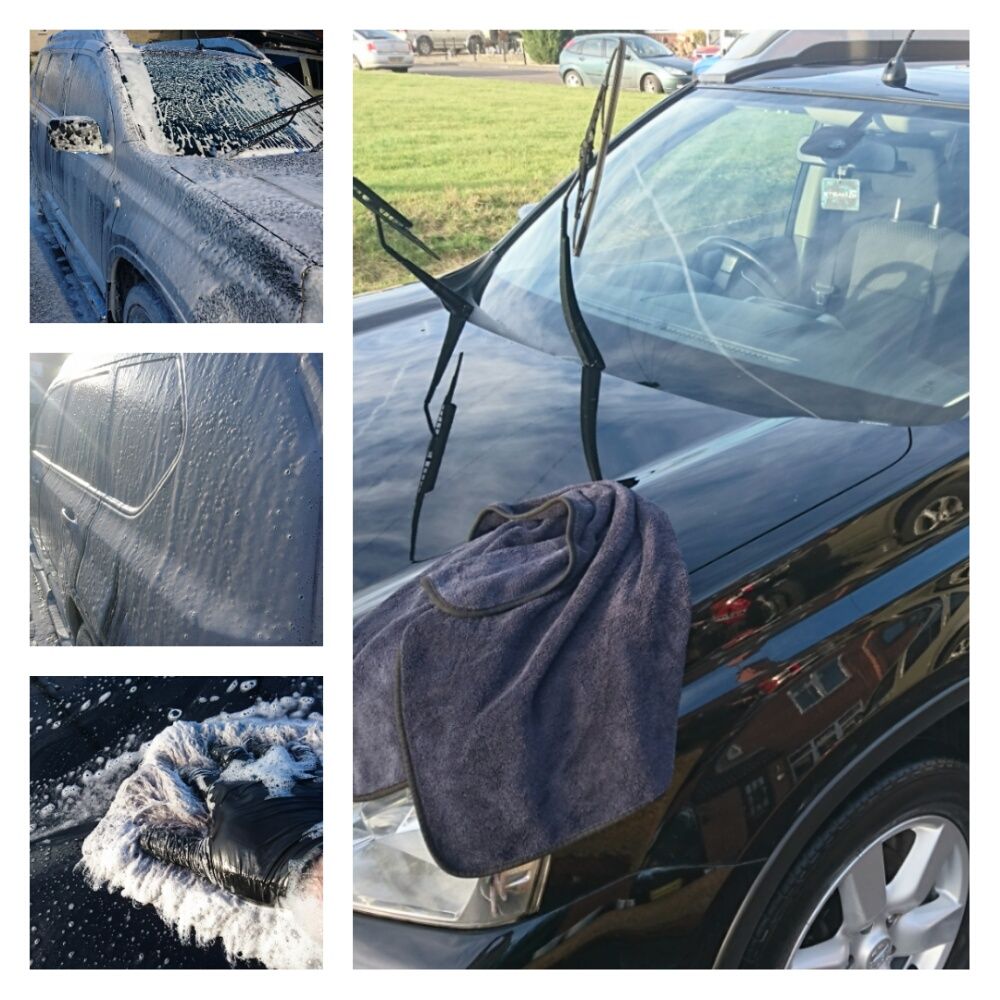 The car was dried and pulled onto the drive for some Moonlight fun
Please remember my comments about the lack of application instructions I read somewhere that there are 2 methods of application, the 1st one being spray on, spread and buff using the supplied spray head or apply to a sponge applicator, spread then buff.... I decided on the latter.
I also read that Moonlight should not be applied to a warm panel or in sunlight, no problems today as the temperature was 6deg, the sun was sporadic to say the least and the panle temperature was between 7 and 9 degrees.
So for application I selected the softest sponge aplicator I could find which also happened to be pretty closed cell and a nice size.
Several drops of moonlight were applied to the applicator sponge before being applied to the 1st panel which happened to be the bonnet.
Moonlight was applied to straight lines to the panel and went on really smoothly with no hint of grabbing and very quickly you could see a thin layer forming.You could see that it was oil based because there was a definite difference to the applied and unapplied areas which helped with application (the applied areas looked wet).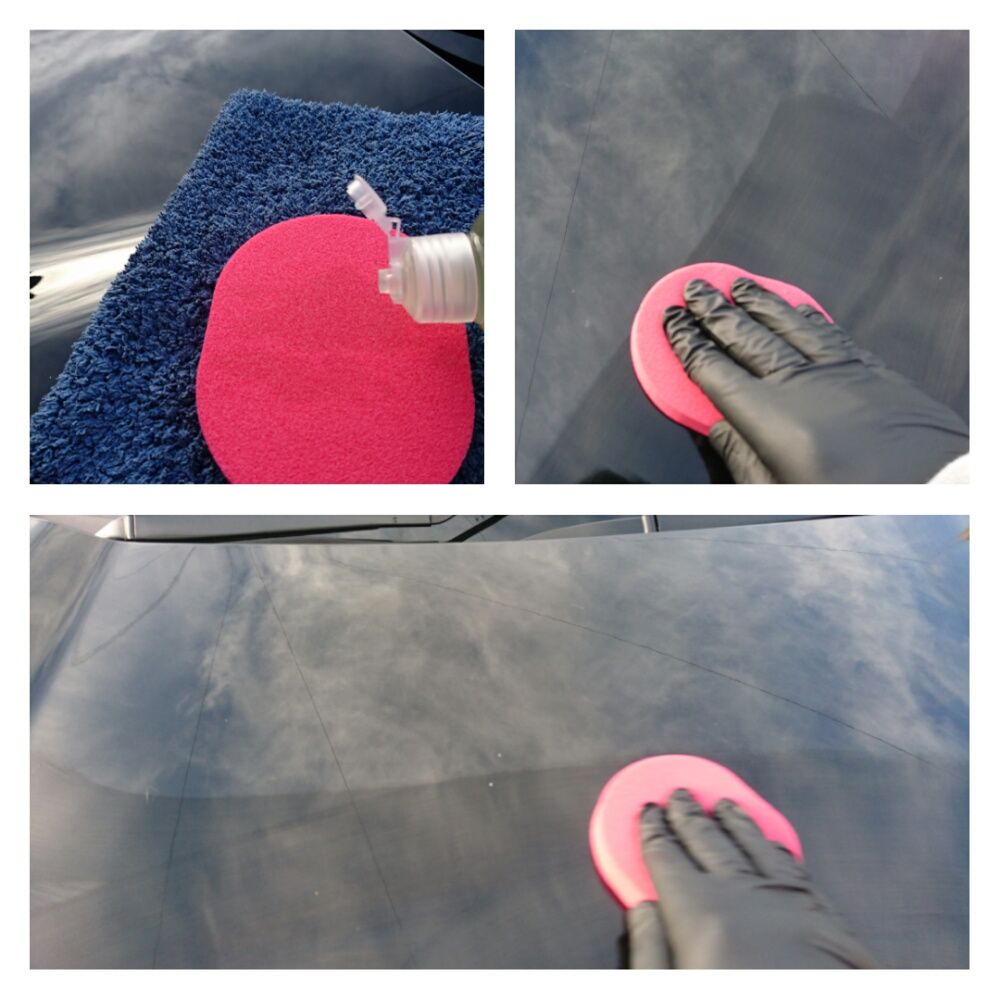 So yet again in the absence of instructions I buffed off after the panel was completed starting at the point where Moonlight was 1st applied, for buffing I chose a good quality high GSM buffing towel which seemed like the right way to go.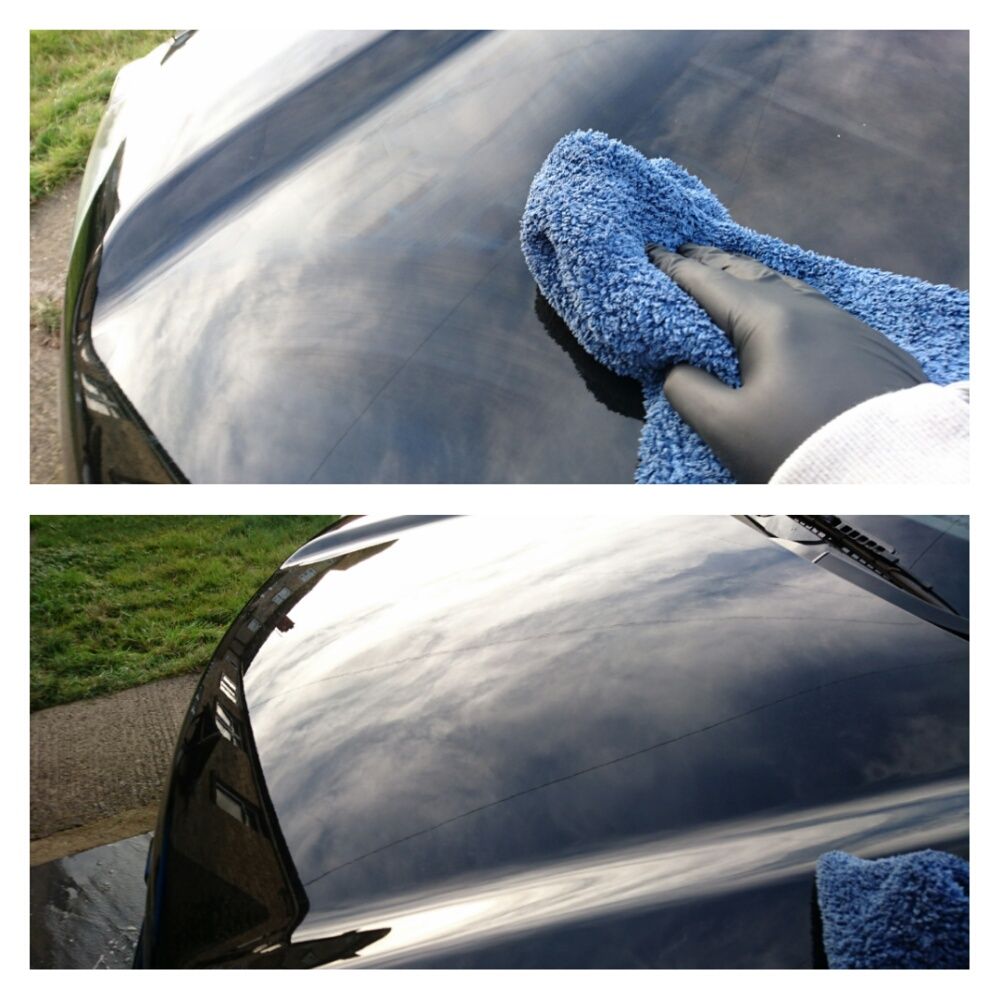 Buffing was really smooth and simple and the oily residue was removed with ease, I have to to say that it was not harder than buffing a good quality wax and very quickly the bonnet was finished.
Standing back and looking at the finish there was definite increase in gloss and the panel felt really smooth to touch which I was pleased about but.....
On closer inspection I could see that during the buffing process some fibres had been left on the panel from the buffing towel which was really annoying. I have seen this before with some waxes and can be attributed to the panel being too warm but this was definitely not the case this time so all I can guess is that the setting coating is a bit 'sticky' although it didn't feel that way.
Slight change of equipment needed then, changed to a high quality 'short nap' MF cloth and jobs a goodun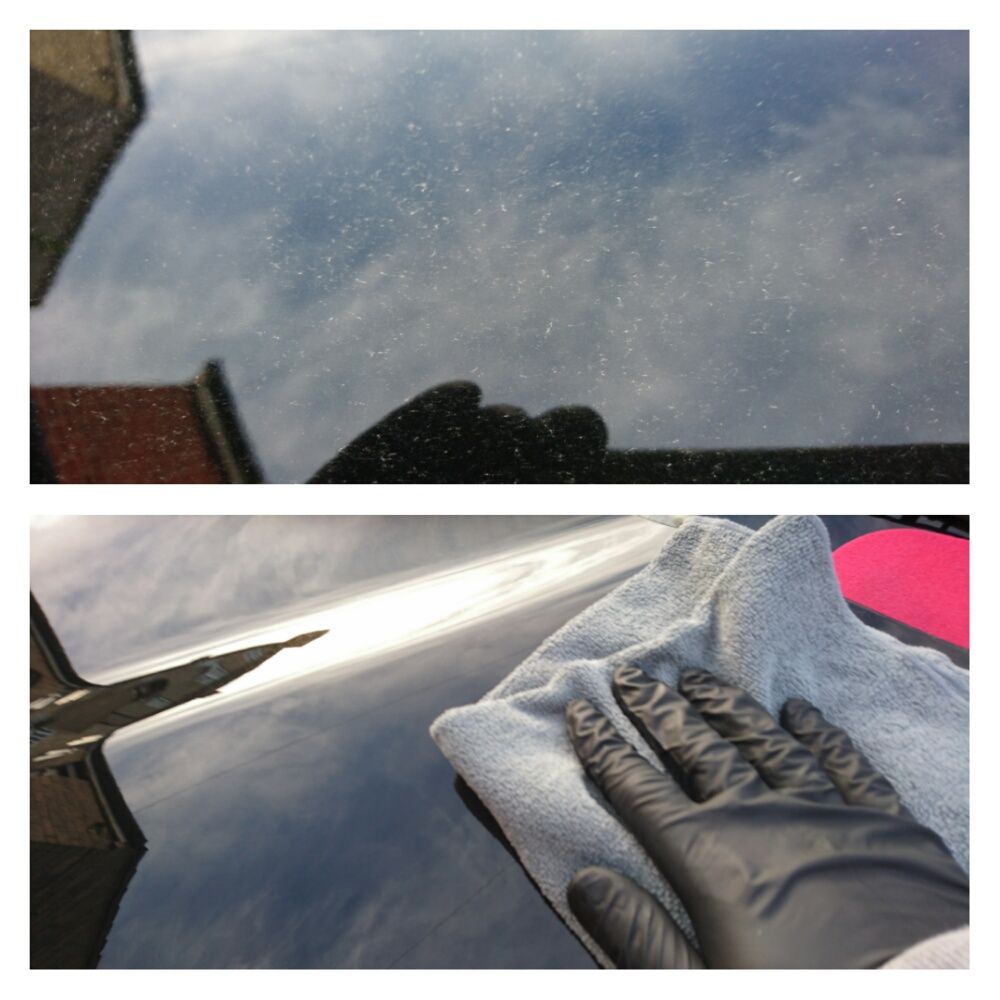 Using the same method and a change of cloth the whole car was completed in less than 15mins going a panel at a time and changing cloths every 2 panels.
Taking a step back to look at the car the increase in gloss was visiable and the finish looked great and super clean.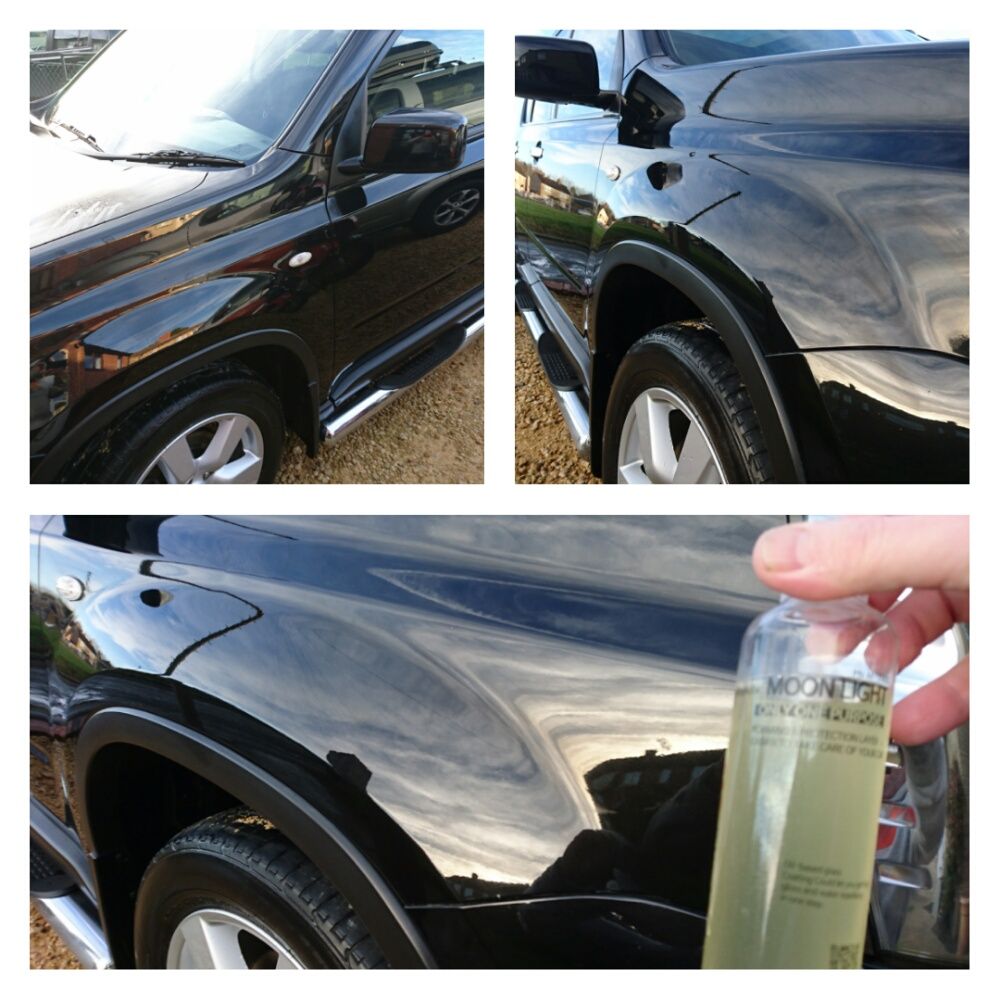 So for 15 minutes work the car has been protected for up to 9 month apparently and looks great, what could be easier than that
I wanted to check how Moonlight responds to water but was aware that it should not get wet for at least 4 hours after application, with no rain forcast I took a punt did a water test then reapplied to the bonnet, have a look at the results below.
Price:
£29.95 for a 250ml bottle and can be brought here:
http://www.in2detailing.co.uk/tac-sy...ant-250ml.html
Whilst the best part of £30 for a 250ml bottle might seem like a big outlay in reality about 20ml was used to coat the car so the bottle would yield about 12 applications which comes out at £2.50 per application and if the durabilty stats are even less than the 9 months quoted say 6 months for example you are looking at £5 for a years protection which in my books aint bad.
Would I use it again?:
Honestly possibly not..... I will be trying the spray application method in the future but I like to wax.
Conclusion:
Tac systems Moonlight is a really easy to apply high tech coating which finishes very nicely indeed. The lack of instructions is a bit disconcerting and the cloth issue was easily sort out able.
You can see from the clip above is sheets really well but as you can see it also beads like no ones business
If you are in the market for an easy to apply coating product that just works then Moonlight is worthy of consideration.
Thanks for reading
"DW has followed the Manufacturers Instructions and accepts no responsibility to any circumstances arising from any member using these products or following this test "