Detailingworld™ Review Andrew James Immacuclean Pressure Washer
Firstly who are Andrew James ?
They are a family-owned, fast-growing online retailer, founded in 2005 by cousins Andrew and James – hence the company name!
Andrew James offers a wide range of the latest and greatest gadgets and accessories for the kitchen, home and garden, at an affordable price that makes them available to everyone who aspires to make their home the best it can be.
They believe that every household deserves to experience the advantages of time and energy-saving equipment, as well as products that simply make life at home that little bit more enjoyable! By becoming experts at trading online they have been able to make cost savings that we can pass on to our customers, meaning their customers always get a great deal on the reliable, high quality products they demand.
Every new item they add to their range is specially selected to meet the needs of the customer base, and goes through scrupulous testing to make sure it meets high standards. They only stock Andrew James products, and their customers only receive service and support directly from them. This means they can be experts on every item they stock, and you can get help and advice directly from the experts and not from a 'middle-man'.
Everything they do is based around their core values of honesty, respect and commitment. As a family-run business, it makes sense for them to honour these traditional family values, which they do both through the attitude amongst their team members, and through their approach to customer service.
Introduction: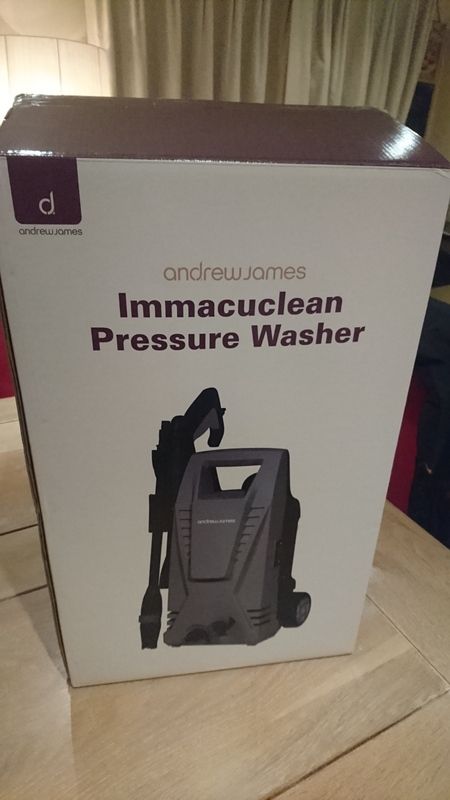 We got to test the NEW pressure washer
A Small entry level Pressure washer that comes with a Host of Extras – Different nozzles, foam bottle.
The Product:
The Product came very well pack and delivered via Courier –
All products were well packed inside and the Washer needs a little bit of building to get it into a working state.
Size wise this is a compact Entry Level Pressure washer.
What the manufacturer says
Blast away grime and dirt in seconds with our Immacuclean pressure washer
The Immacuclean Pressure Washer is a high pressure jet wash machine with 1500W of power and a maximum pressure of 105 bar. This fantastic value machine comes with a range of specialised attachments including a brush attachment, soap bottle attachment, adjustable spray nozzle and angled nozzle. This means you can clean a huge range of surfaces, from patios and decking to windows and cars, and the extra-long 6m pressure hose makes it even easier to clean large areas.
Instructions
Simply connect the pressure washer to a water supply using a standard garden hose, then switch on the machine and squeeze the trigger to start pressure washing! The different attachments can easily be changed thanks to a quick-release system, so you can adapt to any job that needs to be tackled.
• Extra-long 6m hose and 5m power cable
• Compact and portable
• Turbo nozzle perfect for patios and decking
• Use soap bottle for quick car washing
• Brush attachment for scrubbing power
• Angled nozzle reaches tricky places
• 105 bar max pressure
• 330L/hr pump with automatic start/stop
• On-board accessory storage
The Method:
The pressure washer comes with various attachments – like a dirt blaster nozzle (will be avoiding this one on the paintwork) Standard variable, Foam Bottle, Underbody/Angled.
Attachments (Brush not shown)
The Lance
Back of machine to give you an idea
I would be using it on various cars to get an idea of how it operates both washing, rinsing etc
Starting –
Getting Set up
Quick Release system –
Pre Washing -
Using the Snowfoam Attachment
Rinsing
You can see how adjustable the Fan is on the Jet
Angled Head –
Dirty Wheel just jetting off ( only snowfoam had been pre applied to give an idea on how the pressure works)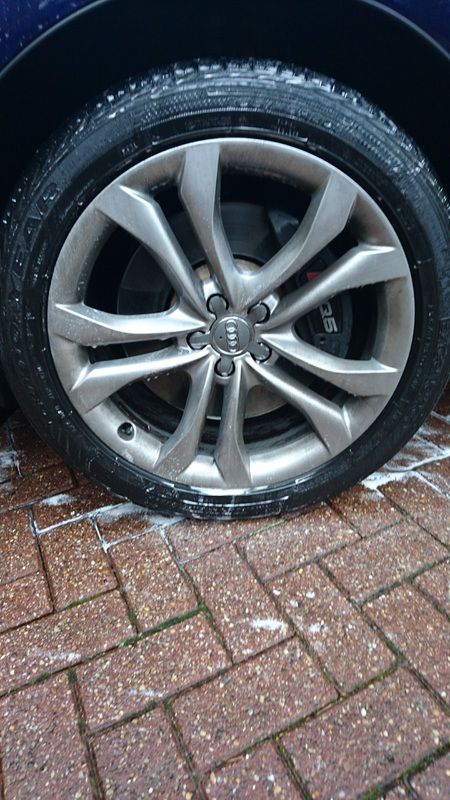 An idea on how you can fan the adjustable head –
Stream
Powerful jet
Fan Jet
The Pressure works as stop/ Start so pull trigger and it works let go and it stops - Its quite loud but no more so than any other washers – Its very lightweight – I measured the Hose and it comes with approx. 6metres and the electric plug has 5 metres of cable so plenty to get around the car from front to back – the adjustable attachment gives a good range from stream to fan – The foam attachment does enough to get a rinse coating but I couldn't get it to really foam up but as you can see it worked well and is sufficient to get a snowfoam or prewash onto the car .
( untested Brush / Dirt blaster style head)
Price:
Price: £68.99 with a two year warranty
This pressure washer can be purchased from Andrew James -
https://www.andrewjamesworldwide.com...tachments-p723
Would I use it again?:
As I have a high powered Pressure Washer at home already it is a little difficult to gauge but If I didn't have one then it would be a Yes if I was looking to purchase an entry level product
A light versatile machine with a good range of additional adaptors with quick release system – quick change adaptors make for easy swopping of attachments which come included, although I guess for some the ability to use aftermarket extras may be an issue as I am not aware that they are compatible at the moment – if you want an entry level machine you could do far worse than this little machine.
Conclusion:
Great Sized Entry level Pressure Washer with all the attachments you need to get you started and at a Value Price. An All in one solution – Great Starter Pressure Washer – Compact easy to store- Ease of Use.
"Detailingworld™ reviewer has followed the Manufacturer Instructions and accepts no responsibility to any circumstances arising from any member using these products or following this test "