Detailingworld™ Review Dr Beasley PlasmaCoat
Introduction:
Dr Beasleys Plasma Coat
Who Are Dr Beasleys
We're a team of detailers, chemists, enthusiasts, and car nuts who design, formulate, and manufacture detailing products.
We set out to create the best detailing products available. Choosing high quality ingredients while eliminating harmful chemicals from our formulas allows us to produce the safest, highest quality products possible.
There's a better way to detail your car. Let us show you how.
Jim Lafeber, president and founder of Dr. Beasley's, originally founded a detailing shop in Chicago called Simon's Shine Shop. We used the best products available at the time, and came away disappointed with all of them. From harsh car wash soaps to greasy leather conditioners, we saw room for improvement across the board.
Jim knew there was a better way,and decided to create products of his own. After perfecting his formulas and successfully using them in his shop he decided to make them available to the public. This is where Dr. Beasley's was born.
The Product:
The Product arrived from the US direct – packaged well arrived via courier –
What the Manufactuer says
PlasmaCoat is the answer to a question that other manufacturers haven't even begun to ask yet: "How can we eliminate all health and environmental concerns caused by sealants and waxes?" Waxes and polysealants use heavy solvents in their formulations which emit harmful chemicals called VOCs (Volatile Organic Compounds). These compounds lead to serious long term health and environmental problems.
We knew we needed a paint protection product without these VOCs, and that meant completely rethinking what a paint protection product looks like. So we set about designing a water based coating formulated with multifunctional plasma technology. The end result isn't a wax, and it isn't a polysealant. It's plasma. And this nano coating is 100% VOC Free.
Even though we went well out of our way to make sure that this product is safe, in no way did we sacrifice performance. After all, it's our mission to provide the highest quality detailing products possible. So while it is the first 100% VOC free paint coating ever, it also bonds instantly and lasts for years. Quite simply, it's the most effective paint protectant there is.
Most protectants need to sit on the paint and haze before removal, and then even after the product is removed it takes 24-48 hours before the product has fully bonded to the paint. PlasmaCoat bonds the instant that it comes into contact with the paint surface. This means no more waiting around or worrying about the rain after you've sealed your car. The other, possibly most important, aspect of PlasmaCoats performance is its sheer durability. Paint sealants usually last about 6-8 months, and waxes only 6-8 weeks. PlasmaCoat will remain bonded to your paint for well over a year.
Most people seem to recognize that one of the main drawbacks to using polymer paint sealants is that the shine they produce can be quite flat and "mirror-like". This is a symptom of a polymer's limiting molecular structures which don't allow for optimal clarity or depth. PlasmaCoat doesn't rely on these structures and our multifunctional plasma technology allows for a very rich, satisfying shine.
The Method:
This was used on paintwork that was pre washed and ready for a coating –
Following the recommended application the- crème was applied via the applicator that was provided in circular motions and once around half a panel was covered it was buffed using microfiber towel
Plasma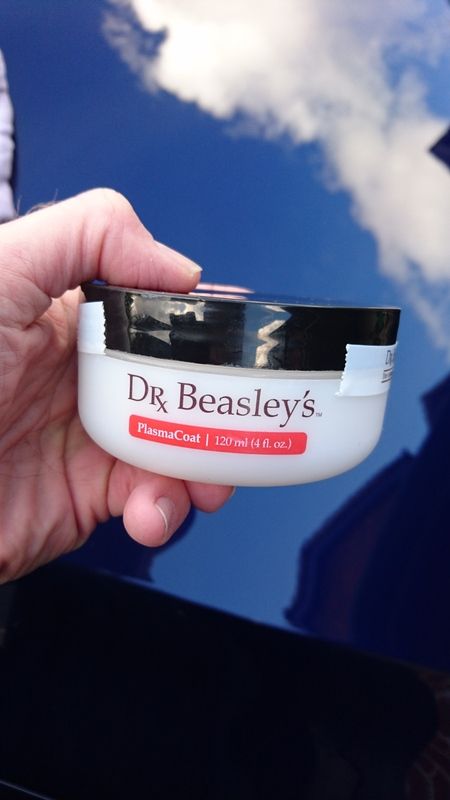 Supplied applicator
Was expecting a hard style wax but was presented with a cream style paste
Applied to the applicator
Then applied to the paint in circular motions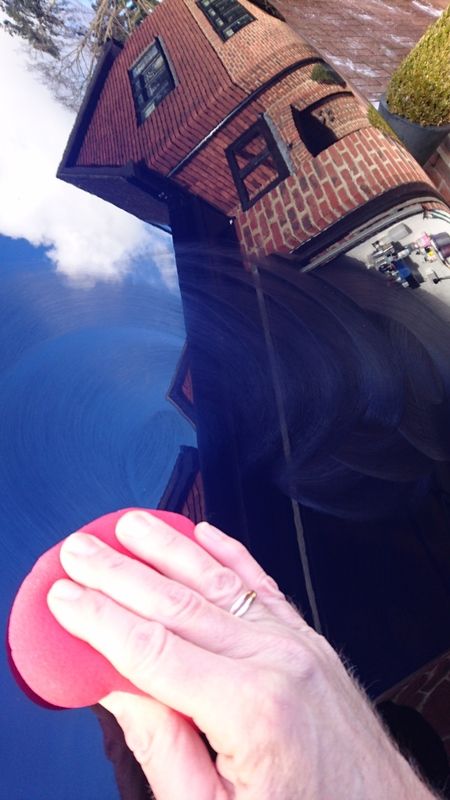 You can see the application here
Then as soon as half a panel was covered began to buff ( in this case I left slightly longer as trying to take photos and it got a little grabby)
Finished buffing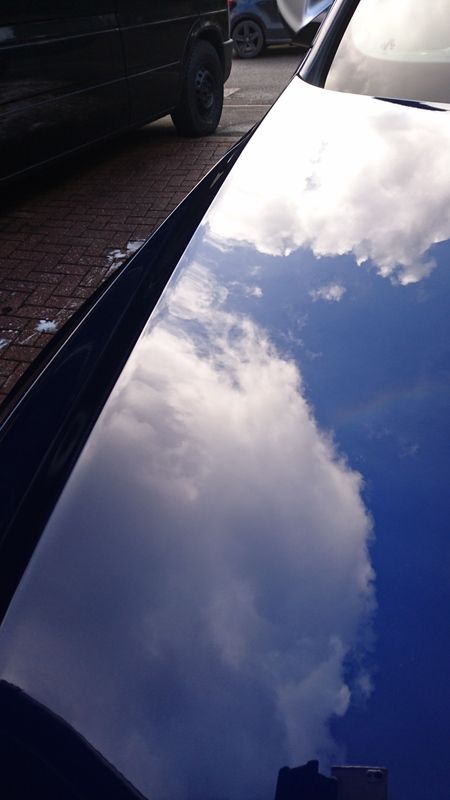 Crisp final finish
Test with spritzed water
and to see when water was poured over
And final buff
Price:
$39.99 for 4oz tub (£40.78 4oz uk)
Can be purchased from Dr Beasleys
http://www.drbeasleys.com/plasmacoat...ription_tabbed
Would I use it again?:
Yes, something different to the normal spray sealant or wax. Easy to apply and hopefully will provide good protection. Left a Crisp clean sharp Finish in what were dull conditions.
Conclusion:
Something different to the protection market – a cream paste "plasmacoat" that is easy to apply , really is a simple wipe on , wipe off product that leaves a great shine and you don't need to worrying about curing times – So if you are looking for something to protect your car that's simple to use this could be for you
"Detailingworld™ reviewer has followed the Manufacturers Instructions and accepts no responsibility to any circumstances arising from any member using these products or following this test "