Detailingworld™ Review Dr Beasley Glass IQ
Introduction:
Dr Beasleys Glass IQ
Who Are Dr Beasleys
We're a team of detailers, chemists, enthusiasts, and car nuts who design, formulate, and manufacture detailing products.
We set out to create the best detailing products available. Choosing high quality ingredients while eliminating harmful chemicals from our formulas allows us to produce the safest, highest quality products possible.
There's a better way to detail your car. Let us show you how.
Jim Lafeber, president and founder of Dr. Beasley's, originally founded a detailing shop in Chicago called Simon's Shine Shop. We used the best products available at the time, and came away disappointed with all of them. From harsh car wash soaps to greasy leather conditioners, we saw room for improvement across the board.
Jim knew there was a better way,and decided to create products of his own. After perfecting his formulas and successfully using them in his shop he decided to make them available to the public. This is where Dr. Beasley's was born.
The Product:
The Product arrived from the US direct – packaged well arrived via courier –
What the Manufactuer says
Glass IQ
We started formulating Glass IQ because we wanted a multi-functional product. The streakless, VOC & ammonia-free formula removes dirt, bugs, grime, and other contaminants without issue, but that's just the tip of the iceberg. Glass IQ is for more than just glass - use it to maintain LCD & plasma screens, TVs, computers, laptops, cellphones, camera displays, and touch screens.
Glass IQ is hydrophobic. With a simple spray and wipe application, you're leaving behind a hydrophobic barrier that will bead off rain, snow, and sleet. Water beading off glass isn't just cosmetic - the ability to effectively bead water off your windshield actually provides a safer driving experience by increasing road visibility. This hydrophobic layer is automatically topped off everytime you use Glass IQ to clean your glass so you never have to worry about it fading away. Try that with a regular household glass cleaner.
One of the toughest challenges with glass and plasma surfaces is preventing them from becoming dirty again. So we formulated Glass IQ to resist dirt and other contaminants. That means it's anti-fog, anti-smudge, and anti-fingerprint. Use it on the inside of your car windows and smudges from your dogs nose will wipe off with ease. And you'll no longer see greasy fingerprints on the window next to your child's car seat. Simply put, Glass IQ keeps glass, laptops, phones, GPS navigation screens, and many other surfaces cleaner for longer.
Have you ever looked through a window and noticed that, while clean, the glass just didn't...pop? When you use Glass IQ your windows won't just shine, they'll glow. This product provides a gloss and clarity that you didn't even know your windows were capable of. We've never used a glass cleaner that's made glass look this good. Try it for yourself and see the difference it can make.
All of this comes from a formula that is 100% VOC Free, meaning it is the most environmentally friendly glass product you can buy. Eliminating VOCs (volatile organic compounds) means that this product is child-safe, pet-safe, and user-safe. You can feel comfortable using it in the home, or in confined spaces such as automobile interiors without worrying about the effect of dangerous chemicals. No more rain beading products that smell like rubbing alcohol - use Glass IQ and know that you're using the smartest, safest product you can buy.
The Method:
Glass was prewashed –
Sprayed Glass IQ onto Glass area and Wiped clean
Hard to capture with Glass pictures but you can see the product sprayed onto the glass
Buffed with a Mircofibre
Which I followed with a Final Buff using a Glass Cloth
Nice Streak Free Clean Glass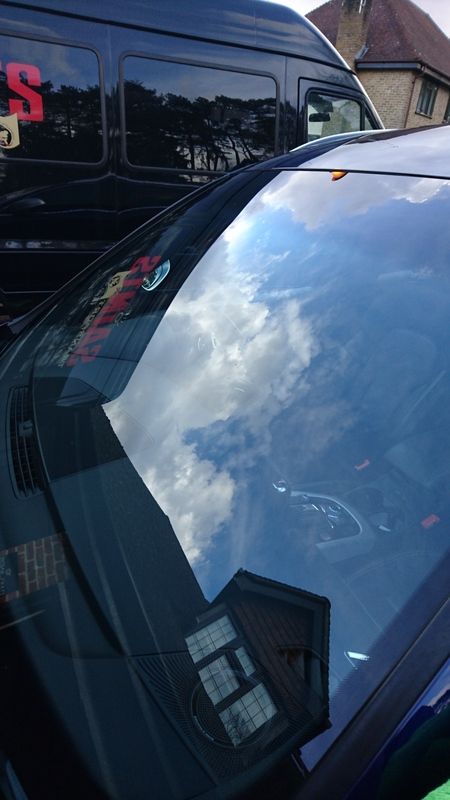 Price:
$19.99 for 4oz spray bottle (£40.78 4oz uk)
Can be purchased from Dr Beasleys
http://www.drbeasleys.com/glass-iq.h...ription_tabbed
Would I use it again?:
As a Glass cleaner it worked well – Didn't Leave smears or Streaks so yes subject to how it performs in rain (i.e no judder or smears). It Can be used on other surfaces including phones,sat nav screens and the TV plasma – so doubles up with versatility
Conclusion:
A Useful product that is a glass cleaner with more oomph leaving the glass with
Hydrophobic properties. It Can be used on all aspects including the Sat Nav screen to aid with fingerprints etc
If it add the Hydrophobic properties this could be added to my weekend routine
"Detailingworld™ reviewer has followed the Manufacturers Instructions and accepts no responsibility to any circumstances arising from any member using these products or following this test "