Detailingworld™ Review Wolfs nano paint sealant
Introduction: First of a big thumbs up to,the guys at Wolfs for supplying the product to review and also a little apology from me. I originally did the testing for this a while ago but due to technical difficulties the photos vanished and I have recently redone the testing. So this has taken me far longer than it should, apologies.
So Wolfs chemicals have been around a while and I would say are best known for 'serious detailing products'. By that I mean products which have traditionally had some durability.
Since 1994, Wolf's Chemicals has been producing commercial car care products, which can be found in just about every hypermarket and auto parts store in Hungary. Near the end of 2009, Wolf's Chemicals embarked on a mission to develop the ultimate line of professional detailing products and joined forces with Jesse O'Connor of Apollo Auto Detailing, who is arguably one of the world's finest detailers.
Later on the company took one step forward and partnered with ITM Holding to make the experience of online shopping as excellent as our products.
After seemingly endless testing and developing we can say with full confidence and pride that as a team, our mission has been accomplished. Our detailing products have been developed by professional detailers for professional detailers, so you can rest assured that each and every one is useful, versatile and meets the highest of standards.
The Product:
The sealant is supplied in a glass bottle (nice touch) clearly labelled with limited instructions, well it is a small bottle.
What's Wolfs say:
With "Bodyguard" coating Wolf's Chemicals is the first manufacturer on the market to successfully combine SiO2 (quartz) and PTFE (aka Teflon™) to make an extremely durable and permanent coating for automotive finishes that helps protect your paint against the elements, bird droppings, acid rain, UV damage and harsh chemicals. Road grime and other environmental contaminants will have a much more difficult time adhering to the paint surface, which makes Bodyguard's extremely glossy finish much easier to maintain. Durability up to 2+ years. May be applied by hand or via DA with a finishing pad.
DIRECTIONS
For best results, clean the surface with Wolf's "Shine & Seal" nano polish and "n-Hybrid Glaze". With a foam applicator clean cotton pad, or piece of microfiber, apply a thin layer of product to the surface with thorough, overlapping motions. Allow to dry for 15-30 minutes and remove residue with a cleaner microfiber towel. To ensure 100% coverage and for added protection and shine, a second layer is recommended and after a minimum of 3 hours curing time. Full curing/hardening time is 72 hours. During the first 24 hours do not allow the surface to get wet, as this will affect the curing process! Suggested temperature of application is +12 degrees C. Do not apply to a hot surface or in direct sunlight!
The Method:
So this is the serious bit you will see from the wolfs description above that this product is not your usual spray and wipe product. It is a grown up sealant that requires application via mf / suede minicloth. Left to cure and remove.
So I decided to apply by sponge block I had lying around in the absence of any supplied cloths. The product is a clear liquid and I dabbed a few drops onto the applicator and started to spread across the bonnet in a circular motion. You immediate get the sense you are using a product you need to get right and it's worth a practice on a panel to get your technique right. The product spreads easily and the biggest worry is you are putting too much down.
So I applied to the full bonnet and left for 20 mins as instructed to cure. On returning to the car I could see the product looked patchy which left me feeling worried. I began to both with a short nap mf and after a little chasing got what I thought was a good finish.
I left for a little longer then pulled the car in the sun and spotted a few streaks left on bonnet so a second buff got them sorted.
The finish was very high gloss and very rewarding.
Before polished and wiped down with IPA
Application
Curing
Finish
Price:
€44.90 available from
http://wolfschemicals.com/shop/nano_...lant-Hard_Body
Would I use it again;
Yes I would
Conclusion:
I was very happy with the results but can't help but feel I was lucky, this as I said above is not a spray and wipe product it's a grown up full on sealant. You need to properly prep and get your technique spot on it would be easy to find yourself with an uneven finish and some difficulties levelling it.
Having said that the finish is worthy of the effort a nice shine which looks like it will be a very durable finish.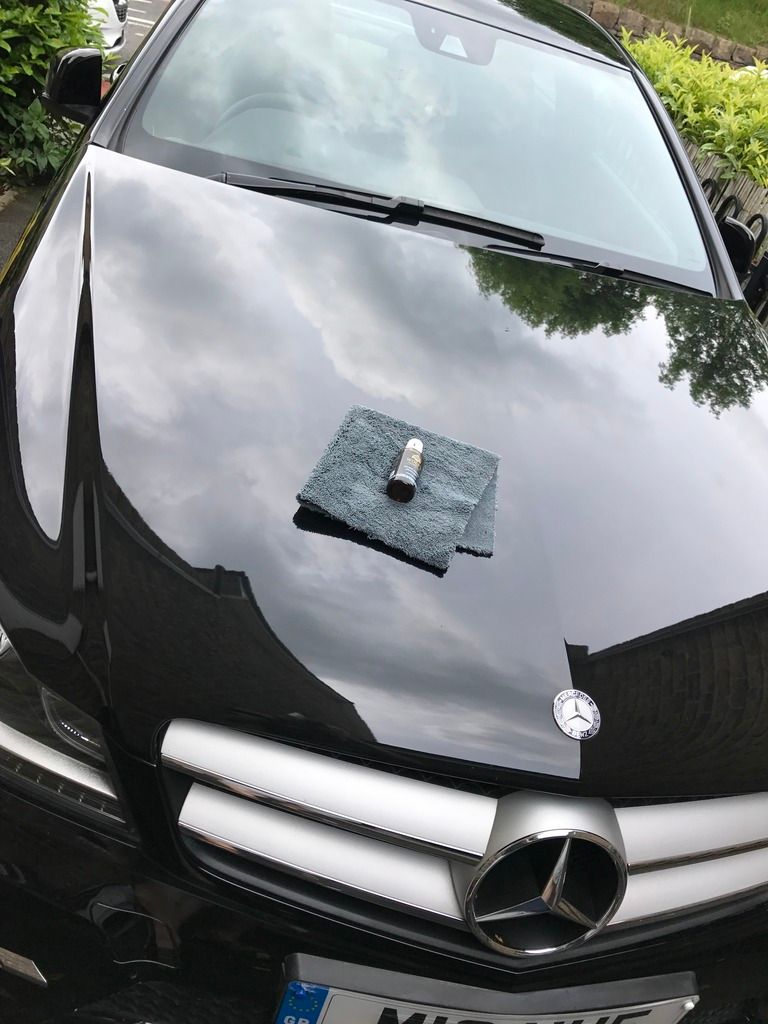 "Detailingworld™ reviewer has followed the Manufacturers Instructions and accepts no responsibility to any circumstances arising from any member using these products or following this test "