Discussion Starter
·
#1
·
First impressions
Dressle (pronounced 'dress-all') is Auto Finesse's soon-to-be-released, all-purpose, water-based dressing for plastics and vinyl (and the suggestion is it can be used anywhere, both on the interior and exterior of the vehicle - hence the idea behind the name - Dress All.)
Dressle is a thin, white, watery liquid. On performing the obligatory 'smell test' I could make out a hint of apples. Being water-based there is no solvent 'kick' when applying. Your smell experience may vary…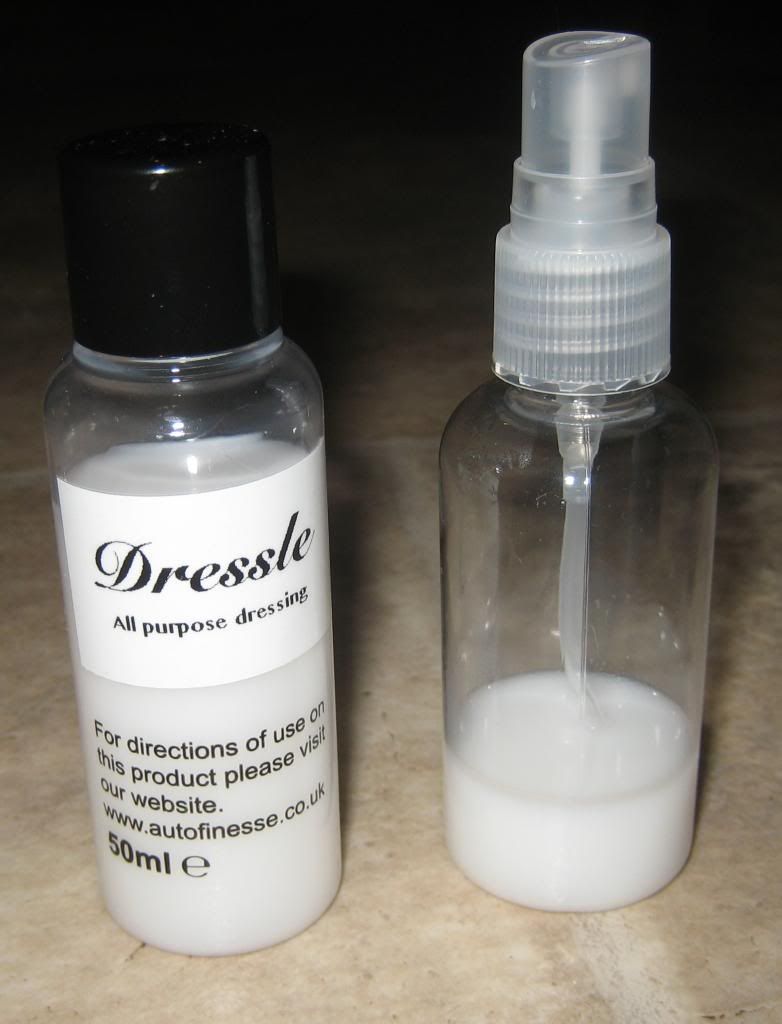 The colour, consistency, and application method are very similar to Finish Kare Top Kote #108AS dressing, and this is the comparator product used.
Application
The product is meant for spraying to minimise over-application, either spraying onto a microfibre cloth (1 to 2 'spritz') to then wipe across the surface to be treated, or directly to the surface and then wiping over with a clean microfibre to remove any excess between 1 to 5 minutes later.
I treated the inside of my car's passenger door and parts of the passenger area plastics. Applying the product was particularly easy (I used the 'spray to microfibre' option) and did not use much product to treat a large surface area. It took less than a minute and I estimate I could probably treat all plastics in my Volvo V70 in under 10 minutes.
Unfortunately, photographing the interior of a charcoal grey car to show how a dressing makes the plastic even darker does not show up the effect of the product in any useful way. So as a result I also tried Dressle on some plastic in the house.
The following photo is one coat of Dressle (to the right of the untreated band) and one coat of FK #108AS (to the left of the band):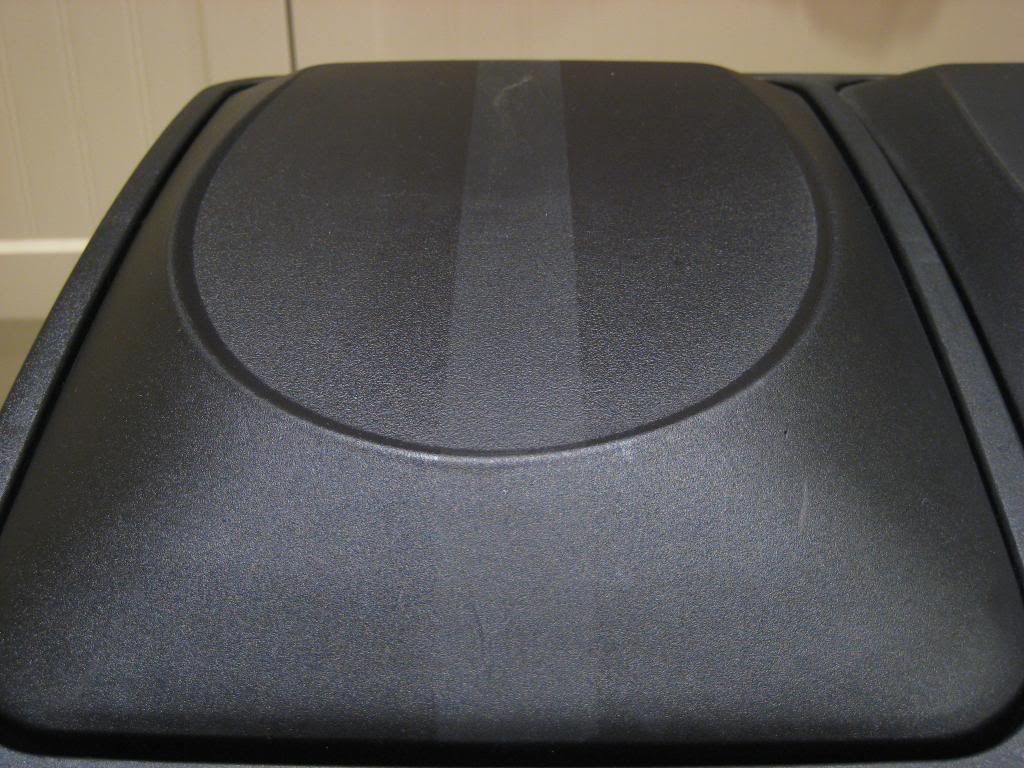 Both products produce more sheen if layered. The following photo is with three coats of each respective product (Dressle is the bottom half in this photo):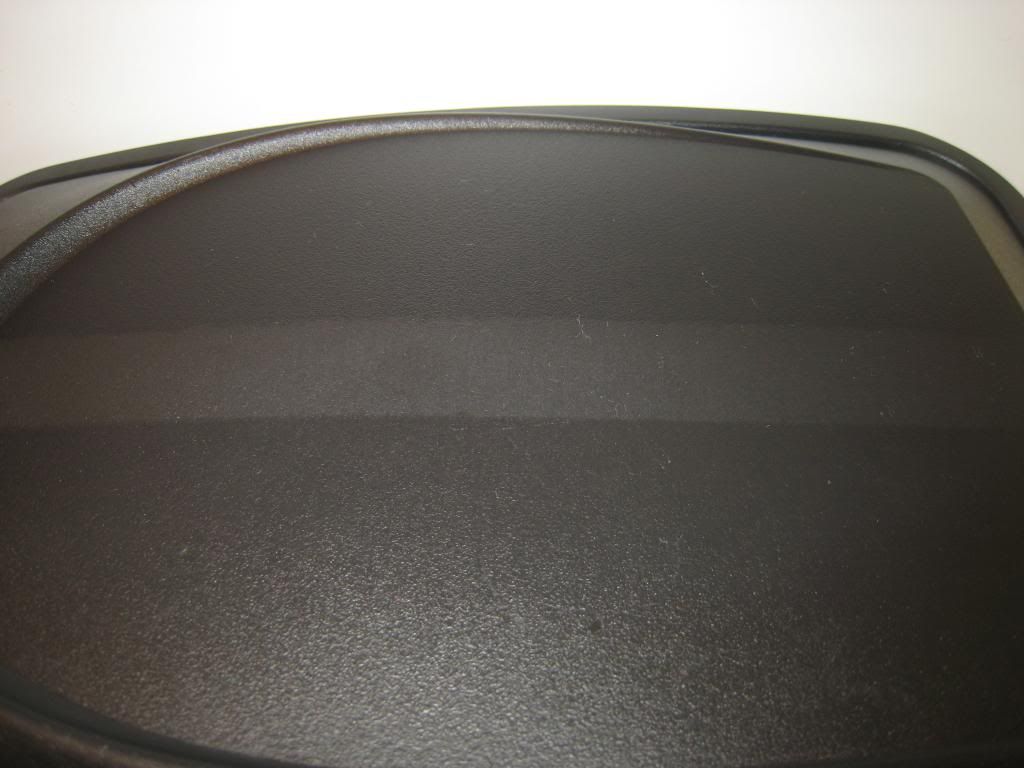 Views
Dressle is remarkably easy to apply to a clean surface, with a little going a very long way. And it looks very good when applied!
I did find that a wipe over with a damp microfibre cloth (once the product had dried for some time) will remove a fair amount of the sheen and darkening characteristics from the treated area. It is possible that Dressle may still be leaving behind a protective coating, but it is not easily visible. Similar results happen with FK #108AS but the latter appears slightly more resilient in this respect.
However, given the ease and speed of application, plus the minimal amount used, it is not a problem to simply re-apply on a regular basis to the interior. One thing I would like to see is how Dressle reacts to 'rain spotting' when the passenger door is opened in wet weather.
Initial performance seems very similar to FK #108AS. The FK product costs the equivalent of about £9.50 for 500ML - Auto Finesse have yet to announce product pricing for Dressle.
I have yet to try Dressle on exterior plastics (weather was too wet!), but it has quite a durability and 'looks' challenge on its hands from Auto Finesse's own Revive trim dressing.
Overall Dressle seems a good addition to the Auto Finesse range. While Dressle can be used on vehicle exteriors, it appears more to fit in with the Auto Finesse Interior product range.