All prices include postage, bank transfer is preferred but will take paypal. Sensible offers welcome, especially offers on multiple items to save on postage.
I leave for work in about 45mins, I will try and reply when I can this evening while at work.
Rim Wax 95% full £12
Meguiar's 3 Stage System, all 3 90% full. Sold as a set £17 SOLD
Meguiar's Gold Class Leather Conditioner 90% full £8 SOLD
Meguiar's Quik Interior Detailer 70% full £7
Meguiar's Engine Dressing 40% full £5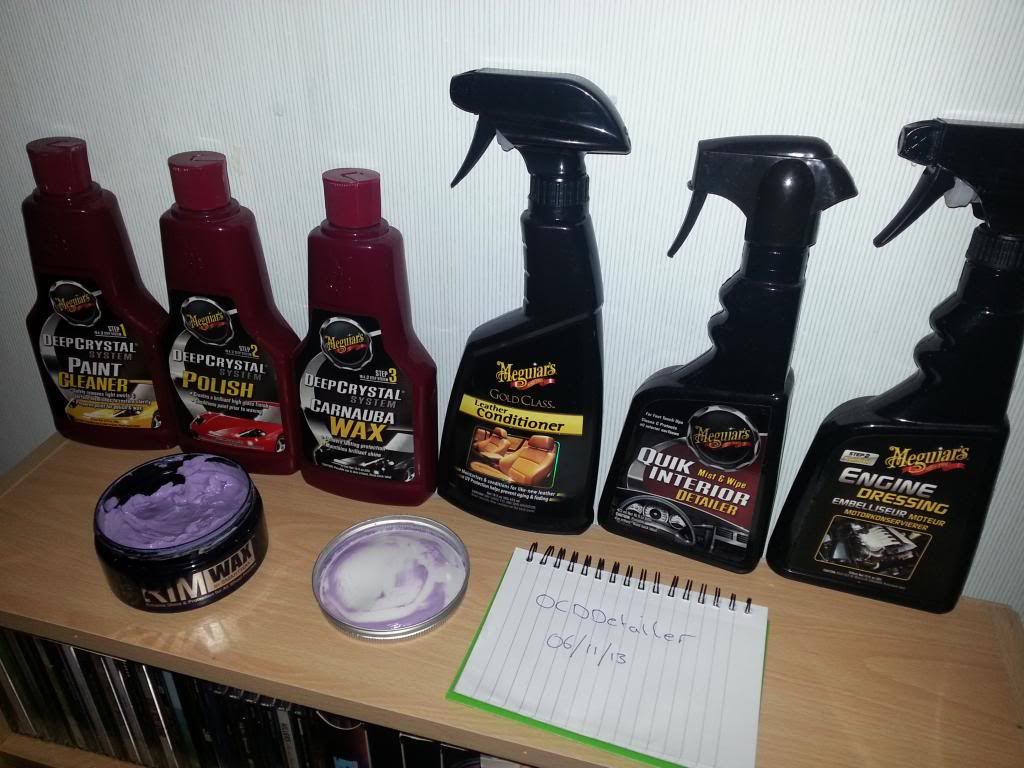 Auto Glym Super Resin Polish 325ml 95% full £8
Auto Glym Car Glass Polish 325ml 85% full £6
Meguiar's Ultimate Quik Wax 20% full £3
Meguiar's Engine Clean 90% full £8
Meguiars Gold Class Liquid Wax (I have 2 of these) 60% full £5
Meguiar's NXT Tech Wax 2.0 Brand New, still has seal £12
Meguiars Ultimate Protectant 20% full £4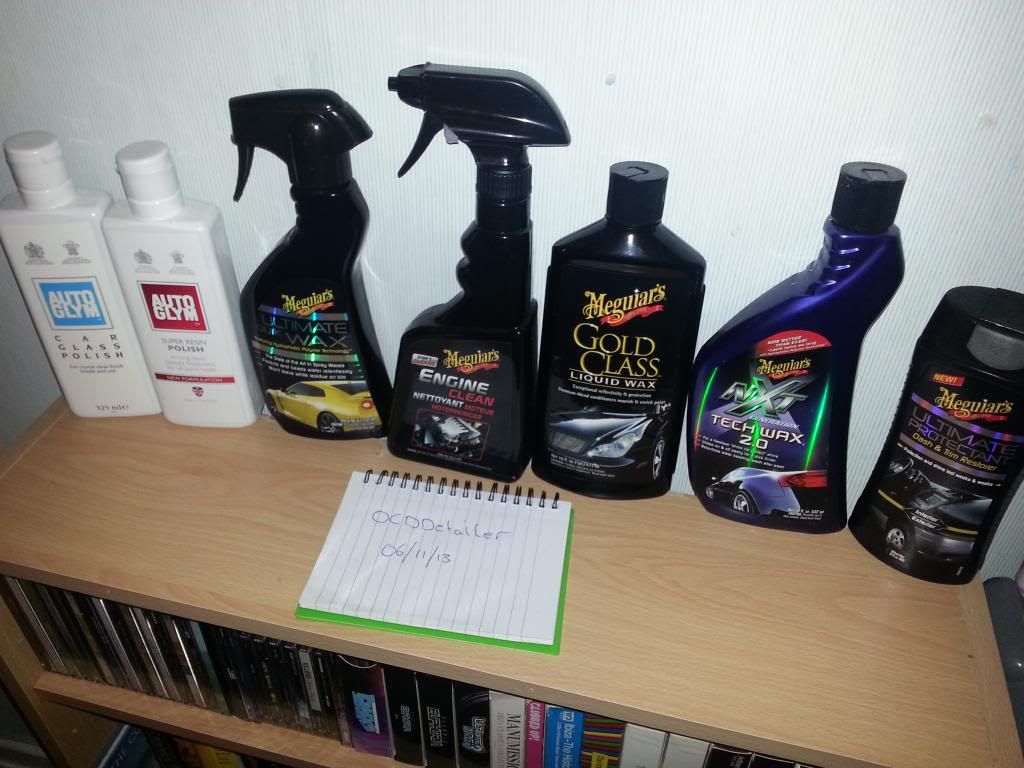 Meguiar's Gold Class Liquid Wax Brand New, still has seal £8
Chemical Guy's Luber 40% full £4
Chemical Guy's P40-Detailer 55% full £6 SOLD
Chemical Guy's Glossworkz 95% full £7 SOLD
Super snow foam (taken from a friend's large bottle as a sample). Bottle is full as I haven't got round to using it. £9 SOLD
Meguiar's 118ml Cleaner Wax x2 1 is 90% full and one is still sealed £6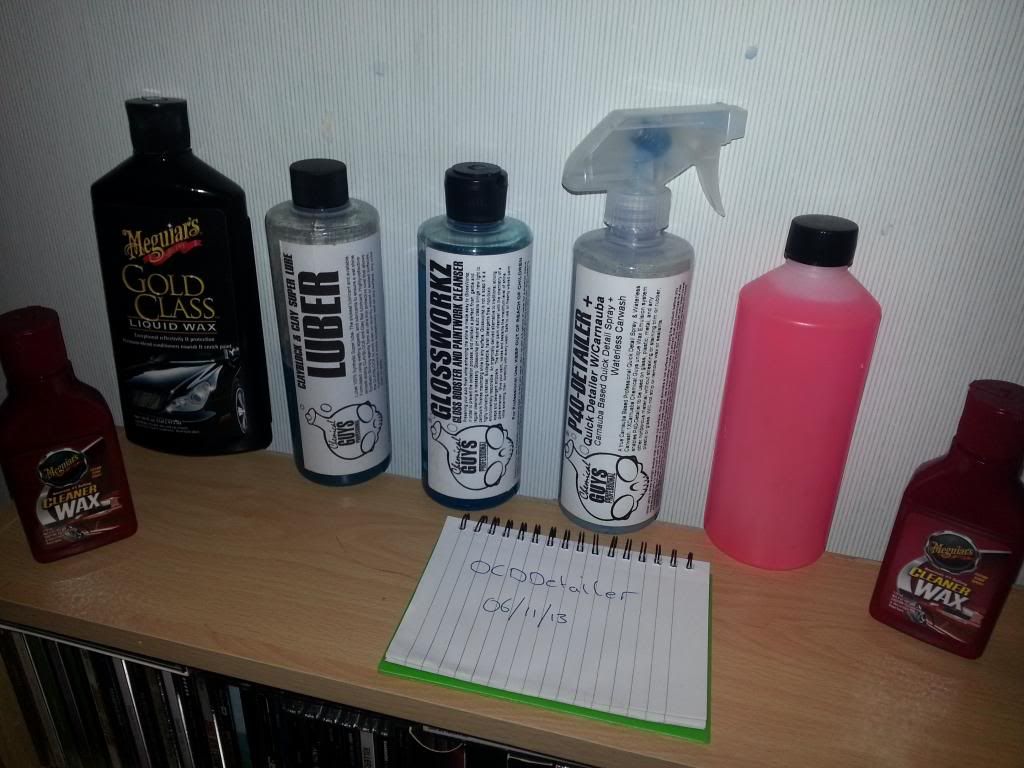 Meguiar's Professional Hi-Tech Yellow Wax #26 80% full £10
Meguiar's Gold Class Car Wash Shampoo 55% full £5 SOLD
Meguiar's Scratch X 95% full £6 SOLD
Swissvax Wheel 250ml 45% full £17 SOLD
Swissvax Car Bath 15% full £11
Auto Finesse Revive 70% full £6 SOLD
Clean Your Car Snow Foam Lance, excellent condition (Currently has a karcher attachment, this can be included if wanted) £30 SOLD
Meguiar's Sanding Pad, never used £2.50 SOLD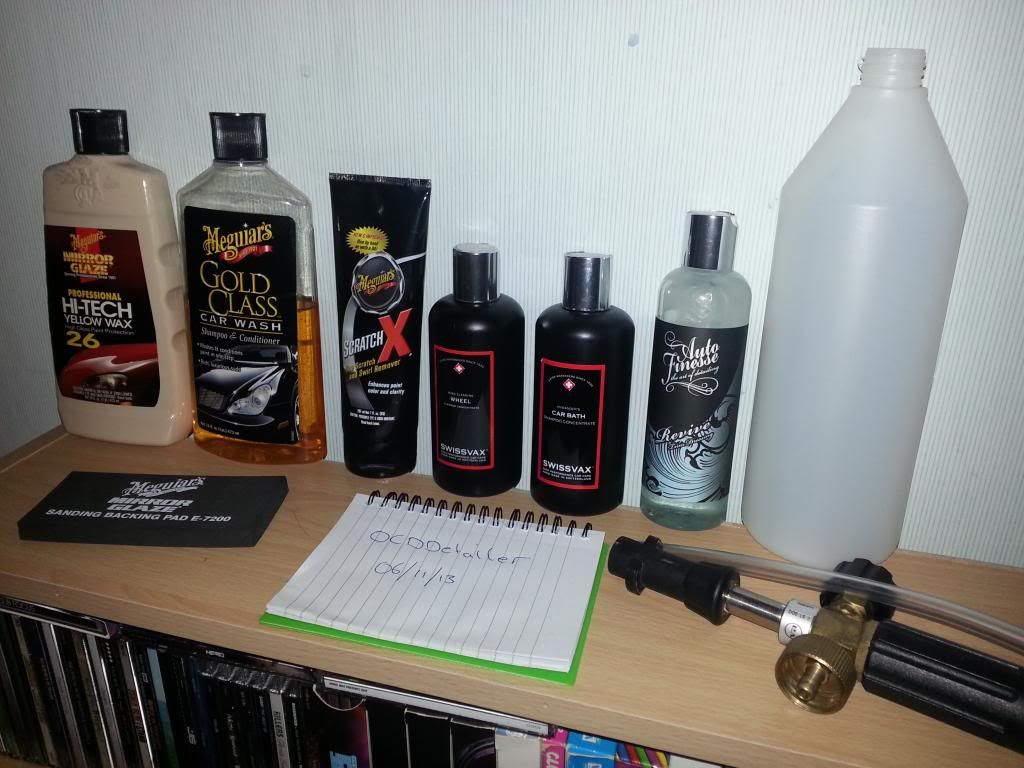 Meguiar's Hyper-Wash £25
Meguiar's All Purpose Cleaner £19
Meguiar's Last Touch £18
Levels can clearly be seen in the photo. Due to the weight these 3 will need to be collected from Plymouth (or I will post if you arrange your own courier). I travel to Newquay 3 times a week and Wales once a week so I could deliver/meet anywhere along these routes.