Discussion Starter
·
#1
·
Here's a short review of Jay's Homebrew Yellow Carnauba Car wax :thumb:
Picture 1:-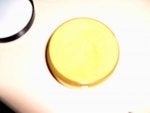 Picture 1 shows the yellow wax in it's secure air tight container with the lid off.
The first impression which hit me during contact was the solidness of the plastic jar, secondly the unique yellow colour is totally different from the other waxes I have used in past, the colour is very unique for a car wax, I call it Sunflower yellow in my books as it's a britghtish contrast from the normal yellow.
Well you must be thinking what's the smell and fragrance of the wax, it's Turkish delight and really comes alive when applying to car paintwork, not over powering but a unique and livable and manageable smell that makes waxing a great pleasure, the air around me had a pleasant unique aroma this morning :thumb:
Picture 2:-
Picture shows above shows the wax covered on the rear tailgate of the car with a yellow standard sponge applicator, I left the wax to haze for 5 minutes in a ambient temperature of 8 degrees outside but this wax can be left for a extra longer time without troubles of removal with a microfiber cloth.
The wax does spread with a light swipe from the jar and can easily cover a large panel with one light swipe; although the consistency could be improved further by the wax being more refined and smoother, this is only criticism I have but I am sure the new production waxes are greatly improved.
Picture 3:-
This is where the test had surprised me on the looks factor on removal; it really does leave a very wet deep glossy shimmering finish with good depth and clarity that is found from waxes that are show type ones in the market with a high price tag, I was blown away by the looks alone, gives a wetter finish than Victoria concours which is a very well known wax in the detailing scene :thumb:
Picture 4:-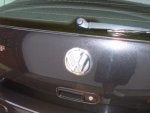 This another picture of the Gloss with the camera on a longer distance, please note no prep was used just a normal shampoo wash and wax applied afterwards, did not use a paint cleanser but clay barred the panel and a few IPA wipedowns to strip the old LSP.
Picture 5:-
Another longer distance show in natural light :thumb:
Thanks Jay for letting me trial and explore your new concept wax, it's been a pleasure testing this one, the smell is unique but the consistency of the wax needs too be refined further, other than that it's spot on and delivers great gloss and depth for a show wax, All the best from me :thumb: